Dillard's Inc. (NYSE:DDS), leading fashion apparel, cosmetics and home furnishings retailer, posted third-quarter earnings of 22 cents a share, outpacing the Zacks Consensus Estimate of 6 cents and prior-year quarter loss of 3 cents.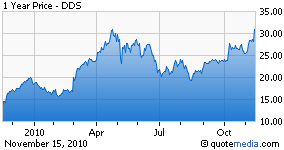 Dillard's topline (including CDI Contractors, LLC or CDI) fell 1.1% to $1,344.1 million for the third quarter of fiscal 2010 from $1,359.3 million in the year-ago quarter. Comparable same store sales growth was 1.0%. Sales excluding CDI came in at $1,321.0 million compared with $1,316.0 million in the year-ago quarter. Total revenue fell short of the Zacks Consensus Revenue Estimate of $1,361.0 million.
Gross margin from retail operations (which excludes CDI) increased 150 basis points for the third quarter of fiscal 2010. The increase was primarily attributable to good inventory management, which resulted in a lower level of markdown. Inventory in comparable stores decreased 2%. Consolidated gross margin (which includes CDI) picked up 190 basis points to 37.5% in the quarter under review.
Dillard's advertising, selling, administrative and general expenses decreased $3.6 million to $398.5 million. The expenses moderated mostly due to lower payroll and advertising expenses. However, savings were partially offset by a higher level of services and supplies purchased.
Other Financial Details
The company ended the quarter with cash and cash equivalents of $167.1 million compared with $74.1 million in the year-ago quarter. Long-term debt was $709.6 million and shareholders' equity was $2,116.6 million versus $770.9 million and 2,234.0 million, respectively, in the prior-year period. Year to date, net cash provided by operating activities came in at $158.9 million.
During the quarter, the company bought back approximately $71.3 million (2.9 million shares) of Class A shares under its $250 million share repurchase program.
Store Update
In the quarter, Dillard's declared the imminent shutting down of its Coral Square Mall in Coral Springs, Florida (98,000 square feet) along with Miami International Mall in Miami, Florida (98,000 square feet). The closures are scheduled to be in the fourth quarter of fiscal 2010.
Dillard's shares maintain a Zacks #2 Rank, which translates into a short-term 'Buy' rating. Our long-term recommendation on the stock remains 'Outperform'.