On Wednesday, Argentina defaulted as the country failed to pay a $539 million interest payment. As a result, the S&P downgraded several Argentine bonds, the Merval stock exchange plunged, and many are fearing a repeat of the 2001-2002 crisis. Over the past few years hordes of investors have already fled the country as the socialist Kirchner government continuous to play dangerous political games with the economy. Kirchner's recent refusal to kowtow to a small group of vulture funds who are seen as "extorting" the country, may send more investors to the door.
The noise created by the vulture funds and their persistent lawsuits has shown that Argentina is far from perfect. In February, the Economist made this point clear in an article titled, "A century of decline". However, within Argentina's imperfection lies an economy that is resilient to crisis and in a position for future long-term growth as new leadership comes into power next year.
Regional Significance
Argentina remains South America's second and the world's 23rd largest economy. In 2013, the CIA Factbook estimated that Argentina's real GDP grew by 3.5%. A graph by the World Bank, shows how the Argentine economy has often outpaced fellow Latin American/Caribbean economies.
Inflation remains high at 25% and is likely not going to move much until more drastic fiscal reform is taken. However, despite the economic unrest, unemployment stands 7.1%. Taking a long-term view, one can see a steady decline in unemployment.
(click to enlarge)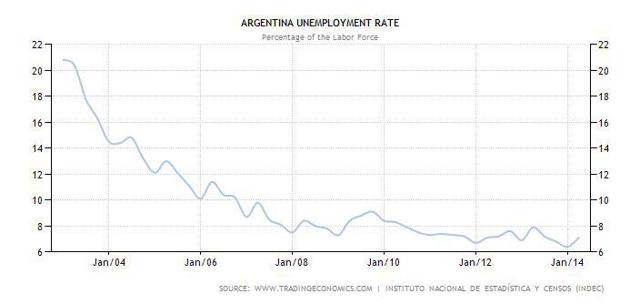 Argentina's place within the global economy remains largely a supplier of raw commodities, primarily sow and agricultural fodder. The country also produces cars, primarily for export to Brazil, however, the devaluation of the Argentine Peso has stalled many manufacturers. According to the CIA Factbook, Argentina's main export partners are Brazil (20.4%), China (7.4%), (Chile 6%), and (US 5.2%). One should expect Argentina to continue to be a beneficiary of BRIC growth as the economies of Brazil and China expand.
Argentina itself has growing potential to join its northern neighbor as an economic power. It is estimated that Argentina has the world's 4th largest shale reserves with a potential of 27 billion untapped barrels. In 2010, the country found a massive gas field, moving the country closer to energy independence.
Despite the recent crisis, Argentina has made some significant advances on debt restructuring. This past Monday, the country repaid $642m to the Paris Club, a group of financial officials from 20 key countries. Reuters reports that, "Argentina clinched a landmark deal with the Paris Club in May to clear around $9.7 billion of arrears resulting from the country's 2002 default over the next five years." While the settlement of this debt may be more than a decade too late, it shows good faith from the default-prone Argentine government.
In addition to paying off debt, the Kirchner government devalued the Argentine peso by 20%, closing a wide gap between official and black market rates. The devaluation of the peso was applauded by many economists although the suddenness of this action has made some investors insecure. What remains clear is that Kirchner is hoping to turn her country's economy around before stepping down as President.
Gaining Exposure
One way to gain exposure to Argentina is through the Global X FTSE Argentina 20 ETF (NYSEARCA:ARGT). As displayed in its name, the fund is comprised of 20 holdings, several of which are traded on American stock exchanges. ARGT is a relatively small ETF with $35m in net assets. The fund has an expense ratio of 0.75%. Despite the recent turmoil, the ETF is still up 32.7% for the year. In comparison, Argentina's stock market, the Merval is up 60%.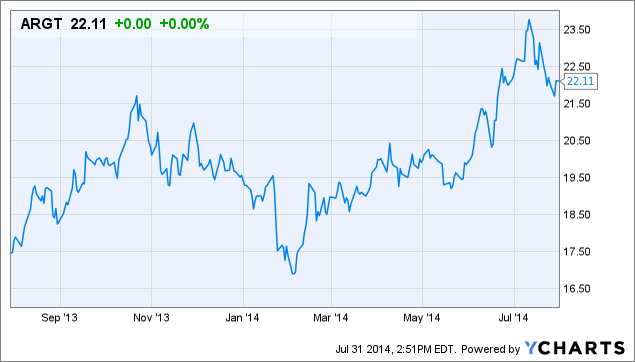 At 17.76% of net assets, Tenaris (NYSE:TS), an oil equipment supplier, is ARGT's largest holding. Tenaris is actually a Luxembourg based company with large operations in Argentina. The company has recently been hit as Petrobas (NYSEARCA:PBS), a major client of Tenaris, has had to deal with cash flow problems and has cut purchases. Performance over the past year has been relatively flat, growing only by 0.85%.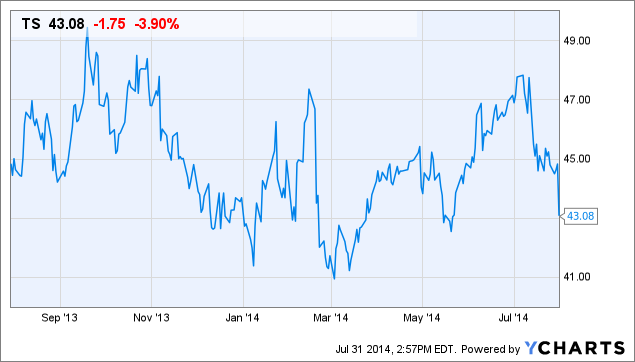 The fund's second largest holding (12.58% of net assets) is YPF Sociedad Anonima (NYSE:YPF), a oil and gas company that was infamously re-nationalized by President Kirchner in 2012. The company, once the crown jewel of Spain's Repsol, has had strong earnings growth of 46.03%, along with increasing net profit margins. While the company remains majority-owned by the Argentine government, its stock is up 136.7% in 1 year.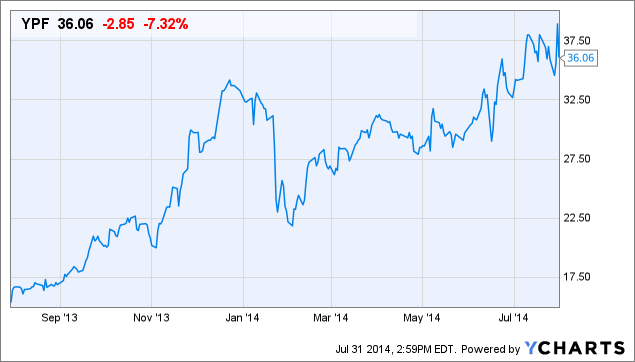 ARGT is also comprised of several Argentinean banks, including Banco Macro SA (NYSE:BMA), Grupo Financiero Galicia S.A. (NASDAQ:GGAL), and BBVA Banco Frances S.A. (NYSE:BFR) which together make up 14.84% of the ETF's net assets. These banks have been volatile as Argentina's default has been underway, however in the past year performance has been very strong-Banco Macro SA has risen almost 200%.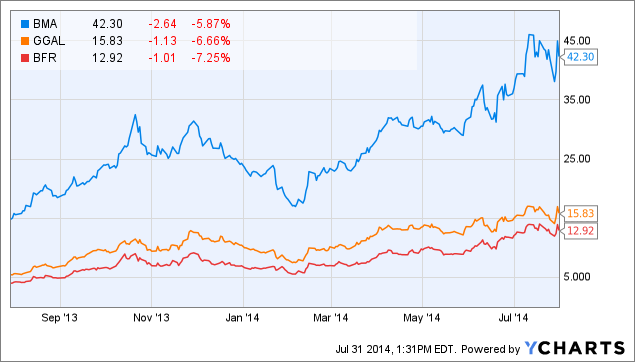 Looking forward
As the current default crisis blows over, likely through more legal mediation, Argentina's economy will continue to grow especially in the energy sector. Unlike Argentina's 2001 default, the country's economy now stands comparatively much stronger (unemployment during the first crisis was more than 20%). Many investors will be waiting (and praying) to see the outcome of general elections in October 2015. In the meantime, buying devalued Argentine stocks may be a good long-term bet.
Disclosure: The author has no positions in any stocks mentioned, but may initiate a long position in YPF, ARGT over the next 72 hours. The author wrote this article themselves, and it expresses their own opinions. The author is not receiving compensation for it (other than from Seeking Alpha). The author has no business relationship with any company whose stock is mentioned in this article.