July 31, 2014 was not a kind day for equity bulls as the major indexes sold off roughly 2% on average. Nearly all the companies I follow were down except for Allstate (NYSE:ALL), which reported absolutely stellar numbers. The shares closed up over 2.5% today which serves as a testament to how well received the earnings report was. In the article below, I will detail a few key metrics found in the earnings report which should clearly illustrate just how well ALL performed last quarter.
ALL operates in the property and casualty space, providing a wide range of products such as homeowners, life and automobile policies. ALL products are marketed through a hybrid broker/direct sales model which is somewhat unique in the industry. ALL business models have clearly worked as we can see by the chart below.
I classify ALL as a financial company yet I use a slightly different set of metrics to derive the value of the company. The first metric is similar to banks, which is the company's respective book value. The products offered by the company can be viewed as a commodity, so the value of the assets held on the balance sheet has particular relevance. In the case of ALL, their respective book value (BV) grew from $41.63 to $47.97 over the past six months. ALL BV gain is over 15% which is simply outstanding.
BV growth is a better metric in evaluating this particular industry due to the inherit unpredictability of their business model. Storms/Catastrophes are inherently difficult to model, and once a major storm hits, loss of income for that particular year is likely. As we can see from the charts below, the earnings growth for ALL has been all over the board. Notice on the second chart below which details the company's book value, a far different picture emerges.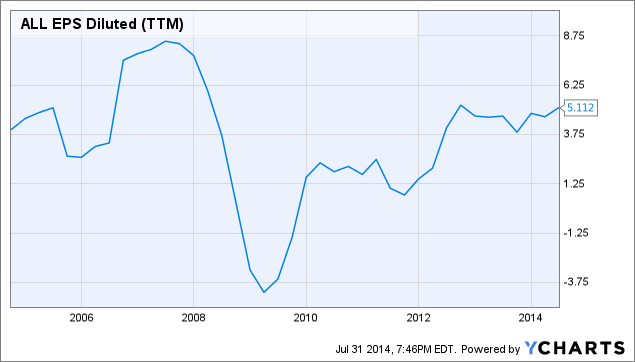 ALL EPS Diluted (TTM) data by YCharts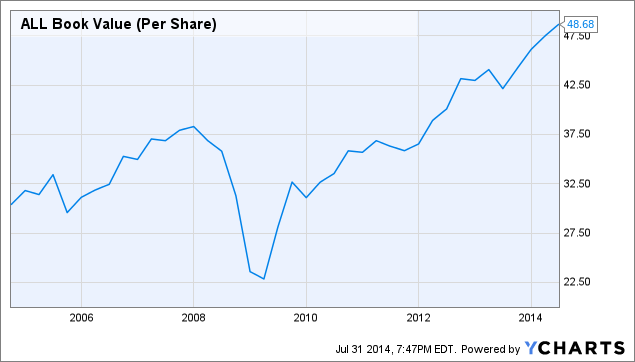 ALL Book Value (Per Share) data by YCharts
The second metric I use to evaluate the insurance sector is something called the combined ratio. Investopedia defines this ratio as follows:

Definition of 'Combined Ratio'

A measure of profitability used by an insurance company to indicate how well it is performing in its daily operations. A ratio below 100% indicates that the company is making underwriting profit while a ratio above 100% means that it is paying out more money in claims that it is receiving from premiums.

The combined ratio is comprised of the claims ratio and the expense ratio. The claims ratio is claims owed as a percentage of revenue earned from premiums. The expense ratio is operating costs as a percentage of revenue earned from premiums. The combined ratio is calculated by taking the sum of incurred losses and expenses and then dividing them by earned premium.
Calculated as:

Even if the combined ratio is above of 100%, a company can potentially still make a profit, because the ratio does not include the income received from investments.
Many insurance companies believe that this is the best way to measure the success of a company because it does not include investment income and therefore only includes profit that is earned through efficient management.
Property-Liability combined ratio

3 months ended June 30th 2014.

3 months ended June 30th 2013.

6 months ended June 30th 2014.

6 months ended June 30th 2014.

Recorded

97.4

96.1

1.3 pts

96.1

94.7

1.4 pts

Underlying combined ratio* (excludes

catastrophes, prior year reserve re-estimates

and amortization of purchased intangibles)

84.7

86.9

(2.2) pts

86.6

87.3

(0.7) pts

Catastrophe losses in millions.

936

647

44.7

1,381

1,006

37.3
Table generated from the Allstate's press release.
As we can see form the definition above, the combined ratio is an excellent way to gauge not only the profitability of the business, it gives particular insight into the effectiveness of the company's management. At first glance, the recorded combined ratio showed an uptick over the same period last year indicating a less profitable quarter. Upon further examination, the losses were due to a much higher exposure to catastrophes which are inherently unpredictable. The second ratio I added to the chart in my view paints a far better picture of ALL recent performance. The underlying combined ratio came in at a stellar 84.7, a 2.2 point drop over the same period the year before. Management should be applauded as their profitability initiatives are clearly working.
Now that we have examined ALL recent performance, I would like to examine what type of gains could be reasonably expected for the patient long term investor. I am of the belief that as the decade progresses, financial companies will begin to trade as similar BV to what was typically seen pre-2007. As we can see from the chart below, ALL averaged a price/BV of roughly 1.5x which would imply a current value of roughly $71.95 per share. My estimate would imply an additional 20% upside from ALL current share price.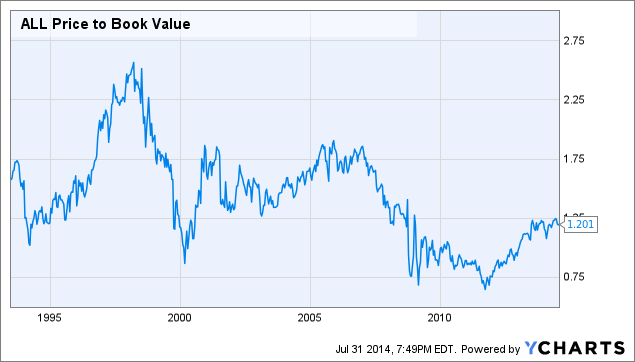 ALL Price to Book Value data by YCharts
Management is looking to use the excess capital generated by the company to further enhance shareholder value through a combination of dividends and share repurchases. As we can see from the chart below, ALL has been an aggressive repurchase of their own shares which in my view adds to the appeal of the firm. ALL currently has a $2.5 billion dollar share repurchase plan of which 40% has been consumed as of June 30th. The remaining portion of the share repurchase plan would eliminate roughly 5.7% of the outstanding shares based on ALL closing market cap on July 31, 2014.
In summary, ALL recent financial report validates my faith in the company. I recently switched into the company by selling Philip Morris (PM), which I detailed here. My decision sparked quite a bit of commentary, I am glad my faith seems to be well placed. I would like to thank you for reading and I look forward to your comments.
Disclosure: The author is long ALL. The author wrote this article themselves, and it expresses their own opinions. The author is not receiving compensation for it (other than from Seeking Alpha). The author has no business relationship with any company whose stock is mentioned in this article. Investors are always reminded that before making any investment, you should do your own proper due diligence on any name directly or indirectly mentioned in this article. Investors should also consider seeking advice from a broker or financial adviser before making any investment decisions. Any material in this article should be considered general information, and not relied on as a formal investment recommendation.