On April 1st of this year, new Canadian regulations opened up the supply of medical marijuana to licensed large scale growers.
Under the former regulations, known as the Medical Marijuana Access Regulations (MMAR), medical users were allowed to grow their own marijuana, or have it grown for them by a third party. About 30,000 of the 40,000 or so registered users did this, whilst the remainder bought from Health Canada's sole supplier at a subsidised price of $5/gram.
The new MMPR regulations are intended to restrain illegal sales, and place tighter controls on the quality of medical marijuana. Under the new regulations, home growing will be illegal, and patients will have to buy from a limited number of licensed large scale suppliers.
One public company has already entered the industry, Tweed Marijuana Inc. (OTCPK:TWMJF) trades on the grey market in the US, and on the TSX venture exchange under the symbol TWD. Other licensed growers have stated an intent to go public by means of reverse takeovers, and several other public companies have announced proposals to apply for a production license and enter the business of growing medical marijuana in Canada.
This article looks at the requirements for entering the business, the potential markets and the likely profit margins.
The licensing process
Before growing medical marijuana in Canada, a company has to be licensed by Health Canada. Applying for a license involves filling out a fifteen page application form, and a set of security clearance forms, and providing details of the proposed growing facility. All key personnel involved in the growing and processing of marijuana have to have security clearance, which basically verifies that they have no previous criminal record.
Once the application is submitted, it is reviewed for completeness and the security clearance forms are sent to the police for checking. This first stage of the process can take several months.
After all security checks are complete, Health Canada will review and assess the plans for the proposed facility. The primary purpose of this review is to ensure that the facility will have the necessary security features. One of the primary motives of the revised regulations is to prevent legally grown marijuana from being sold on the illegal market. There are strict security requirements for the growing facility as well as requirements for tracking the product to the end user. The end user must deal directly with the grower, although licensed growers are allowed to sell product to one another.
If the application is deemed satisfactory, Health Canada will, if requested, issue a notice informing the applicant that the proposed security measures would meet the requirements of the MMPR.
A building permit is also required from the local authority. Some local authorities have passed by-laws placing restrictions on marijuana growing facilities. There are no common countrywide, or even province wide rules, so a grower needs to progress the application for a local building permit in parallel with the application for a growers license.
After obtaining the necessary permits, the applicant has to build the facility and install the security measures before applying for a pre-license inspection. Once all deficiencies have been rectified and the inspection is deemed satisfactory, the licence will be issued.
There is no limit to the number of applications that Health Canada will approve; the license application system is not intended to be a supply management tool.
The quantity of dried marijuana that the licensee intends to produce has to be included in the application. If the applicant wants to later increase that quantity, he must apply for an amendment. However, there is no limit to the size of the facility or quantity of product that can be included in an application.
Growers must ship product directly to patients, in containers which meet the labeling regulations and which can contain up to 30 days supply or 150 grams, whichever is less. The only legal product is dried marijuana. Extracts, derivatives and other goods containing marijuana are illegal.
Suppliers
One of the issues which is holding up many applications, and slowing the development of the industry, is that Health Canada does not have the staff to deal with the rapid influx of application for marijuana growing licenses. Of the 858 applications received as of May 20 this year, 370 were returned as incomplete, 149 were refused and 30 withdrawn. This leaves 289 applications in the process of being reviewed.
There are thirteen licensed growers listed on the Health Canada website. The largest is Tweed, which is also the only publicly traded company on the list. Tweed trades on the TSX venture exchange under the symbol TWD. On its first day of trading Tweed traded as high as $5 and has since dropped back to less than $2.50, giving it a market cap of about $80 million.
Listing on the Health Canada website is not mandatory, so there may be other licensed growers who are not listed (for example, ABcann in Montreal is a licensed producer that is not listed on the Health Canada website). There are also several other producers such as Maricann which has an 80,000 sq. ft. facility in Ontario, who are actively marketing medical marijuana while waiting for final license approval.
The market
The major unknown in the industry is the potential size of the market for medical marijuana in Canada.
It is known that there are about 40,000 users who are licensed under the old MMAR regulations. Of those, about 27,000 were licensed to grow their own product and another 3,000 or so had what is called designated person licenses, which allowed them to nominate another person to grow marijuana for them. There are some very small growing operations that existed under the MMAR rules. These small operations came into being by collecting together a group of designated person licenses. Some of these have applied for licenses under the new rules. However, these are all small growers who would not be likely to become public companies.
Estimates of average daily use per person vary widely. I have seen numbers as high as 10 g/day quoted.
The Health Canada website includes the following statement on in its FAQ page:
"Various surveys published in peer-reviewed literature have suggested that the majority of people using inhaled or orally ingested cannabis for medical purposes reported using approximately 1-3 grams of cannabis per day"
1 kg/year per patient is equivalent to just under 3g/day, and is probably as good an estimate as can be made at this time. That gives us a market of 40,000 kg/yr for 2014.
The number of patients using marijuana is expected to grow rapidly as the drug becomes more readily available and more acceptable in mainstream medicine. Health Canada's prediction is for 400,000 patients by 2024, equivalent to a compound growth rate of 26% per year.
Access to medical marijuana is easier under the new regulations. It only requires that a patient provide to the marijuana supplier, a document from a medical practitioner, equivalent to a prescription. The decision to prescribe marijuana, and the dosage is left to the discretion of the doctor and the medical document can be valid for up to a year. Previously, there was a limited list of medical complaints for which marijuana could be prescribed, and the licensing process required that the patient obtain a doctor's document and also an individual license from Health Canada.
Because of the easier access and the publicity surrounding the use of marijuana as a medicine, a number of industry participants are expecting growth rates which exceed those predicted by Health Canada, especially in the first two or three years.
However, there are two factors which will likely dampen that growth.
First is the reluctance of doctors to prescribe marijuana because of the lack of research into the efficacy of treatment, the potential long-term effects, and the lack of guidance pertaining to appropriate dosage. It is more likely that the drug will become the domain of specialist clinics rather than General Practitioners.
Secondly, growth will be limited by affordability. Marijuana is not covered by provincial drug plans (otherwise available for people over 65, or those with low incomes), and is not covered by private health plans. Although most suppliers have compassionate pricing programs, and at least one proposed licensee intends to sell low cost product on a non-profit basis, these programs are limited and most patients who want the drug will have to pay the full price. There are not many people who can afford $5,000+ per year for medicines, especially when alternative mainstream medicine may be available for free.
Another factor which will restrict growth in the industry is a court ruling issued in March of last year, which allows licensed users under the old regulations to continue growing their own marijuana. An appeal by Health Canada is expected to be heard next spring. This ruling is probably the prime reason why sales have not taken off as quickly as expected, the total number of patients who had signed up to receive marijuana under the new regulations as of June was only 5,120.
Health Canada predicts 400,000 patients and a $1.3 billion market by 2024. My estimated use of 1 kg/yr per patient and $7/g would be a $2.8 billion market. However, use per patient may well drift downwards because heavy users are already in the licensing system, and selling prices will likely fall as more suppliers are licensed and competition heats up.
The $1.3 billion market predicted by Health Canada may well be on the low side, but a $5+ billion market being predicted by some of the companies entering the space is most likely too high.
Capital and Operating Costs
Many of the prospective suppliers are refurbishing old buildings, others are leasing their building. Estimates of capital cost are therefore going to vary widely.
A steel framed, insulated commercial building will cost about $45/ sq. ft., including foundations, but not including the value of the land. This paper from 2013 gives an estimate of about $65/sq ft for fitting out of the building. Additional costs for the security and quality control laboratory required by MMPR will add to that cost. A rough estimate for the total cost of an indoor facility, including the cost of the building, and using artificial lighting, is $110 to $140/sq. ft. of floor area.
Medican (OTCQB:MDCN) is providing $47 million (NYSEARCA:USD) to retrofit two old factories of 400,000 and 293,000 sq. ft. in New Brunswick (~$68/ sq. ft.).
Creative Edge Nutrition (OTC:FITX) is building a 57,000 sq. ft. building, along with retrofitting of an existing 26,000 sq. ft. building, plus security fencing etc. for which they have raised $20 million of private equity. I am not sure how much of that is going into the proposed marijuana grow-op and how much is for future projects.
Supreme Pharmaceuticals (OTCPK:SPRWF) has bought a 342,000 sq. ft. greenhouse in south-west Ontario for a cost of $4.5 million (only $13.15/ sq. ft.). It seems that Supreme may have landed a bargain, if they can retrofit the necessary security and obtain a growers license for the facility. However, production yield from a greenhouse, without artificial light would be 25 to 50% lower than that of an indoor facility. And there is a wrinkle to the purchase terms, the vendor is apparently getting 45% of the company once the deal is complete.
Capital funding requirements of course, have to be sufficient not only for the construction of the facility, but also for all of the administration, materials and operating costs for about three months until the first product is ready.
The paper from Botech Analysis Corporation provides estimates of yield of up to 93 g/sq. ft. for an indoor facility and up to 65 g/sq. ft. for a greenhouse. I have used 100g/sq. ft. for an indoor facility in my calculations.
Operating costs for an indoor facility are indicated in the chart below (again from the Botech paper):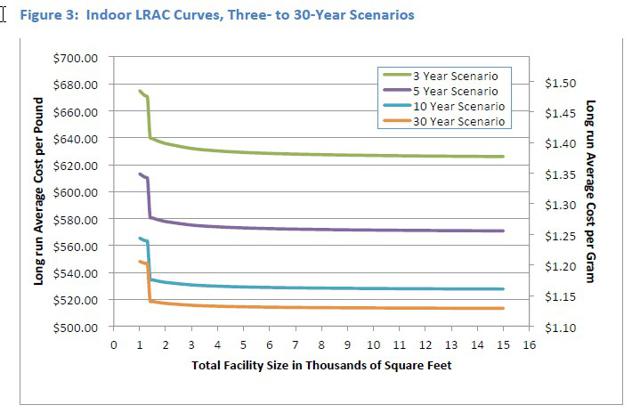 And for a greenhouse: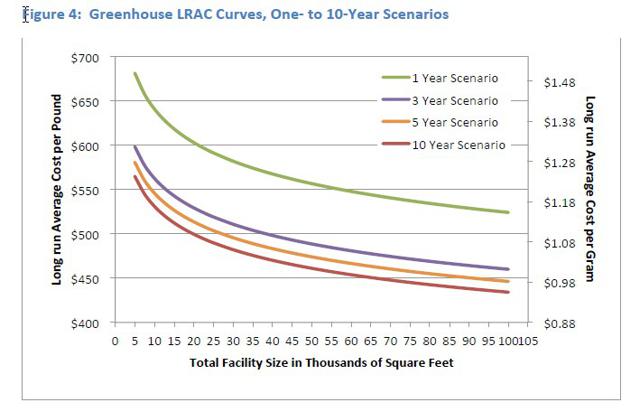 The above costs include amortization of the equipment and fit-out costs, but not the building shell.
The costs are given for different sizes of facility and different amortization periods. For comparison purposes, I am selecting the ten year amortization curve as a baseline.
The indoor growing facility curves only go up to 15,000 sq. ft. However the curves are almost flat, indicating that there is very little economy of scale. Operating costs for a mid-sized indoor facility are estimated to be $1.17/gram, and for a large greenhouse $0.95/gram.
Those costs however, do not include the costs of marketing the product and the costs of compliance with the MMPR regulations. The regulations require testing of each batch, with fairly tight tolerances on THC content. The use of pesticides is limited, and there are restrictions on mold and bacteria. Since the MMPR program started less than two months ago, there have been two product recalls, so these problems are obviously real and need to be included in an economic model.
In the absence of better information, I am allowing a 50% contingency on operating costs to cover these costs, bringing the estimated cost of production for financial modeling, to $1.75/gram (25% fixed cost, 75% variable)
Production ramp-up
No revenue is generated by growing marijuana, it is only generated by signing up patients and selling the product. Under the MMPR regulations, a patient sends his medical document to the supplier and once registered with that supplier, he can order up to one month's supply or 150 gram at any time. The medical documents can have expiry dates of up to one year. Since most patients will have to pay a doctor to fill out the forms, it is likely that most documents will be valid for the maximum one year period. Once a patient has submitted his document to a supplier, he is committed to buy from that supplier until the document expires, or until he can get another document from his doctor. This gives the early entrant suppliers a huge advantage over latecomers.
Ramp-up of production will depend very much on the success of the marketing effort and the rate at which patients can be signed up.
Using Tweed as an example, they have been producing initially at 10% of capacity and have apparently sold out. Their plan is to move to increase capacity in 2015. Another company (Whistler Medical) stated that they have been signing up 30 patients per week since March.
Health Canada's forecast of 400,000 patients per year by 2024 equates to about 36,000 new patients per year added to the market. Adding 3,000 patients per year for any one supplier would therefore seem to be a reasonable target to use in a financial model.
I have limited the financial model to 90% of theoretical maximum production because there will always be some spoilage and waste, and with the exception of Tweed, I have assumed that production starts in year 2.
All of the potential suppliers have stated that they have plans to extend their facilities at some unspecified date in the future. As these plans are very much "blue sky" projections, I have only used the initial proposed facility in developing the financial model.
Revenue
Some suppliers are charging a flat rate, usually around $7/gram independent of strain, others have different prices for different strains ranging from $4 to $12/gram. Most suppliers offer compassionate discounts for low income people, and this will reduce the average selling price. Also, I expect prices to fall when Health Canada issues more licenses, and pricing becomes more competitive.
For my economic model, I have used a selling price of $7 in the first year, falling to $5 in the third and subsequent years. Those prices are Canadian dollars, whereas I have used capital and operating costs from the Botech paper in US dollars. I will therefore apply a currency factor of 0.92 to the revenue.
Using Tweed's 150,000 sq. ft. facility as an example, I derive the following:

The model gave me a post-tax NAV10 of $129 million US for Tweed.
Tweed's share price today is $2.35 CDN, for a market cap of $82 million CDN ($76 million US), or about 60% of my calculated post-tax NAV. Tweed has not produced any financial statements since it started selling product last April, and there have been rumors about quality problems with the first batch of product, so this discount to NAV seems reasonable given the uncertainty. Tweed recently issued a private placement at $3.20. Presumably, the purchasers had access to financial data that is not yet public, and valued the company at close to its estimated NAV. For that reason, I think my assumptions and calculations are at least in the right ball park.
Valuing the new entrants
Valuing a company which has an existing business is relatively easy compared to valuing a company which has not yet entered the business. As first mover, Tweed has a distinct advantage in branding and marketing, especially given the fact that patients, once signed are captive for up to a year.
I have run the model for Tweed and five other public companies, all of whom have stated a definite intent to enter the Canadian MMJ market, have provided data about the status and proposed size of their operations, and have taken steps towards acquiring an MMPR license or acquiring a company that has applied for a license. The table below compares the market cap of each of these companies versus the calculated NAV: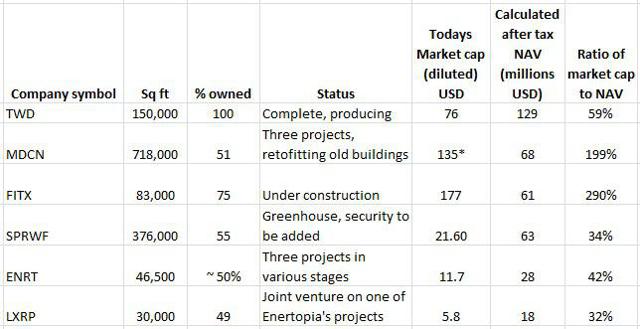 Medican is a Nevada based corporation that was proposing to acquire 50% of IHMML, a Canadian based supplier of herbs. Their intent is to open a 400,000 sq. ft. and 293,000 sq. ft. facilities in old factories in New Brunswick, and a 25,000 sq. ft. facility in BC. Under the terms of the previously announced deal, Medican had to come up with $47 million US to finance the acquisition. It appears, however, that Medican has been unable to come up with the funds to purchase IHMML and is now proposing a share swap whereby the owners of IHMML would be issued new shares equal to 70% of current fully diluted outstanding shares of Medican in exchange for 51% of IHMML. Existing shareholders of Medican end up with about 50% of the company, equivalent to just over 25% of the marijuana growing operation. In calculating the market cap of Medican I have allowed for the dilution from recently issued unregistered shares, outstanding warrants, and shares issued as part of the IHMML arrangement.
Creative Edge Nutrition has made all kinds of contradictory claims about its proposed facility in south-west Ontario. These have already been covered by another SA contributor, so I won't repeat them here. Suffice it to say that the inflated market cap alone is reason enough to steer clear of this one.
Supreme Pharmaceuticals was a late entrant into the race but has moved forward very quickly with the purchase of a large greenhouse facility in south-west Ontario. The previous owner had applied for a marijuana license for 17,000 kg/yr., and the necessary security measures are under construction. Supreme seems to have entered the game on a large scale and at very low cost and looks attractive on paper. One possible downside is the past history of CEO David Stadnyk, who has been involved in a number of failed enterprises in the oil and gas and mining industries.
Enertopia (OTCQB:ENRT) and Lexaria (OTCQB:LXRP) are two related companies that have a joint venture project which has a municipal permit to build a 30,000 sq. ft. facility in Burlington, Ontario. Enertopia also has interests in two smaller projects in Saskatchewan and BC.
If I have missed out your favorite company, please send me a link to the web page that describes its business plan and project status, and I will run the numbers through my model and generate the NAV.
Risks
Although stock prices have come down from their lofty heights of a couple of months ago, investing in this industry is still a very risky proposition. Most of the companies entering the space are very small, with market caps less than $100 million and share prices of less than $1. Some of them may be pump and dump schemes. There is no guarantee that any of these companies will ever make any money from growing medical marijuana.
However, in my opinion the biggest risk to any company in this business is the low barrier to entry, lack of intellectual property value and high number of potential entrants. In a previous article I listed some of the entrants who claim to be close to receiving a license. Since writing that article, I have found several others, mostly private companies. If Health Canada can process the necessary paperwork, it seems there could be as much as 2 million sq. ft. of growing area coming on line within the next year, in addition to the 700,000+ sq. ft. already licensed. Such an influx may flood the market and can only put downward pressure on prices.
Conclusions
I don't make any claims about the accuracy of my financial modeling. It is based on some very limited available information and a lot of educated guesswork. However, it does provide a useful indication of the relative value of the various players in the industry, especially when compared to the one publicly traded producing entity, Tweed. The model probably favors the smaller operations because of the 3,000 patient per year growth limit I have imposed. I have only used 10 years of cash flow projections, so large operations such as Medican don't actually reach full capacity in my model. However, I have no reason to suppose that a 700,000 sq. ft. facility will be any more successful at marketing and attracting new patients than a 50,000 sq. ft. facility.
In my opinion, Tweed is the best investment amongst the six companies that I have covered here because it already has a license, has signed up patients and is producing and selling product.
Creative Edge should be avoided at all costs. Apart from the very high market cap there are many other reasons to steer clear of this one, as mentioned in this SA article.
Medican's plans are perhaps a little over-ambitious given the uncertain state of the medical marijuana market. Also, Medican has very little cash on hand. They had to resort to a new share issue after failing to raise the $47 million to purchase a share of IHMML. That cash was to have been used to retrofit the buildings in New Brunswick, so we still have a shortfall in funds and no clarity on whether or not they will be able to finance the proposed operations.
Supreme, Enertopia and Lexaria are long shots, for the gamblers amongst us. Their share price will probably get a significant boost if they get a growers license. However, Health Canada seems to be very slow at processing applications (only two new licenses in the last four months) and there is no guarantee that any of these companies will be licensed within a reasonable time frame, if at all.
Disclosure: The author has no positions in any stocks mentioned, and no plans to initiate any positions within the next 72 hours. The author wrote this article themselves, and it expresses their own opinions. The author is not receiving compensation for it (other than from Seeking Alpha). The author has no business relationship with any company whose stock is mentioned in this article.
Editor's Note: This article covers one or more stocks trading at less than $1 per share and/or with less than a $100 million market cap. Please be aware of the risks associated with these stocks.