By David Russell
Exco Resources (NYSE:XCO) is up on a potential management buyout, and one trader is attempting to time the stock's advance.
optionMONSTER's tracking systems detected the sale of 8,000 January 20 calls for $0.30 and the purchase of an equal number of June 21 calls for $0.85. Volume was above open interest in both strikes and the trade resulted in a net cost of $0.55.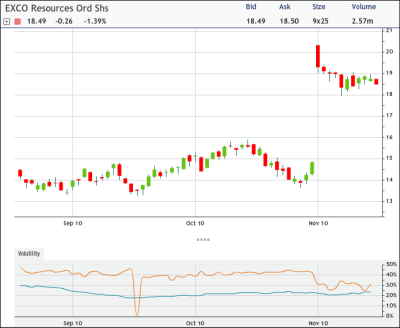 The investor is essentially predicting that the energy stock will remain below $20 through January expiration. If that proves correct, there are two ways to make money from the trade, which is a variation of a calendar spread.
The first is from time decay, which will render the January contracts worthless while the June options will hold more of their value because of their later expiration. The investor could then sell another set of calls to earn more income.
That trade is somewhat unusual at this point in the expiration cycle. Such strategies make the most sense when the options sold are closer to expiration because that's when time decay happens faster.
The second explanation is that he or she thinks that XCO will remain below $20 through January, and then rally. That way, the trader will have reduced the cost of getting long with the upside calls.
The oil and gas stock fell 1.39 percent to $18.49 in afternoon trading. It gapped higher by 30 percent on Nov. 1 after Chairman and CEO Douglas H. Miller offered to take the company private at $20.50 a share.
The bid was followed by a flurry of legal investigations, and the stock has been drifting lower since. Noteworthy call activity occurred in late October before the attempted buyout was made public.
Some 4,400 June 18 puts were bought on XCO for $1.85 shortly after the calls changed hands, but it doesn't appear that the transactions were connected.
Overall option volume in the stock is 6 times greater than average so far today.

Disclosure: No position