Tesla (NASDAQ:TSLA) has just reported earnings for Q2 2014. Along with earnings, as always, Tesla divulged the production and deliveries metrics and guidance. For Q2 2014 as expected Tesla managed to eke out a slight beat, delivering 7,579 cars against 7,500 guidance. This was obviously on the back of Chinese deliveries, which compensated the drop in Norway deliveries. Q2 deliveries ended up stacking up as follows (Source: Company, EV Sales I II, North American deliveries are per exclusion of parts).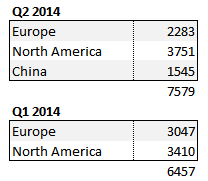 This brings the total deliveries for H1 2014 to 14,036. Tesla guided Q3 2014 deliveries to 7,800 which is very weak considering that Q3 2014 will include 2 new markets (United Kingdom, Japan). Tesla reaffirmed the yearly guidance of 35,000 deliveries and put down the very weak Q3 2014 guidance to having a work stoppage of 2 weeks to upgrade the factory. However, if Tesla again only slightly beats the weak Q3 2014 deliveries guidance, then it would need to deliver a massive 13,100 cars in Q4 2014 to attain its yearly objective. This seems unlikely, though Tesla kept close wraps on just how successful China is showing itself to be.
Again, these numbers are still consistent with deliveries having peaked in the North American market. There was a slight increase in deliveries from Q1 to Q2, but the numbers are still far from the 5,500 deliveries attained under backlog or around 5,000 without which Tesla managed to do in Q2, Q3 2013. What this means is that the deliveries peak for the North American market is still in play. The company claims increased demand for its established markets, but is always careful to qualify its claims as being for sequential demand - it never claimed that orders are higher now than they were last year!
Disclosure: The author has no positions in any stocks mentioned, and no plans to initiate any positions within the next 72 hours. The author wrote this article themselves, and it expresses their own opinions. The author is not receiving compensation for it (other than from Seeking Alpha). The author has no business relationship with any company whose stock is mentioned in this article.