Amazon's (NASDAQ:AMZN) high PE ratio is always a matter of debate amongst investors. I was recently on a social network and noticed a debate following Amazon's latest quarterly release. The argument was about Amazon's thin profit margins. One of the parties argued Amazon's profit margins are wafer thin as they invest so heavily in R&D. The claim is if Amazon did not put in so much of R&D (Technology and Content) expenses the company would be trading at a PE ratio of 27. The argument continued if you also take into consideration the incremental fulfilment expenses and add both to the bottomline, Amazon would reportedly trade at a P/E of close to 18, against its current PE ratio of 511.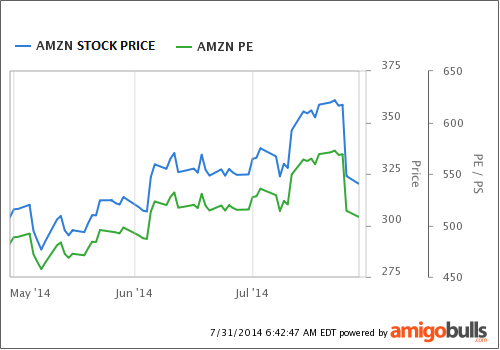 The argument got us thinking and we decided to look deeper into Amazon's costs.
We take a deeper look at Amazon's costs to establish the relation between expenses and topline growth. We look at the expenses under two main heads; Research & Development (R&D) and Selling, General and Administrative (S,G&A) expenses. And what did we find? Read on.
Incremental sales to R & D expenses in a clear downturn
We compared Amazon's Incremental sales over the last 10 years to the prior year R&D expenses. The logic being R&D expenses are made to generate future revenues and since we do not have any breakup of R&D expenses and projects currently underway, we stuck to the one year forward incremental sales. Eventually investments should result in sales, especially for a hugely topline focused company like Amazon. Hence the comparison was made and the Incremental sales to prior year R&D expenses ratio was calculated over the last 10 years. The results are plotted in the chart below.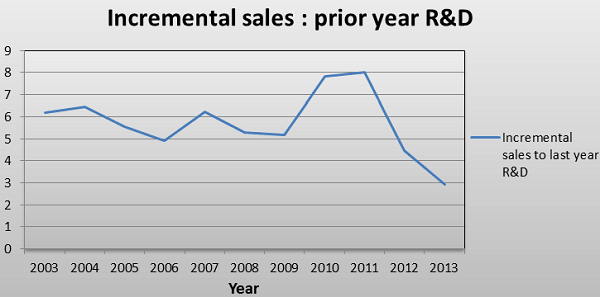 The ratio can be looked at as a leverage factor for Amazon revenue growth. The Ratio has trended down over the last two years, from a high of 8 in 2011 to a historic low of 2.9 in 2013. This was a clear break from a historical range of 5 to 8, which accentuates the fact that the ratio is now well on a decline. The conclusion is simple. Amazon's investment into itself is now paying off lesser and hence investors are justified in demanding earnings growth rather than topline growth. The recent Q2 results were a proof of investor sentiment.
Selling, General and Administrative (S,G&A) to revenue
While Future sales can be explained as a function of R&D, current sales are a function of Selling, general and administrative expenses incurred in the relevant time period. Hence we looked at these expenses clubbed as S, G&A as a percentage of current period sales to get an understanding of Amazon's operational efficiencies. The S,G &A expenses as a percentage of revenues calculated for the last decade are plotted in the chart below.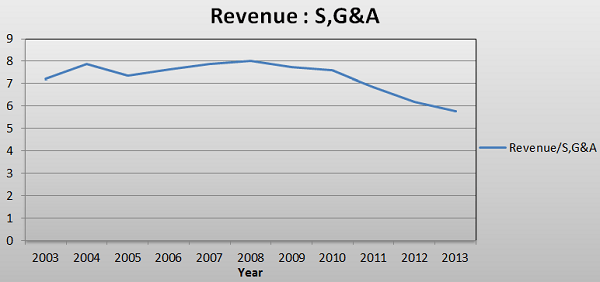 The revenue to S,G&A expense ratio has also declined in the last two years. The ratio broke its historical range of 7-8 over the last three years hitting a low of 5.76 in 2013. The conclusion is that Amazon is spending more money to generate every additional dollar of revenue and the much talked about revenue growth.
Amazon Cash flows could be Hit
Amazon SEC filings state "Our financial focus is on long-term, sustainable growth in free cash flow." Free cash flow is a direct function of cash flow generated from operations. The cash flow remained healthy due to leverage enjoyed by Amazon on its costs. Another driver of Amazon's cash flows has been increasing the days of payable outstanding (DPO). This metric has seen an increase for a major part of the last decade. The payables to cost of sales relationships are charted below.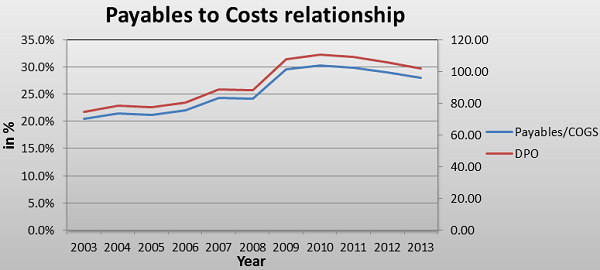 Amazon's ability to keep its creditors at bay has hit a plateau and the DPO has seen a fall in the last three years. With Amazon losing this lever to drive Cash flows, the implications of Amazon's cost trends can be disastrous.
Inventory turnover is another measure of a retailer's efficiency which gives us another proof of Amazon's reducing operating efficiency. Amazon's inventory turnover trend over the last 10 years is summarized by the chart below.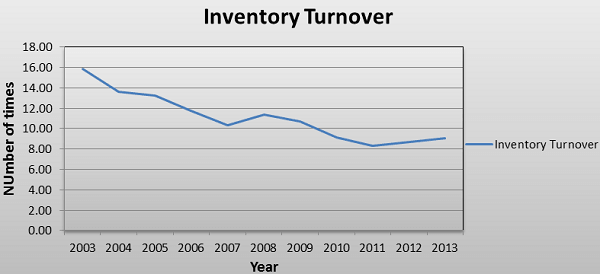 A once highly efficient inventory churn rate of 15 times in 003 has today fallen down to 9times in 2013.
Amazon cost trends can lead to a cash flow problem
The trends of lower leverage from R&D expenses and higher S,G&A expenses incurred to generate sales can lead to a dangerous conclusion: A burnout of Amazon's cash pile. As long as the above two ratios were on a rise, Amazon's cash balance could be on a rise. However with the lower values of these ratios, the reinvestment into Amazon will lead to lesser revenues, directly impacting the cash flow generation. Considering that cash flow is the yardstick Amazon uses to measure its performance, Amazon could soon fall short on its own performance metrics. The reducing inventory turnover is an added proof of Amazon's reducing efficiency and where it could be headed.
In Conclusion, Amazon is seeing reducing marginal benefit from the so-called reinvestment into its own business. With these trends in mind Investors are justified in seeking earnings growth, and failure to deliver on this metric over the next few quarters could result in pullbacks in Amazon stock price. Amazon's unproven earnings ability, high valuation multiples and reducing operational efficiencies make Amazon stock a highly risky bet, which is currently reflected in our Amazon stock analysis.
Disclosure: The author has no positions in any stocks mentioned, and no plans to initiate any positions within the next 72 hours. The author wrote this article themselves, and it expresses their own opinions. The author is not receiving compensation for it. The author has no business relationship with any company whose stock is mentioned in this article.
Additional disclosure: The article was written by Virendra Singh - Equity Analyst at amigobulls.com. Amigobulls Mediatech Pvt Ltd is not receiving any compensation for this article (other than from Seeking Alpha). Amigobulls Mediatech & Virendra Singh do not have any business relationship with any of the companies mentioned in the article.