It never ceases to amaze me that there are many analysts who watch a stock drop by around 40% and then downgrade its recommendations. Where were they while the stock was dropping the entire time? Do they really know the business? That is probably why I usually disregard them and do my own research. Such is the case with this old Canadian company, trading on the NYSE: Domtar Corp. (NYSE:UFS).
We operate two business segments: Pulp and Paper and Personal Care. We had revenues of $5.4 billion in 2013, of which approximately 90% was from the Pulp and Paper segment and approximately 10% was from the Personal Care segment. On July 31, 2013, we completed the sale of our Distribution business in the United States therefore the historical results of the former Distribution segment will be consolidated into Domtar's Pulp and Paper Division. Our Distribution business in Canada is not affected by the transaction and future results will be consolidated into Domtar's Pulp and Paper Division. (Authors note: the focus is on manufacturing now)
Quite frankly, the company did miss earnings by a lot, and the business that it has been focused on has not exactly been "robust." Many investors would see the main business of this company as a dying one, like buggy whips. As stated in the company conference call, the key issue was that there was too much inventory and not enough orders:
Despite improved year-over-year results, our financial performance compared to the first quarter was negatively impacted by higher scheduled maintenance and higher unit costs resulting from lack-of-order downtime in our paper system.
Interestingly, there was improved yoy results (more on that later), and the lack of orders was in line with the market:
.....Our demand profile was consistent with the market. And as is our usual practice, we managed our production to customer demand which resulted in 51,000 tons of down time.
Without digging deeper, it does look like a declining business model, and it might be in certain areas, but as the company re-invents itself by a wider array of paper/pulp offerings, looks can be deceiving.
As stated before, this company which has its roots in England dating back to 1848, has virtually reinvented itself over the last 6-7 years:
In March of 2007, Domtar combined its operations with the fine paper business of Weyerhaeuser to create Domtar Corporation, a U.S. domiciled company valued at more than $6 billion. Under the ticker symbol "UFS", Domtar trades on the Toronto and New York stock exchanges.

This historic transaction has transformed Domtar into the largest integrated manufacturer and marketer of uncoated freesheet in North America, and the second largest in the world. Domtar is also one of North America's largest manufacturers of papergrade pulp. It had reached the top rung in its industry.....This once small British concern has traveled a long road since 1848. But no matter how much its operations have been changed by time and technology, the enduring values remain to generate growth, excellence, and pride. Today's Domtar is among the most cost-competitive papermakers in North America. Our strengths include the best workforce in the industry, efficient assets, high-quality products, strong brands, and a seasoned management team with proven expertise.
Paper And Pulp Products Are Still Alive
Yes, in the high tech age we live in, there are less "normal" uses for paper products than there had been in the paper heyday years. I can't remember the last time I bought a box of Post-it Notes, but paper has evolved, and UFS is probably at the cutting edge of all areas of paper and pulp processing, marketing, and sales, as well as reinventing virtually all aspects of paper/pulp, as well as the company itself.
Reviewing the company website shows the various unique businesses that UFS has been developing and not solely relying on simply paper and pulp, which still comprises 90% of all revenues at the current time. Added to the wide assortment of paper products is also the Xerox brand name, which of course is a key attraction to gain greater commercial revenue and earnings.
Here are just some of the products being manufactured and sold:

The key Xerox products for business: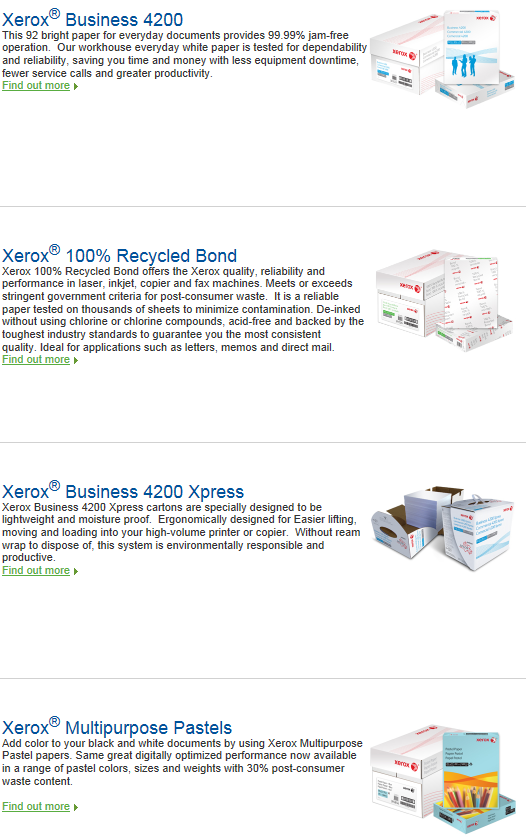 Expanding on this assortment is the corporate commitment to the environment with its "EarthChoice Paper Products." The link will go into greater detail, but here is a general overview: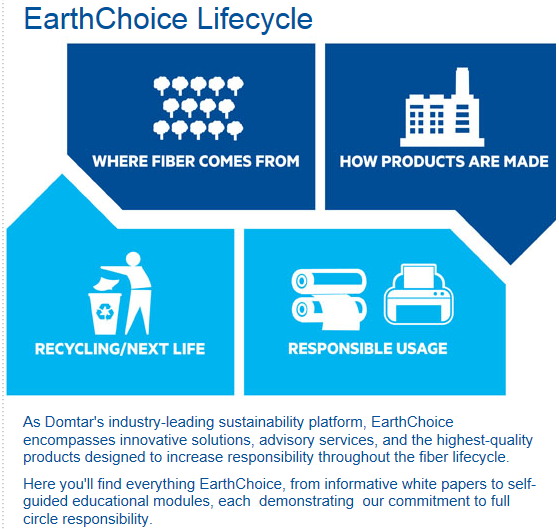 The pulp business is rather basic and as noted on the website:
Domtar produces a wide variety of products from mills in United States and Canada. Our products include Northern Softwoods valued for excellent strength properties, southern fluff valued for its low fiberization energy, and southern hardwood grades valued for strength and bulking properties. We have a history of developing new and innovative products in response to the changing and growing needs of our customers.

Along with our broad product line, Domtar has a sales and technical service team that works together with the mills to ensure our customers receive the products they need and the services they require.
If it is paper and pulp, UFS has everything to offer both individuals and businesses, and I believe these products will be around for a very, very long time to come, especially the way it is being engineered by Domtar.
The Personal Care Segment Should Become A Growth Engine
While keeping the main focus on paper and pulp, UFS is also developing a strong product assortment in its Personal Care business.
For adults:

For babies and infants

Keep in mind that these business segments are global, and are very new for Domtar; 2011-2014 appears to be the overall "birth" of this business for the company.
The area that will set this segment apart from competitors is the Absorbent Technologies that has become part of the Personal Care division in 2012.

Now that you know something about the company itself, let's take a look at some fundamentals.
It Missed Earnings But Is Still Delivering
First take a peek at some highlights from the last annual report: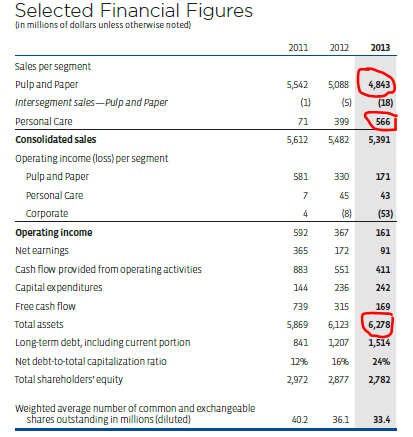 We can see the decline in paper and pulp, but it is quickly being replaced by the increase in the Personal Care division. Total assets of the company has been climbing as well, making this company, overall, more valuable from my standpoint.
Here are key highlights for paper and pulp: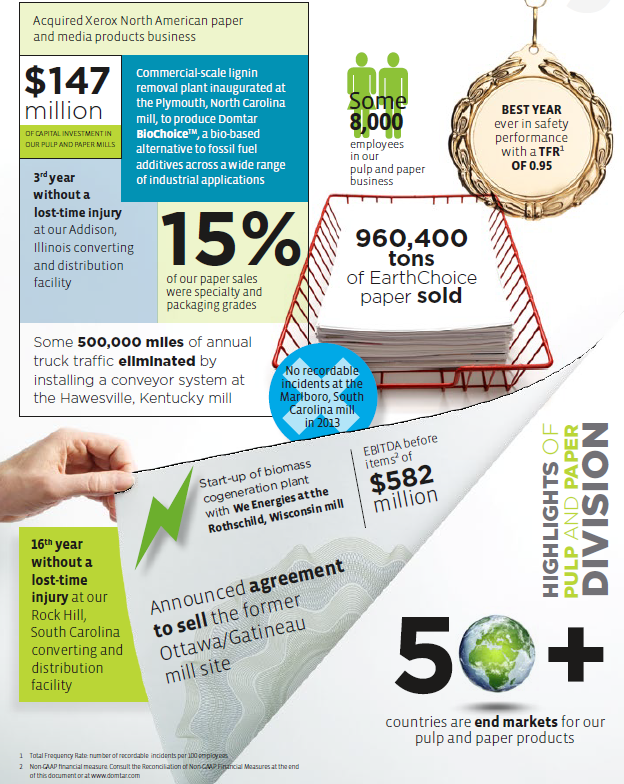 Here are some key highlights from Personal Care: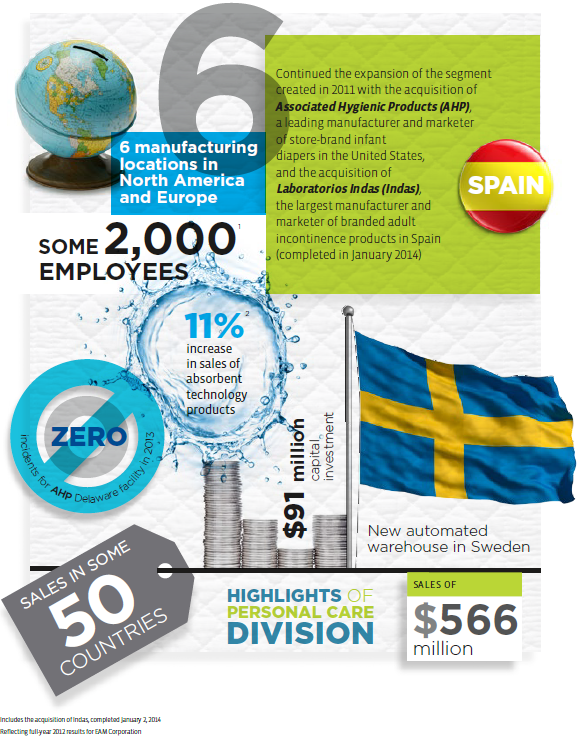 I particularly like the large global footprint in all business segments by the way.
Now some key highlights from the latest research report by Fidelity: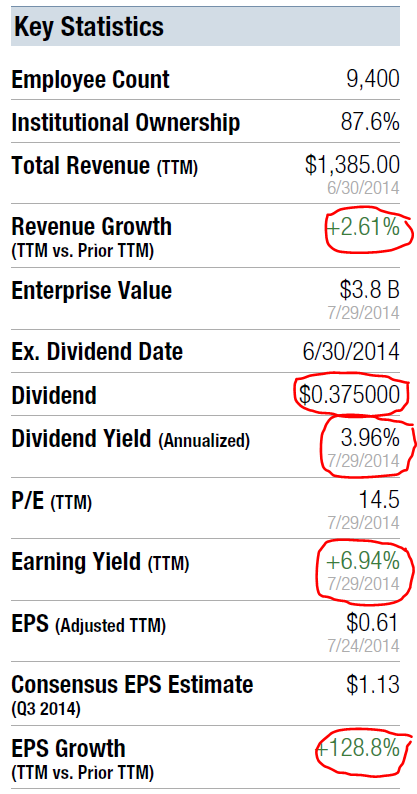 Does this look like a "failing" company to you? Not to me! Oh, and the company announced another dividend of $.375/share just the other day as well, which of course leads me into the most compelling part of owning shares.
When the stock split 2-1 back in June of this year, it also announced a rather significant dividend increase, of approximately 35% at the same time. (4th consecutive annual increase by the way)
"The Board's decision to substantially increase the regular dividend payout reflects its confidence in our future as we continue to transform Domtar into a growth company," said John D. Williams, President and Chief Executive Officer. "The acquisition of Indas earlier this year was an important step, bringing critical mass to Personal Care and enhancing the earnings growth potential of this key division. At the same time, the implementation of a stock split complements our new dividend policy and enables us to maintain a share price that is attractive to a broad range of investors," added Mr. Williams.
Now, what have the analysts been missing, or what the heck am I missing? Yes, I know that debt has increased (for M&A) and the earnings have been missing expectations, but everything else leads me to believe this is a dividend investor's dream: A declining share price, which is selling at a steep discount to book value, a payout ratio of just 53%, and a massive institutional ownership of over 84%.
Here are key valuation metrics: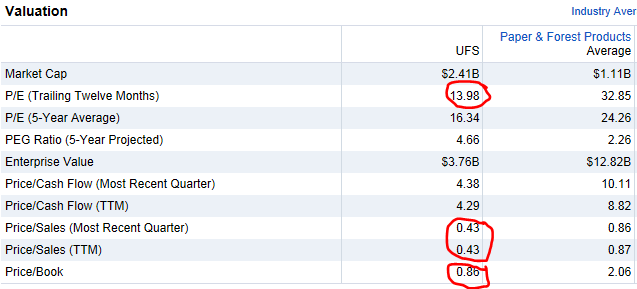 Key growth metrics: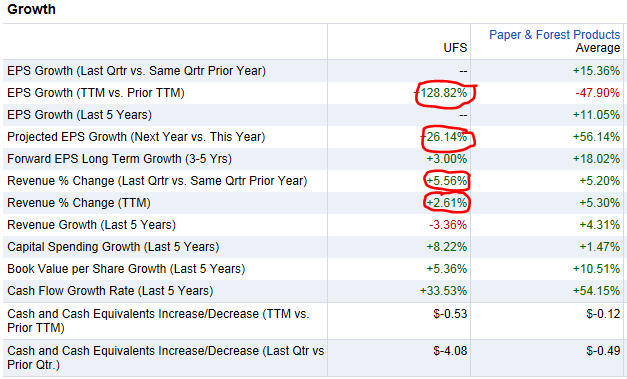 Finally, institutional holdings details:

My takeaway here is that the company is at least 16% undervalued right now, and due to the downgrades, might dip a bit further.
With a 4% dividend to own the shares, it makes sense to me that an investor looking for an undervalued, downgraded stock that seems to be offering shareholder value and is on a solid new growth path, could ease into this stock now, and add on the dips to fill a position.
Even if the company were to rise to its book value alone, that is a 16% increase in value, plus the 4% yield on current cost.
The Bottom Line
This little "gem" just might be a bargain right now. For dividend investors, it might be a perfect fit in a diversified portfolio. Be aware that if the company's plans fail, your investment dollars are at risk of course.
Other risk areas to be aware of:
Need for capital to pay debts could impact the share price.
Costs can spiral putting a hardship on earnings.
If revenues fall, the dividend could drop or even stop.
Disclaimer: The opinions of this author are not recommendations to either buy or sell any security. Please remember to do your own research prior to making any investment decision.
Disclosure: The author has no positions in any stocks mentioned, but may initiate a long position in UFS over the next 72 hours. The author wrote this article themselves, and it expresses their own opinions. The author is not receiving compensation for it (other than from Seeking Alpha). The author has no business relationship with any company whose stock is mentioned in this article.