Something is happening. I am not saying it is a trend, but the data are suggesting an improvement in the economy. This is the first time I have said this in two years. It may just be a temporary phenomenon since there are so many headwinds against a recovery. Perhaps it is just that things aren't getting worse. But the data are important and should not be ignored.
Here is what I am seeing.
Wholesale inventories are growing (.pdf) faster than sales (1.18):
click to enlarge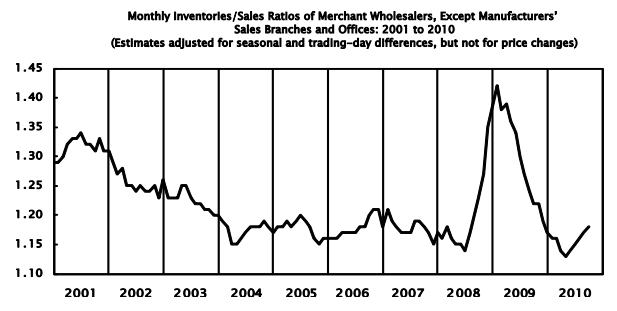 I interpret this as being a positive because wholesalers are stocking their shelves in anticipation of increased Christmas sales and in response to improving retail sales. According to a Wall Street Journal article:
Wholesale inventories grew 1.5% to a seasonally adjusted $417 billion in September, the Commerce Department said Tuesday, suggesting business confidence in the run-up to the holiday shopping season. ...

Wholesalers account for about 30% of business inventories in the U.S., with manufacturers [at 38%], and retailers making up the rest. Growth in wholesale inventories shows companies are feeling better about consumer demand over the next few months and are preparing for rising sales.

Inventory growth has been a strong contributor to the economic recovery of the past year, accounting for nearly three-quarters of the modest 2.0% growth in the third quarter.

That is poised to continue, at least for a few months. The Commerce Department report showed companies have a low level of goods on hand relative to sales, a sign that factories are likely to keep humming. At the current sales pace, wholesalers had enough goods on hand in September to last 1.18 months, up from 1.17 in August but below 1.22 in September 2009.
Business inventories (.pdf) also increased, up 0.9% for September. Business sales were up 0.5%. Retail inventory build up (0.8%) was mainly related to autos (1.7%) and "other" retail inventories increased 0.4%. The business inventory sales ratio was 1.27, showing a steady increase since May 2010.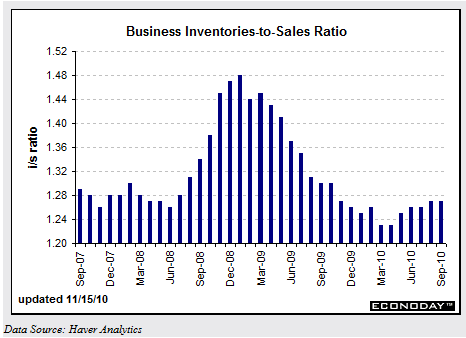 This also relates to inventory build-up for Holiday shopping.
Retail sales have actually been "OK" lately. Monday's report from the Census Bureau (.pdf) showed retail sales jumped 1.2% in October:
The U.S. Census Bureau announced today that advance estimates of U.S. retail and food services sales for October, adjusted for seasonal variation and holiday and trading-day differences, but not for price changes, were $373.1 billion, an increase of 1.2 percent (±0.5%) from the previous month, and 7.3 percent (±0.7%) above October 2009. Total sales for the August through October 2010 period were up 6.3 percent (±0.5%) from the same period a year ago. The August to September 2010 percent change was revised from +0.6 percent (±0.5%) to +0.7 percent (±0.3%).

Retail trade sales were up 1.3 percent (±0.5%) from September 2010, and 7.7 percent (±0.7%) above last year. Auto and other motor vehicle dealers sales were up 14.7 percent (±2.5%) from October 2009 and nonstore retailers sales were up 13.5 percent (±3.1%) from last year.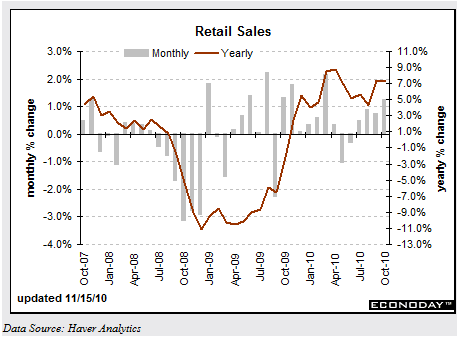 The jump in auto sales was reflected in consumer credit numbers: it increased a net $2.1 billion in September which was solely due to auto sales (nonrevolving credit) being up by $10.4 billion. This is only the second increase in the past 20 months.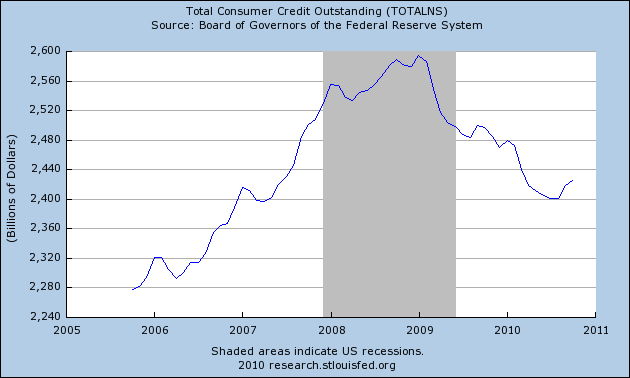 Gallup's spending survey numbers for October are overall low, but turning positive: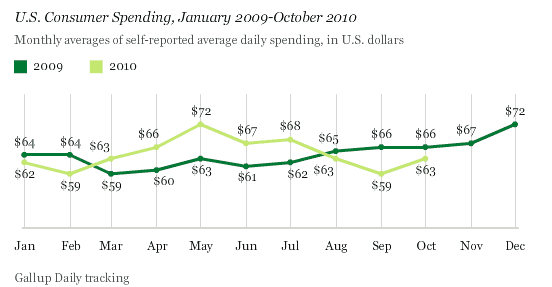 Gallup reports discretionary and marginal spending which are self-reported by consumers. While showing a slight increase, it is still down from 2009 which was a bleak year.
But...there are other important numbers to look at. While we can shrug off private job growth of 159,000 in October as being weak, it does reflect a positive trend. On the other hand, new jobless claims are stuck in the 440,000-490,000 range.
Another thing to consider is that the dollar's devaluation will have a positive impact on multinationals and exporters. Ignoring for the moment the issues surrounding devaluation and QE, it will make U.S. exports more attractive in foreign markets.
The other thing, and which I consider to be the most important statistic, is that money supply is growing: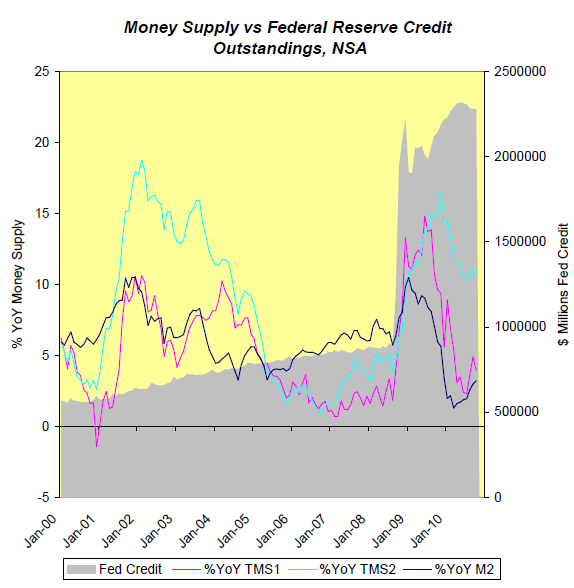 From Michael Pollaro, The Contrarian Take
According to Michael Pollaro, who generates this data:
[M]oney supply under the Austrian formulation of money, which Austrians have coined the True Money Supply or TMS, has been growing at double digit rates for some time now, 21 consecutive months to be exact, with the latest month showing a year over year rate of increase of 11.2%. And what has been the primary cause of this money supply explosion? QE I, which beginning in September 2008 not only pumped roughly $1.5 trillion of reserves into the economy but pumped the same $1.5 trillion of money into the economy too. ...

Now another $600 billion of monetary inflation in the pipeline with QE II. That's over $2 trillion in monetary inflation courtesy of the Federal Reserve's QE programs. In September 2008 TMS was $5.4 trillion. It's now $7 trillion, likely on its way to at least $7.6 trillion. I think you would agree, that's a far cry from [Ben Bernanke's claim that] the amount of cash in circulation is not changing.
I urge you to read Pollaro's complete article. Money supply growth is inflation. This should generate a temporary push to the economy. I anticipate we will see higher CPI numbers on Wednesday, reflecting price inflation as a result of monetary inflation. (I might even have to apologize to Mrs. Palin.)
With all this new money sloshing around we are seeing "improved" loan activity, and as a result some reduction in excess bank reserves held at the Fed: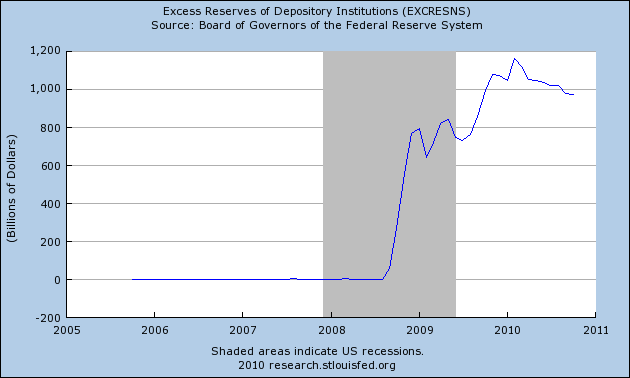 Bank credit and bank loans are improving, or, to put it more accurately, they have flattened out and are not still collapsing. Here are three charts reflecting banking trends: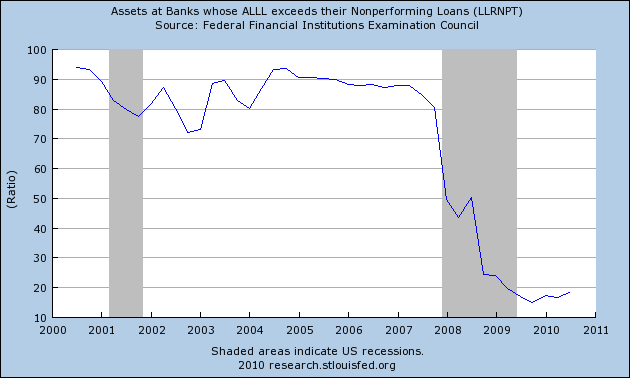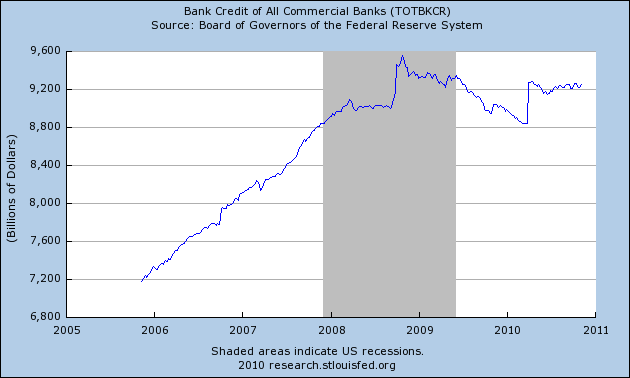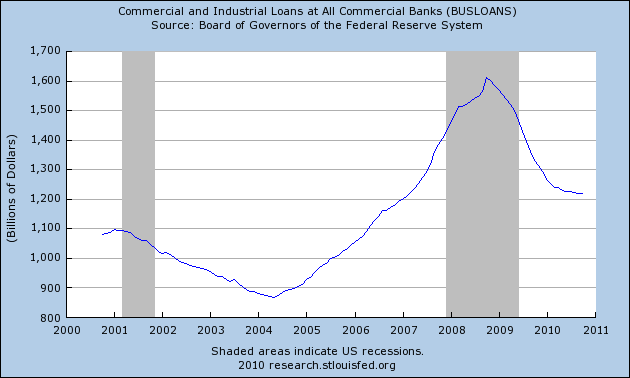 The most recent survey of loan officers by the Fed bears this out:
Banks further eased standards and terms on some types of business and household loans in the past three months, a Federal Reserve survey showed, while many said it would take years for standards to return to long-term norms.

Banks were more willing to make consumer installment loans and eased standards on credit-card loans, the central bank said in its quarterly survey of senior loan officers through the middle of October. At the same time, demand for mortgages remained weak, while demand for business lending fell, after having been unchanged in the previous survey.

For the second consecutive survey, banks eased standards on commercial and industrial loans. Banks that eased "cited a more favorable or less uncertain economic outlook and increased competition from other banks and nonbank lenders as important reasons for doing so," the Fed said in its survey.
The Fed survey ended with this sobering caution:
Banks in the survey said that all types of lending would not return to normal for years. "For all loan categories, substantial fractions of respondents thought that their bank's lending standards would not return to their long-run norms until after 2012 or would remain tighter than longer-run averages for the foreseeable future," the Fed said.
I have also been reporting that things are changing at the local and regional banks in that they are starting to aggressively clean their balance sheets by getting rid of foreclosed CRE and delinquent loans.
The fourth quarter is often a time when banks try to tidy up their balance sheets for the coming year. As they step up efforts to sell problem loans, this quarter could be the big flush. ...

In recent weeks several banking companies have announced that they have shed nonperforming assets or struck deals to do so. Loan-sale experts say interest in selling is picking up, with executives growing weary of playing defense and looking to start 2011 with a clean slate, or at least a cleaner one.

"I think there is a segment of the bank seller market that really has the desire to clean up their books for the end of the year and be able to move on next year," said Justin A. Barr, president of Loan Workout Advisers in Chicago.
Local and regional banks are preparing for stiff competition from the large banks who now see opportunity in the small-to-middle-market sector. They need to be healthy in order to defend their customer base from aggressive poachers such as Citibank (NYSE:C) and BofA (NYSE:BAC).
What does all this mean? Things are improving.
I am not calling this a "turn" or necessarily a "trend" in the economy because of all the negative factors still out there. But I do think things are improving.
But, much of the prospect of a turnaround depends on the resolution of other important issues that are weighing on the economy:
Loan demand is poor because businesses are reluctant to commit to borrow until they see sufficient demand and they perceive the risks from "regime uncertainty" is manageable. Regime uncertainty refers to uncertainty relating to the impact of new government burdens. It is a major stumbling block to a recovery. One hopes that the 2010 election revolution will put a stop to further economically disruptive legislation. And perhaps businesses will see some roll-backs of proposed tax increases, Obamacare, and Dodd-Frank burdens on them. If so, it might give them an incentive to expand their businesses, borrow, and hire.
Monday's Empire State manufacturing report tanked (down 11.1%) and the Philly report (Friday) is expected to be bad.
Eurozone problems look like they are about to explode again with PIIGS problems.
Trade wars are a realistic threat.
Unemployment is still high and job growth is too low to significantly budge the needle.
Federal spending, growing deficits, and the prospect of higher taxes threaten productivity.

Competition among sovereigns to finance debt.

A devaluing dollar will harm consumer spending as imported goods increase in cost.
Inflation. It could be that, since these rising numbers are almost all nominal (i.e., not adjusted for inflation "real"), these improvements are negated by price inflation.
Perhaps this just means that the economy is flattening out and not declining further, and it will just stagnate. The GDP numbers are already baked in, so I don't see any change in the Q4 report that would change my belief that it will be no better than Q3 GDP. We can probably expect the revised Q3 numbers to be a bit weaker than +2.0%.
We need to note that if there is an improving trend, neither the Fed, nor the Obama Administration can claim they were the cause. All business cycles run their course. They all behave differently, largely depending on how much the government interferes with the recovery process. During the first two years of this crisis, the government has done everything they could to deter a recovery: bailing out failed institutions, propping up banks which should have been dissolved or have been forced to raise more capital and clean up their balance sheets (thanks for mark-to-make-believe, delay and pray, extend and pretend), spending vast sums on wasteful projects, incurring huge deficits which raise the specter of higher taxes, Cash for [Your industry here], HAMP, HARP, HAFA, and many more.
While all this was going on, individuals were deleveraging and increasing savings, banks were dealing with their problems albeit slowly, companies were becoming lean and mean, bankruptcies kept rising, foreclosures continued. These things are painful but without them we would not and will not recover. I believe this process is now speeding up which is positive for a recovery.
But, tell me what the government will do next: they are Factor X. But for now, I can't ignore the data.
Disclosure: No positions