The surprisingly hot Employment Cost Index for Q2 shocked the market Thursday and sent the SPDR S&P 500 (NYSE: SPY) sinking. It did so because it fed inflation fear, which scared the market about potentially faster firing interest rates and the cost of capital for corporations. If the costs of capital rise, the burden for return on investment rises and stocks should see a contraction in P/E. In other words, the S&P 500 Index should drop along with stocks generally. Obviously, that includes the passive ETF following the index, the SPDR S&P 500 , which was done in on Thursday.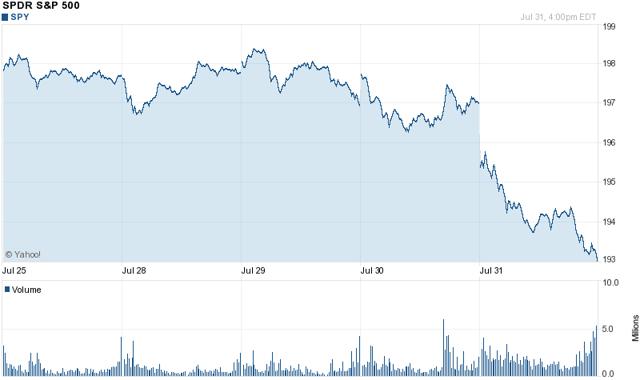 The SPDR S&P 500 ETF fell by 2.0% Thursday, and it wasn't alone. Other broad market measures dropped in kind. Perhaps most telling were the Vanguard Total Stock Market (NYSE: VTI) and the iShares Russell 2000 (NYSE: IWM) declines, which illustrate how vast the damage reached.
| | |
| --- | --- |
| Market Security | Thursday July 31 |
| SPDR S&P 500 | -2.0% |
| SPDR Dow Jones (NYSE: DIA) | -1.9% |
| PowerShares QQQ (NASDAQ: QQQ) | -2.0% |
| iShares Russell 2000 | -2.3% |
| Vanguard Total Stock Market ETF | -2.0% |
The catalyst was clear; it was the Employment Cost Index reported Thursday for the second quarter ended June. It showed that civilian compensation costs rose by a significant 0.7% rate, versus expectations for a 0.5% increase. What's more is that the index was up 2.0% for the 12 months ended in June, and that just happens to be a key point of increase for a key inflation measure. It's key because the Fed believes it to be so, and so it's all the more likely now that the Fed raises interest rates sooner rather than later. Rising interest rates mean an increased cost of capital for companies, and that's bad for the shares of those companies due to the higher burden for return on invested capital. It could drive contraction in P/E while serving as a drag on EPS growth.
Stocks had hinted lower earlier in the week on the strong Q2 GDP growth of 4.0%. But for as long as the economy grew absent of inflation, we seemed in for clear sailing. I have to ask, though, since when do things go so perfectly in any endeavor? Perhaps market bulls were a bit too hopeful while driving the P/E ratio of the S&P 500 toward 20X. Well, we all paid for that hope on Thursday.
The Federal Reserve referenced economic growth in its latest monetary policy release as reason for it to continue on its way with asset purchase reduction and toward eventual rate increases. It also noted the inflation scenario, where it said, "Inflation has moved somewhat closer to the Committee's longer-run objective." It followed that statement with, "Longer-term inflation expectations have remained stable." I suppose we should assume the Fed had the Employment Cost figures in hand when it said as much, and we should not fret because of it, but the market overlooked that fact Thursday. Either that, or there just isn't much confidence in the forecasting skill of the Fed amongst market mavens. That's the more likely truth.
Perhaps with the help of this article's revelation of that fact and the fact that investors are greed-driven, the market will get a grip and settle down moving forward. Much will depend on future economic and inflation data, which will have to be just right to serve stocks. Indeed, Goldilocks better turn up soon, because all sorts of bears, including Russian Kamchatka Browns threaten. You already know my opinion regarding the S&P 500 and its passive investment vehicles, namely the SPDR S&P 500 . I told you a few weeks back to sell this market's passive vehicles including the SPY, because this is stock-picker territory. In future pieces, I'll talk more about what types of stocks you should look for and which you should avoid given the environment, and I'll call out a few select names as well so stay tuned.
Disclosure: The author has no positions in any stocks mentioned, and no plans to initiate any positions within the next 72 hours. The author wrote this article themselves, and it expresses their own opinions. The author is not receiving compensation for it (other than from Seeking Alpha). The author has no business relationship with any company whose stock is mentioned in this article.