In its deal to acquire Shire PLC for $54 billion, U.S. drug manufacturer AbbVie (NYSE:ABBV) will establish its tax domicile in the United Kingdom, thereby lowering its corporate tax rate to just 13 percent by 2016 from its present 22 percent rate.
Several days later, the U.S. Treasury department made negative comments about U.S. corporations that move overseas to benefit from tax advantages. AbbVie intends to keeps its operational base in Illinois.
Acquisition: Down To The Wire
Shire's board approved the acquisition within hours ahead of a cut-off date set by the U.K. takeover regulating panel. Shire had opposed AbbVie's advances for over two months in addition to outright rejecting four offers as not high enough. Shire is incorporated in the U.K. dependency of Jersey that functions as a tax haven, and the corporate headquarters are located in Dublin.
"Inversion Deals"
Medical device makers and drug manufacturers are currently creating a flurry of mergers worth billions of dollars to sidestep high U.S. corporate tax rates. These mergers, known as "inversion deals," work when the shareholders of the acquired company, such as Shire, end up owning about 15 percent of the newly formed company. This exceeds the 20 percent threshold necessary to complete an "inversion" by which the corporation changes its tax domicile by the acquisition.
Shire Stock To Benefit
Even though AbbVie considered the merger "highly executable," the deal includes a breakup fee of approximately $1.6 billion. This equals 3 percent of the value of the transaction and will be paid to Shire if AbbVie cannot complete the deal.
Moreover, Shire will be paid a fee of approximately $500 million if AbbVie shareholders vote against the purchase. This breakup arrangement does not include any exemptions for alterations in U.S. tax code that would result in a less attractive deal.
AbbVie anticipates that the deal will close by the end of this year, and the price places a 53 percent premium valuation on Shire's stock price on May 2, and nearly double to its price at the beginning of 2014.
New Corporation Will Enjoy Tax Reduction, Diversification
The new corporation will be called AbbVie, and it expects to register in Jersey.
In addition to the benefit AbbVie will enjoy from the tax reduction, the acquisition of Shire will result in a more diversified product lineup for AbbVie and lessen its reliance on its popular arthritis treatment, Humira. Currently, Humira represents over 50 percent of revenue for AbbVie, and this will change after the drug begins to lose patent protection towards late 2016.
By purchasing Shire, AbbVie will garner a much more diversified product mix including Adderall and Vyvanse, drugs to treat attention deficit disorders. In addition, the lineup will now include a growing portfolio of treatments for rare diseases. Currently, this classification of drugs generates approximately $2 billion in annual revenue and includes Replagal, a drug for Fabry disease and Eleprase, a drug for Hunter syndrome. These rare-disease drugs can prove to be highly profitable because they frequently receive lengthy periods of exclusivity in America and Europe.
This merger will make AbbVie a leading company in the fields of rare diseases, immunology, metabolic diseases and neuroscience. However, the two corporations have very little redundancies in their operations, which will limit cost savings through streamlining.
Abbvie Shareholders See Significant Growth
Sales for AbbVie in the second quarter of 2014 were $4.926 billion, an increase of 5 percent.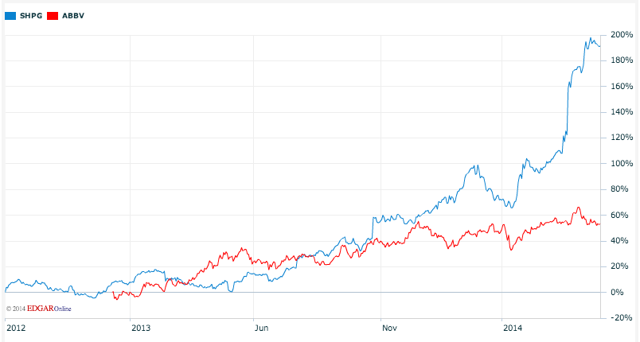 (Nasdaq.com)
Second quarter revenue came primarily from continued strength in sales of Humira.
Worldwide sales of the treatment increased over 26 percent, before taking into account fluctuations in foreign exchange rates.
Overall growth in sales was also driven by strong performances in critical products including Sevoflurane, Synthroid and Duodopa.
We are increasingly positive on ABBV in the second half of 2014 and suggest shareholders be so, as well.
We invite readers wishing to join the discussion on AbbVie and the greater pharmaceutical industry to click the +FOLLOW button above the title of this article-- and those looking for the latest development to click +Get real time alerts.
Disclosure: The author has no positions in any stocks mentioned, and no plans to initiate any positions within the next 72 hours. The author wrote this article themselves, and it expresses their own opinions. The author is not receiving compensation for it (other than from Seeking Alpha). The author has no business relationship with any company whose stock is mentioned in this article.