When I first wrote about EVS (OTCPK:EVSBY) I was super excited and very optimistic about how they would perform during 2014. My article even got the « editor's pick » label and as it was my first one ever, I felt super proud. But now, one quarter later, I must say that I am - let's say - mildly disappointed. And please note the sarcasm I'm using here. I'm actually feeling quite bad that my first « editor's pick » turned out this way.
The stock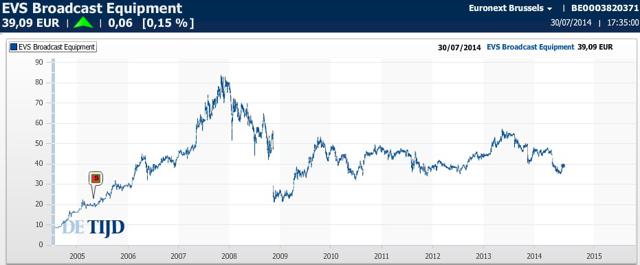 Shares fell 16% since January and were actually quoting - before the recent bounce - at the very low-end of their 5-year trading range of €35 and €46.
Because of this awful performance, I feel that I owe you guys a trading update, so here it goes.
The cautious message
In February, management sent out a warning message that revenue would come out at around €30 ($40.16) million instead of €35 ($46.86) million. It was a general cautious message to warn us, investors and analysts, that there currently is a soft economic environment in the broadcast industry and that we should not be hoping for record-breaking results.
The 1Q2014 results
There's no point in putting this nicely, so here I go: EVS's first quarterly results were plain bad.
Revenue dropped 10.6% compared to the same period last year and fell quite below analysts' expectations; who were expecting at least €32 ($42.83) million in revenue.
The lower revenue, combined with more expenditure, made sure that EVS's bottom line was also disappointing. EBIT came out at only €10 ($13.38) million (30.7% lower than the same period last year).
Net earnings for the quarter came out at €7.3 ($9.77) million, indicating a 27% decline compared to 2013.
Net earnings per share fell 29.5% to €0.53 ($0.70) vs. €0.75 ($1) last year.
Like every company that just reported bad earnings, management was trying to put the focus on the future and some positive notes. And the future appears to be quite good actually. But it also did last time. So watch out.
The rising costs
EVS's operating expenditures will increase by 10-15% in 2014 mainly related to investments in new technologies. But Magdalena Baron (EVS's financial director) tried to boost confidence by telling that she will control costs even better and will selectively invest in only the most important growth opportunities.
The spring order book
For the rest of 2014, EVS is already enjoying an order book of €44.9 ($62) million, an increase of +14.6% vs. 2013, excluding big events. And does already have a €10.7 ($14.63) million order book for 2015 and beyond. This lays in-line with what well-known Belgian analyst Petercam was expecting (€44.4 or $60 million), but not what the general consensus was expecting (€50.5 million ($67 million)).
The fat dividend
For fiscal 2013, EVS has proposed to distribute a total gross dividend of €2.16 to its shareholders. It already distributed €1.16 as interim-dividend, so shareholders will receive an additional €1 dividend. This implies a payout ratio of 85%, in line with previous years and a current dividend yield of around 5.5%, which is still great if you ask me. But keep in mind that the dividend still needs to be approved on the general meeting (taking place on May 20).
The conclusion
Management is still very cautious about 2014, as "macroeconomic conditions are still weak." If market conditions do not improve, revenue for 2014 is expected to grow by a high single digit.
After the drop from €47 to €39, the company is sitting at the low-end of its 5 year-trading range and I see this as an absolute bottom for the stock price during 2014.
I remain bullish on EVS, especially towards the €35 range.
Disclosure: The author has no positions in any stocks mentioned, but may initiate a long position in EVSBY over the next 72 hours. The author wrote this article themselves, and it expresses their own opinions. The author is not receiving compensation for it (other than from Seeking Alpha). The author has no business relationship with any company whose stock is mentioned in this article.