Sirius XM (NASDAQ:SIRI) announced its Q2 financial results earlier this week. I expected Q2 earnings to prove Sirius is no longer a growth stock, and it delivered in the form of declining earnings and more financial engineering. That said, I advise investors to short the stock via put options. Below are the historical operating results of the company: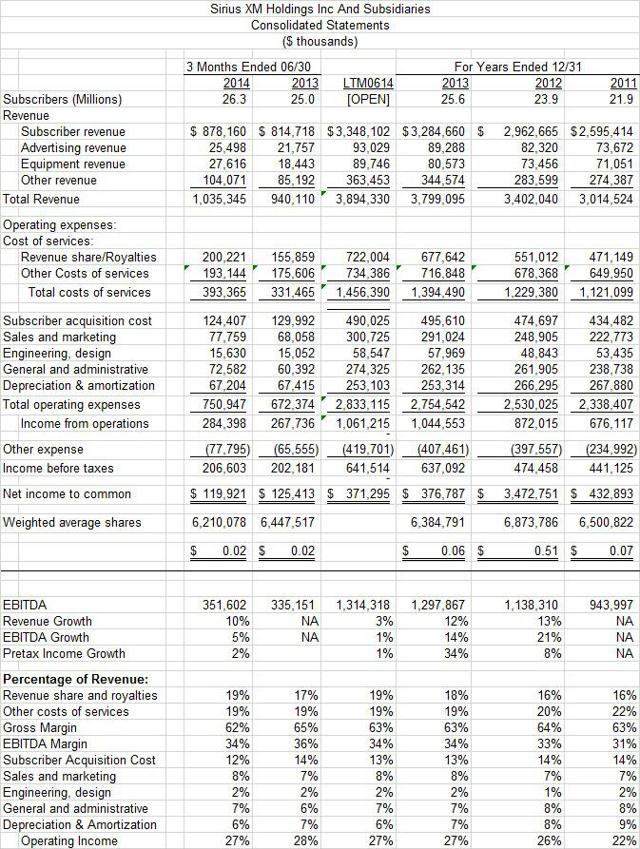 Click to enlarge
Revenue
Subscriber growth was up 5% annually to 26.3 billion. Revenue of $1.035 billion was up 10% annually and 4% sequentially. It also exceeded analysts' estimates of $1.02 billion. Overall, revenue growth was impressive and in line with the 11% growth achieved for Q1 2014.
Expenses
On the article, Sirius XM Is No Longer A Growth Stock, I voiced concerned that Q1 2014's revenue share and royalties as a percentage of revenue ticked up to 20% from 17% the previous year:
Operating income margin declined to 25% for Q1 2014 from 28% during the previous period ... Revenue share and royalty fees were 20% of revenue for Q1 2014, versus 17% for Q1 2013, causing gross margin to decline to 61% from 63%. Increase in such fees was primarily attributable to greater revenue subject to royalty and/or revenue share arrangements, and an increase in the statutory royalty rate for the performance of sound recordings.
I was keen to see if the trend would continue or if it was a one-off occurrence. In Q2 revenue share and royalties was 19% of revenue versus 17% a year earlier. This also contributed to Sirius' gross margin decline to 62% in Q2 2014 versus 65% a year earlier. Sales and marketing costs (8% of sales versus 7% a year earlier) and general and administrative costs (7% of sales versus 6% in Q2 2013) also ticked up. Overall, Sirius' operating income margin declined to 27% versus 28% a year earlier, implying that the company is not benefiting from economies of scale.
Net Income
In addition to the decline in operating income margin, interest expense increased to $78 million in the quarter, versus $66 million a year ago. Net income to common shareholders declined 4% from $125 million in Q2 2013 to $120 million during the current quarter. However, earnings per share was flat year-over-year at $0.02 per share as weighted average shares outstanding also declined 4% year due to stock buybacks.
Valuation
Sirius' stock price of $3.38 per share equates to a market capitalization of $20.6 billion. Including long-term debt of $4.1 billion, Sirius' enterprise value is $24.7 billion. Based on net income through last 12 months ended June 30, 2014 ("LTM0614) of $371.3 million, the company trades at 55.5x earnings. Based on LTM0614 EBITDA of $1.3 billion, its enterprise value to EBITDA is 18.8x. Given the company's earnings decline, to call these valuation multiples "frothy" would be an understatement.
Conclusion
Sirius' Q2 revenue grew at a double digit rate again. However, its earnings declined 4% from a year ago. At 56x earnings and 19x EBITDA, Sirius is a "short."
Disclosure: The author is short SIRI. The author wrote this article themselves, and it expresses their own opinions. The author is not receiving compensation for it (other than from Seeking Alpha). The author has no business relationship with any company whose stock is mentioned in this article.