By Brandon Matthews
The filings continue to flow into the Securities & Exchange Commission, as Tuesday's institutional reporting deadline draws near. Already there have been some surprises such as General Electric (NYSE: GE) taking a stake in Sirius XM Radio (NASDAQ: SIRI). Institutional accumulation appears to be ongoing, as several other names have decided to put capital to work in Sirius XM last quarter, such as Credit Suisse (NYSE:CS), Oppenheimer, Renaissance Technologies and Jennison Associates. Perhaps the most important revelation to date however, is Friday evening's filing by billionaire hedge fund investor, Leon Cooperman.
Leon G. Cooperman founded Omega Advisors, Inc., a $3.5 billion hedge fund based in New York City. Prior to starting Omega, Mr. Cooperman spent 25 years at Goldman, Sachs & Co., where he was a General Partner, and Chairman & Chief Executive Officer of Goldman's Asset Management division. Mr. Cooperman received his MBA from Columbia University and his undergraduate degree from Hunter College.
According to a recent SEC filing, billionare investor Leon Cooperman, founder of Omega Advisors and the former head of investment research at Goldman Sachs (NYSE: GS), purchased 24,517,500 shares of Sirius XM common stock last quarter, now valued at over $35,000,000.00. Cooperman's net worth is estimated at $1.5 billion, making this wager very significant….even more so given Copperman's decision to donate the bulk of his fortune to charity.
Click to enlarge: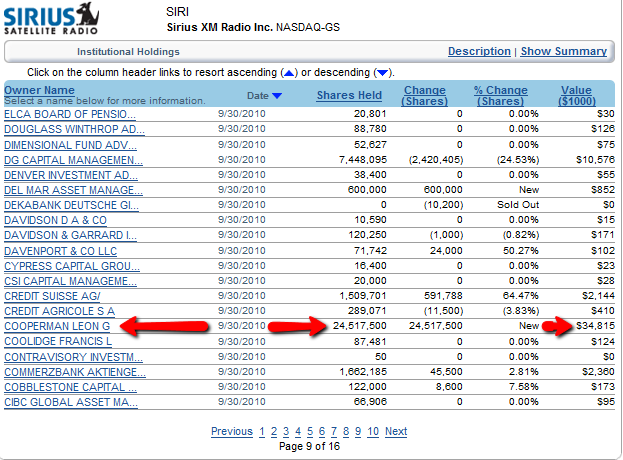 A check of the actual filing with the Securities & Exchange Commission dated Friday, November 12, 2010, verifies not only the large purchase of Sirius XM common stock, but also that Sirius XM Radio is now Omega's largest holding in regards to share count. Cooperman also bet $10 million on 200,000 shares of Liberty Media (LMDIA, LCAPA) Preferred.
Sirius XM appears out of place in this portfolio as the only radio business listed, while other media or subscription-based companies such as Liberty Media, Time Warner Cable (TWC), Cablevision (NYSE:CVC), DirecTV (DTV) & Dish Network (NASDAQ:DISH) keep Sirius XM company on the billionaire's list.
Looking at the portfolio from an overall perspective however, demonstrates an over-weighting in consumer driven names such as McDonald's (NYSE:MCD) and Domino's Pizza (NYSE:DPZ) to Ford (NYSE:F), Gamestop (NYSE:GME) and Casual Male (CMRG).

Disclosure: Long SIRI, will be purchasing DTV and DISH this quarter opportunistically, no others