TCP Capital (NASDAQ:TCPC) announced an equity offering of 5.4 million shares to raise approximately $104 million in additional growth capital after taking into account offering expenses and including the underwriters option of an additional 810,000 shares. I believe the recent offering was good timing for the company as BDC prices have risen since mid-May but are starting to dip again due to interest rate fears (I will go into this more in upcoming articles). The following chart shows the overall BDC performance over the last 12 months.
Recently at least three BDCs have taken advantage of higher stock prices to raise capital at a premium including TCPC, Ares Capital (NASDAQ:ARCC) and Fifth Street Finance (NYSE:FSC). The chart below shows the timing of the equity raises by these companies compared to the overall BDC cycle.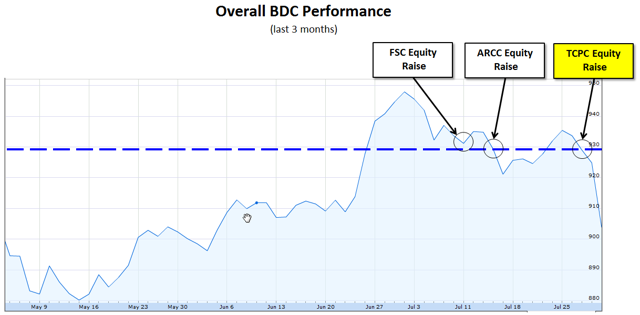 The offering price of $17.33 was at a 13% premium to its net asset value ("NAV") per share and is much higher than the current NAV multiple that most BDCs are currently trading. This will have an accretive impact to shareholders as shown in the table below as well as raising capital at a lower cost to the company especially after taking into account the ability to leverage for higher returns.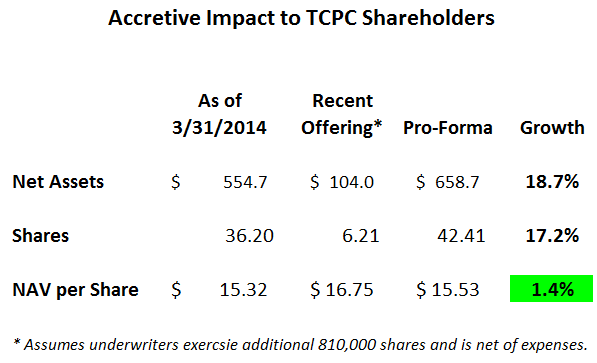 As discussed in my recent "Portfolio Growth Potential" article, TCPC had enough capital to grow its portfolio by another 25% as of March 31, 2014. But due to the recent growth of the portfolio much of this capital was used including around $81 million for Q2 2014 and I have estimated another $35 million in the first 24 days of Q3 2014. The company provided investors with net debt-to-equity ratios of 0.63 for June 30, 2014 and 0.69 for July 24, 2014 as well as amounts on various borrowing facilities indicating that the amount of debt increased by around $116 million since March 31, 2014. Other disclosures from the recent SEC documents filed by the company provided some preliminary results for the quarter ended June 30, 2014 including the following:
Core EPS of $0.39 to $0.40
EPS of $0.32 to $0.34
Stable NAV
$81 million in net portfolio growth - 10% of FMV
100% of new investments safer senior secured loans
The core EPS fully covered the current quarterly dividend of $0.36 and it seems there were some realized/unrealized losses for the quarter but the company maintained a stable NAV per share.
Dividend Coverage Potential
The following analysis is an update to my "Dividend Coverage" series that uses the current cost structure and capital expenses for each BDC along with the amount of equity as of March 31, 2014 (or most recent for this analysis) and the current portfolio yield to project income and expenses at various levels of leverage. For more information on this approach to projecting dividend coverage please read "BDC Dividend Coverage Part 1".
I have updated this analysis to include the recent offering as well as the increased interest expenses from its borrowing facilities. However I have not included the potential for the underwriters option and only included the capital from the 5.4 million shares. As of August 1, 2014 the rates for amounts owed on its Operating Company Facility will increase from L + 0.44% to L + 2.50%. Also TCPC, like many other BDCs, is starting to use more fixed rate borrowings at higher rates to position for the potential for interest rates to rise and in June 2014 closed a private placement of $108 million in notes at a fixed rate of 5.25%. The following table shows the results for the most recent quarter along with projections at various levels of leverage and using a stable yield of 10.8% to determine the impacts on dividend coverage. Each of these scenarios assumes a full quarter of benefit from interest income but also a full quarter of interest expense, management and incentive fees.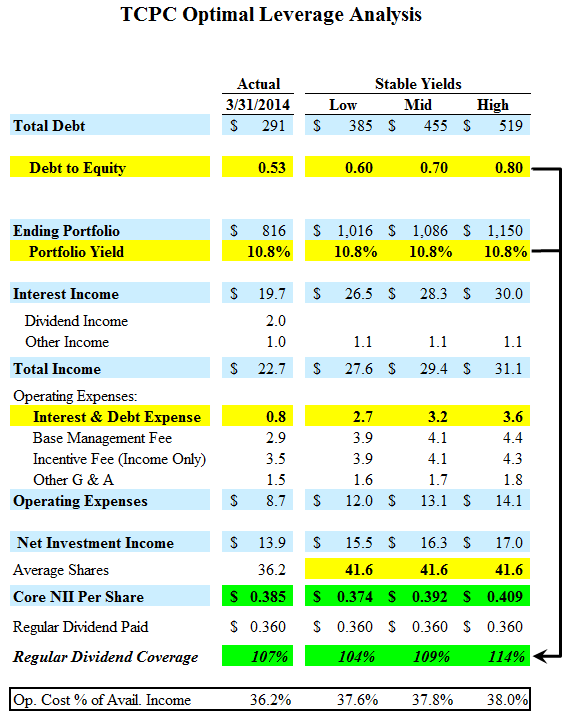 These scenarios assume the highest level of efficiency and actual results could be lower because there will always be some turnover in the portfolio that could drive higher fee income. As discussed in many of my "TCPC Articles" the company has the ability to grow its dividend more than most BDCs and this analysis implies that the company could grow the portfolio to $1.15 billion without the need to issue additional shares. This would be around 40% portfolio growth over Q1 2014 with only 15% more shares. The additional debt capital would likely come from its unused SBIC license to borrow an additional $75 million at low fixed rates of ~3.2% or its recently increased TCPC Funding Facility of $200 million with an accordion feature expanded to $250 million. Investors should only use this information as a starting point for due diligence and please see my frequently updated "Index to BDC Articles" for more information.
Disclosure: The author is long ARCC, FSC, FSIC, GBDC, HTGC, MAIN, NMFC, PFLT, PNNT, PSEC, TCPC. The author wrote this article themselves, and it expresses their own opinions. The author is not receiving compensation for it (other than from Seeking Alpha). The author has no business relationship with any company whose stock is mentioned in this article.