The following is a list of stocks that are approaching an inflection point, based on moving average trends. For this article, we define an inflection point as the convergence between the 50-day and 200-day moving averages.

When these two moving averages cross, it often represents a shift in investor sentiment. If the 50-day MA moves above the 200-day MA (bullish), it's called a "Golden Cross" signal. If, on the other hand, the 50-day MA crosses below the 200-day MA (bearish), it's called the "Death Cross".

All of the stocks mentioned below have recently seen the SMA50 move above the SMA200 (bullish signal). In addition, all of these stocks have a track record of beating analyst earnings estimates.

Judging by their earnings results relative to analyst estimates, it's clear that these stocks are being underestimated by analysts.

Now that these companies are seeing upward momentum, will their winning streak continue, or is most of the good news already priced in?

A full breakdown of earnings relative to analyst estimates can be accessed here. Earnings data sourced from AOL Money, short float data sourced from Finviz.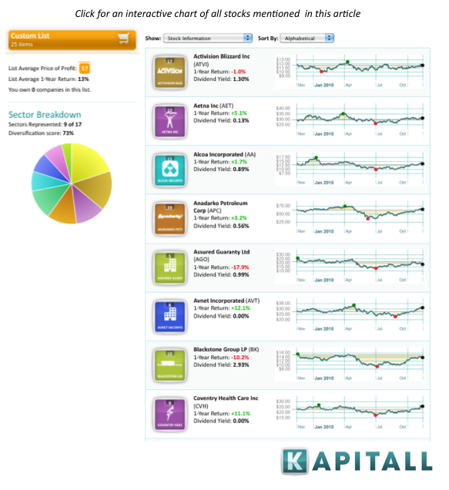 The list has been sorted by average surprise relative to analyst estimates.

1. Manpower Inc. (NYSE:MAN): Staffing & Outsourcing Services Industry. Market cap of $4.55B. The company has outperformed analyst expectations by an average of 76.03% over the past year. SMA50 at $52.69 vs. SMA200 at $50.79 (current price at $55.79). Short float at 3.19%, which implies a short ratio of 3.56 days. The stock has gained 12.87% over the last year.

2. Plains Exploration & Production Company (NYSE:PXP): Independent Oil & Gas Industry. Market cap of $4.07B. The company has outperformed analyst expectations by an average of 63.46% over the past year. SMA50 at $27.05 vs. SMA200 at $26.97 (current price at $29.07). Short float at 6.39%, which implies a short ratio of 3.07 days. The stock has gained 4.83% over the last year.

3. Och-Ziff Capital Management Group LLC (NYSE:OZM): Asset Management Industry. Market cap of $5.47B. The company has outperformed analyst expectations by an average of 60.27% over the past year. SMA50 at $14.71 vs. SMA200 at $14.45 (current price at $14.97). Short float at 5.49%, which implies a short ratio of 12.38 days. The stock has gained 29.27% over the last year.

4. Wendy's/Arby's Group, Inc. (NYSE:WEN): Restaurants Industry. Market cap of $2.B. The company has outperformed analyst expectations by an average of 57.55% over the past year. SMA50 at $4.6 vs. SMA200 at $4.58 (current price at $4.78). Short float at 1.73%, which implies a short ratio of 1.65 days. The stock has gained 16.59% over the last year.

5. Coventry Health Care Inc. (CVH): Health Care Plans Industry. Market cap of $3.79B. The company has outperformed analyst expectations by an average of 57.16% over the past year. SMA50 at $22.57 vs. SMA200 at $21.96 (current price at $25.51). Short float at 1.4%, which implies a short ratio of 1.46 days. The stock has gained 11.06% over the last year.

6. Weyerhaeuser Co. (NYSE:WY): Lumber, Wood Production Industry. Market cap of $9.42B. The company has outperformed analyst expectations by an average of 53.78% over the past year. SMA50 at $16.11 vs. SMA200 at $15.94 (current price at $17.58). Short float at 3.06%, which implies a short ratio of 3.2 days. The stock has gained 25.04% over the last year.

7. Activision Blizzard, Inc. (NASDAQ:ATVI): Multimedia & Graphics Software Industry. Market cap of $13.96B. The company has outperformed analyst expectations by an average of 39.81% over the past year. SMA50 at $11.22 vs. SMA200 at $11.15 (current price at $11.57). Short float at 4.1%, which implies a short ratio of 2.01 days. The stock has gained 0.39% over the last year.

8. Anadarko Petroleum Corporation (NYSE:APC): Independent Oil & Gas Industry. Market cap of $32.02B. The company has outperformed analyst expectations by an average of 39.72% over the past year. SMA50 at $58.44 vs. SMA200 at $57.79 (current price at $64.6). Short float at 2.03%, which implies a short ratio of 2.03 days. The stock has gained 3.93% over the last year.

9. Sirona Dental Systems Inc. (NASDAQ:SIRO): Medical Appliances & Equipment Industry. Market cap of $1.99B. The company has outperformed analyst expectations by an average of 39.38% over the past year. SMA50 at $36.39 vs. SMA200 at $35.89 (current price at $36.). Short float at 2.8%, which implies a short ratio of 4.31 days. The stock has gained 23.88% over the last year.

10. The Blackstone Group (NYSE:BX): Asset Management Industry. Market cap of $5.02B. The company has outperformed analyst expectations by an average of 37.99% over the past year. SMA50 at $12.45 vs. SMA200 at $12.08 (current price at $13.66). Short float at 2.56%, which implies a short ratio of 2.14 days. The stock has lost -4.14% over the last year.

11. SM Energy Company (NYSE:SM): Independent Oil & Gas Industry. Market cap of $3.09B. The company has outperformed analyst expectations by an average of 37.92% over the past year. SMA50 at $40.59 vs. SMA200 at $39.51 (current price at $48.94). Short float at 5.84%, which implies a short ratio of 4.34 days. The stock has gained 49.62% over the last year.

12. Thompson Creek Metals Company Inc. (TC): Industrial Metals & Minerals Industry. Market cap of $2.06B. The company has outperformed analyst expectations by an average of 37.41% over the past year. SMA50 at $11.13 vs. SMA200 at $11.11 (current price at $12.56). Short float at 5.03%, which implies a short ratio of 4.07 days. The stock has gained 6.71% over the last year.

13. Mohawk Industries Inc. (NYSE:MHK): Textile Industrial Industry. Market cap of $3.64B. The company has outperformed analyst expectations by an average of 36.01% over the past year. SMA50 at $53.48 vs. SMA200 at $52.11 (current price at $53.13). Short float at 10.15%, which implies a short ratio of 8.25 days. The stock has gained 19.72% over the last year.

14. Alcoa, Inc. (NYSE:AA): Aluminum Industry. Market cap of $13.69B. The company has outperformed analyst expectations by an average of 27.59% over the past year. SMA50 at $12.43 vs. SMA200 at $12.26 (current price at $13.4). Short float at 6.75%, which implies a short ratio of 2.67 days. The stock has gained 2.6% over the last year.

15. Teradyne Inc. (NYSE:TER): Semiconductor Equipment & Materials Industry. Market cap of $2.14B. The company has outperformed analyst expectations by an average of 26.41% over the past year. SMA50 at $10.99 vs. SMA200 at $10.76 (current price at $11.78). Short float at 15.34%, which implies a short ratio of 4.18 days. The stock has gained 33.26% over the last year.

16. Aetna Inc. (NYSE:AET): Health Care Plans Industry. Market cap of $12.38B. The company has outperformed analyst expectations by an average of 25.55% over the past year. SMA50 at $30.71 vs. SMA200 at $29.97 (current price at $30.93). Short float at 1.03%, which implies a short ratio of 1.08 days. The stock has gained 5.24% over the last year.

17. Thor Industries Inc. (NYSE:THO): Recreational Vehicles Industry. Market cap of $1.86B. The company has outperformed analyst expectations by an average of 25.49% over the past year. SMA50 at $30.47 vs. SMA200 at $30. (current price at $33.41). Short float at 6.82%, which implies a short ratio of 6.1 days. The stock has gained 13.95% over the last year.

18. ProAssurance Corporation (NYSE:PRA): Property & Casualty Insurance Industry. Market cap of $1.84B. The company has outperformed analyst expectations by an average of 24.98% over the past year. SMA50 at $57.83 vs. SMA200 at $57.38 (current price at $59.94). Short float at 3.64%, which implies a short ratio of 6.17 days. The stock has gained 12.1% over the last year.

19. Guess? Inc. (NYSE:GES): Apparel Stores Industry. Market cap of $3.79B. The company has outperformed analyst expectations by an average of 24.7% over the past year. SMA50 at $39.76 vs. SMA200 at $39.39 (current price at $41.31). Short float at 7.9%, which implies a short ratio of 3.23 days. The stock has gained 7.19% over the last year.

20. Tech Data Corp. (NASDAQ:TECD): Computers Wholesale Industry. Market cap of $2.03B. The company has outperformed analyst expectations by an average of 24.34% over the past year. SMA50 at $41.21 vs. SMA200 at $40.88 (current price at $43.64). Short float at 3.7%, which implies a short ratio of 3.21 days. The stock has gained 4.2% over the last year.

21. Plum Creek Timber Co. Inc. (NYSE:PCL): REIT. Market cap of $6.03B. The company has outperformed analyst expectations by an average of 20.88% over the past year. SMA50 at $36.01 vs. SMA200 at $35.91 (current price at $37.3). Short float at 11.01%, which implies a short ratio of 11.99 days. The stock has gained 14.98% over the last year.

22. Tempur Pedic International Inc. (NYSE:TPX): Home Furnishings & Fixtures Industry. Market cap of $2.35B. The company has outperformed analyst expectations by an average of 19.67% over the past year. SMA50 at $31.88 vs. SMA200 at $31.03 (current price at $34.51). Short float at 10.03%, which implies a short ratio of 5.17 days. The stock has gained 68.59% over the last year.

23. Assured Guaranty Ltd. (NYSE:AGO): Surety & Title Insurance Industry. Market cap of $3.27B. The company has outperformed analyst expectations by an average of 18.34% over the past year. SMA50 at $18.63 vs. SMA200 at $18.38 (current price at $17.78). Short float at 5.47%, which implies a short ratio of 4.01 days. The stock has lost -17.15% over the last year.

24. Avnet Inc. (NYSE:AVT): Electronics Wholesale Industry. Market cap of $4.69B. The company has outperformed analyst expectations by an average of 17.95% over the past year. SMA50 at $27.76 vs. SMA200 at $27.63 (current price at $30.85). Short float at 1.95%, which implies a short ratio of 2.24 days. The stock has gained 12.06% over the last year.

25. The Goldman Sachs Group, Inc. (NYSE:GS): Diversified Investments Industry. Market cap of $85.49B. The company has outperformed analyst expectations by an average of 17.44% over the past year. SMA50 at $154.73 vs. SMA200 at $152.23 (current price at $167.22). Short float at 1.24%, which implies a short ratio of 0.98 days. The stock has lost -4.51% over the last year.

Disclosure: No positions