July Jobs
Across July 2014 employed increased by a net 209,000 jobs and unemployment edged slightly higher to 6.2% in the broad U3 measure. July is on trend for the last year and slightly below the trend of the last 3 months. All in, July was an underwhelming positive month well within the range of expectation. The key challenges have not changed and gradual progress toward improvement in these key areas continues to occur. We are improving at a maddeningly slow rate, with large areas of continual weakness.
Over the last 6 years several serious challenges have emerged and remained in US labor markets. Labor force participation fell steeply through the recession and has remained very low. A disturbingly large portion of the total population is not entering the labor force, particularly the young. These people are not getting a foothold in the formal economy. Some decline in these numbers naturally occurs as a population ages. Clearly the large and sustained reductions we have experienced are not a result of demographic trends. Additionally, the concentrated weakness among the young is a serious problem and bodes poorly for the future.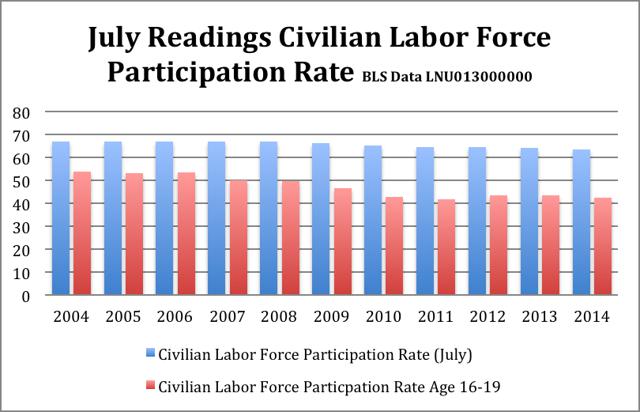 The real story remains a real problem. Wages, nominal and adjusted for inflation, are stuck well below where they were heading into the great recession of 2008. The average American worker earns less than she/he did before the recession when we adjust wages for inflation. Hours and overtime do not offer compensation adequate to make up for years of stagnant and declining wages. The reason many are disappointed with economy, and elected officials, probably has more than a little to do with their stagnant to declining real earnings.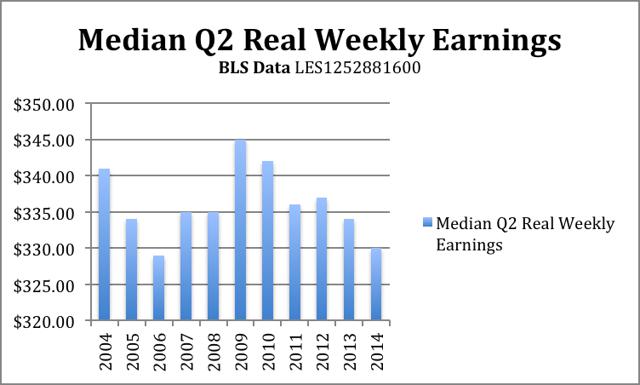 We are now 4 years into an impressive profit and asset price recovery. Our leading indexes have recently been setting new highs. The Q2 earnings season, now nearly over, was strong again. Thus, we continue to see strong corporate earnings, sustained growth in financial asset prices and recovery in housing prices. Wages remain down.
The economy we have been rebuilding is not generating job opportunities sufficient to steadily increase labor force participation. Wages remain below where they were. This means that many more folks are left behind than are included in recovery. This kind of recovery sets up structural issues, not unlike the issues that created the great recession. We reiterate that missing breadth of growth and improvement is glaring and required for the recent runs in corporate earnings and asset prices to increase or remain.
We see the recently intense battle between the wisdom of Fed loose monetary policy as a displacement of the above analysis. Yes, the Fed is responding to weak labor markets. Yes, the Fed is lagging strong corporate earnings and asset price inflation. Both are true because we have a 2-track economy but, one track of monetary policy. The real solution requires shrinking the gap between the 2 tracks in the economy. We have yet to even begin that process.
Disclosure: The author has no positions in any stocks mentioned, and no plans to initiate any positions within the next 72 hours. The author wrote this article themselves, and it expresses their own opinions. The author is not receiving compensation for it. The author has no business relationship with any company whose stock is mentioned in this article.