In the last minute before the market closed yesterday, I wanted to get in on the options trade on Tesla (NASDAQ:TSLA) for earnings. I bought both calls and puts. If you check my updated disclosure in yesterday's Tesla article, you'd see I bought a long straddle and am now eagerly awaiting the volatility crush coming this morning. However, I paid the tiny extra premium to ensure my options don't expire until the end of next week - and I'm convinced this stock is going to wind up moving one way or other by then.
My prediction for this morning, as I said last night, was that Tesla may not even move upward on a huge beat. I based that on the way the market was trading into the close yesterday combined with the fact that we were going to have to see how the overnight markets fared. I wasn't quite sure that good numbers were necessarily going to equate to the stock rocketing.

My investing friend sold short a couple hundred shares and went long calls for insurance - he was thinking the same thing.
My prediction was that the jobs data coming this morning combined with the overnight markets, would ultimately dictate how the market would open this morning. The market's general direction was likely to let us know whether or not Tesla was going to have a chance to run based on yesterday's results. High momentum names are tough to get running in a market that's acting cautious and conservative.
Going into this report, there was tons of bearish sentiment surrounding Tesla in Norway - but I claimed a while ago that I wasn't paying attention to the Norway nonsense and that I wanted to stay bullish into this report until it gave me a reason not to.
Sure enough, Tesla delivered on Wall Street's expectations, crushing EPS by $0.07 and posting good looking revenue and delivery numbers. The company reaffirmed their guidance to deliver 35,000 vehicles this year and offered guidance of 100,000 vehicles next year. In other words, the company continue to do exactly what we thought they were going to do.
Seeking Alpha's round up of earnings was as follows:
Tesla Motors beats estimates in Q2 and delivers some re-assuring production guidance.
The EV automaker had 7,579 delivers in Q2 vs. 7,546 consensus.
Revenue for the quarter included $23M from Daimler and Toyota for powertrain purchases.
The gross margin rate of 26.8% in Q2 is in-line with the forecast of analysts and leaves Tesla with a little bit of catching up to do in 2H to meet its 28% target for the year.
Production guidance for Q3 is for 7,800 Model S deliveries. The mark is below expectations with the company citing a two-week production shutdown at its Fremont factory as the reason for the anticipated shortfall.
Tesla says it expects a delivery rate of over 100K unit by the end of next year if there are no serious macroeconomic calamities.
Ground has broken in Nevada on a "potential" Gigafactory site.
News continues on the Gigafactory - albeit slowly, as the company stated they've broken ground on a site in Nevada and that they continue to have other sites picked out for redundancy purposes.
The conference call, done just in Q&A fashion, was honestly one of the sleepiest and worst conference calls I've heard in a while. Musk's voice lulled my to sleep and I turned it off about 20 minutes in. My investing friend sent me a message through Skype that said, "I'm taping this call for the nights I have insomnia."
Also heard on the first 20 minutes of the conference call: an analyst cursing ("bullsh*t"), Elon Musk giggling like he was an 18 year old girl who just had her first "experiment" with pot, and a reference to the TV show "The Simpsons".
Going back and eventually listening to the replay, there wasn't too much color or new information offered in the call.
So, what we have this morning is a job number that the street seemed to like, but Tesla still poking around near $226, where it was trading yesterday. Is the stock going to move at all today? I'm predicting it will.
This report should be taken as reaffirmation that this company is continuing to grow at the rate in which we thought. As somebody on CNBC said yesterday - you look at a company like WhatsApp with a $19 billion valuation and then you see a $27 billion valuation on Tesla - it doesn't seem so astronomical when you put it in that context. The first message in my SA inbox this morning was from a contributor who wanted to tell me a story of a guy who put in his own charger in Florida and drives to Milwaukee without stopping for gas.
In a way, this reminds me of Facebook's (NASDAQ:FB) report two quarters ago - the stock was trading in the low $60's they beat handily - and the stock didn't move because the market wasn't loving high multiple names at the time.
This is a very real risk you take trading high multiple names.
In the case of Tesla, however, this news should do well to justify some of the more massive price targets - like the one MS has near $300.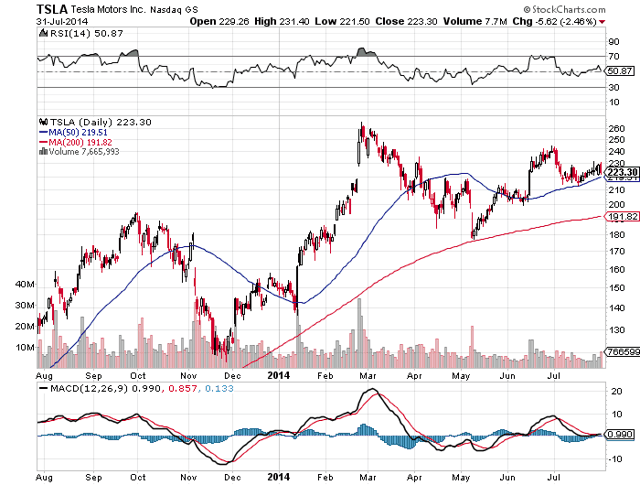 The question of whether or not these results are going to be enough to push Tesla towards the top end of its $260 trading range once again remains to be seen. For the better part of the last 4 months, the company has traded between $190 and $245. The answer as to whether or not these results are going to be enough is likely going to lie in how speculative the market gets once again.
The geopolitical tensions in the middle east, combined with Argentina, seem to have spooked the major markets - at least for the time being to close this week out.
If the market can shake this, I'd expect to see Tesla making a climb back up near its highs once again. If the macro markets stay spooked, Tesla could stay parked, or even dip to support near $200, despite the great report.
I'll be holding my options into next week and trying to salvage some premium as the stock (hopefully) bounces around during the coming days. I've made far less work for me in the past on botched straddles. Let's give this one a couple days for the market to decide.
Best of luck to all investors.
Disclosure: The author is long TSLA. The author wrote this article themselves, and it expresses their own opinions. The author is not receiving compensation for it (other than from Seeking Alpha). The author has no business relationship with any company whose stock is mentioned in this article.
Additional disclosure: I own TSLA puts and calls.