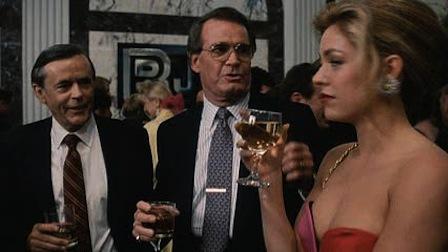 Picture: From The Movie, "Barbarians At The Gate"
For a company with an equity market capitalization of less than $1 billion, Molycorp, Inc. (MCP) has been the subject of rabid speculation by both longs and shorts. After two capital raises in the past 18 months, Molycorp has been a practical ATM for bankers more than willing to help the company arrange financing, for a modest fee of course. I believe the company will return to the market again as it seeks a solution to cash burn that has gone unabated.
The Situation
In Q1 2014 Molycorp experienced cash burn of $78 million, leaving it with cash on hand of $236 million. Based on high level cash burn projections, cash on hand could fall below $100 million by the end of the year. At that juncture, Molycorp may be forced to raise more capital to help fund future working capital needs. Below are those high level projections: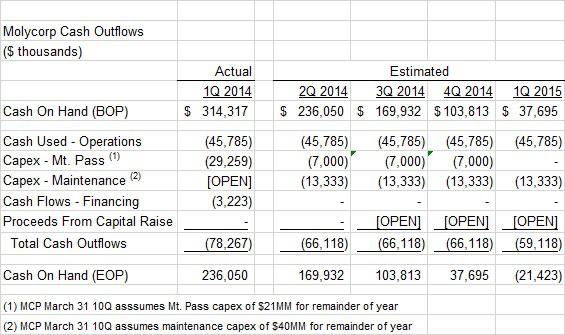 With a share price hovering around $2 per share, it may be too costly to sell new shares to the public. My previous article explained Molycorp's conundrum:
If Q2 earnings are good, the stock may rise, making Molycorp's capital raise more achievable. If Q2 earnings are poor, the company runs the risk of [i] having to raise equity at a low stock price, which could be prohibitively expensive, or [ii] having to take an equity raise off the table altogether. It may behoove Molycorp to raise equity prior to earnings, while the stock is above $2 per share - it closed on July 8th at a 52-week low of $2.26 per share. That gives the company a three - four week window in which to raise equity.
Key Players
The Q2 earnings report is less than a week away and the company has not announced a deal. Common sense, as well as public reports and rumors suggest that Molycorp is in the market for a private solution to its publicly-known problem. However, as each day goes by and cash burn continues, the company is worth less to a third party. Also complicating matters are the various tranches of capital available for investors to value separately. The following chart illustrates the company's $1.5 billion in senior and subordinated debt: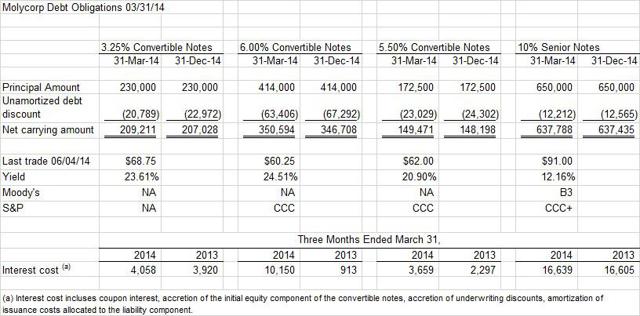 Below are the key players who may help or hinder any new deal:
Leon Black, Apollo Global
A few weeks ago Bloomberg News reported that hedge fund manager, Leon Black, of Apollo Global (NYSE:APO) was snapping up Molycorp's 3.25% subordinated notes in attempt at a backdoor takeover. We understand the thesis is [i] if Molycorp defaults and the bonds have to be restructured, Apollo would be first in line to control the company, and [ii] Apollo would be open to rolling over its debt for paper that would extend Molycorp's principal payments or lower the coupon. Without a capital raise, I believe the bonds are practically worthless. Secondly, a distressed debt exchange does not solve the company's cash burn problem. Therefore, I believe Apollo is providing mullet money.
Investor Group, 6.00% Convertible Notes
Amber Eck of Zeldes Haeggquist & Eck, LLP ("Zeldes"), a shareholder rights litigation firm, has commenced an investigation into Molycorp on behalf of investors in the company's 6.00% convertible notes. According to a recent press release:
Zeldes Haeggquist & Eck, LLP is investigating whether Molycorp and its top executives and officers made false and misleading statements in the prospectus and registration statement that the Company provided when issuing the Notes to the public ... On August 17, 2012, Molycorp sold approximately $360 million worth of Notes to the investing public via a public offering (the "Offering").
At issue in the investigation is [i] whether management failed to disclose that the company's inventory was understated, [ii] subpar internal controls at the company and [iii] the fact that the 6.00% subordinates now were trading at 59% on the dollar, down from the par value they were sold for. The investigation by Zeldes and the investor group may come at a cost to the company, and it may spark investigations or lawsuits by other bondholders. Secondly, the timing of the lawsuit is interesting. As each day goes by Molycorp burns cash, thus it has less value to investors or those seeking a class action lawsuit.
Ken Moelis?
Molycorp's investor relations department has been close-mouthed for weeks. Internet chatter suggests that Molycorp has hired former UBS Securities rainmaker, Ken Moelis, to seek other alternatives, which could involve some sort of equity raise or strategic partner. This appeared on Twitter on July 17th:
@sagestrategy: Molycorp taps Moelis for additional capital raise (DEBTWIRE). Smartest thing they have ever done ... Didn't Kenny work for Leon Black?
On my previous article, a commenter had this to say:
I disagree, the bankers did a disservice first to Molycorp. They used them as a fee machine and gave them weak advice and a horrible capital structure ... This company will be restructured by a "real" banker, Ken Moelis? Equity will be diluted, the convertible bonds will become equity or choose to take a cash haircut. The 10% [senior notes] will get warrants. Molymet and a private equity firm will provide working capital and a term loan ... see you in court.
Moelis now heads his own investment banking firm, Moelis & Company (NYSE:MC). Moelis began his career at Drexel Burnham and ultimately served as a managing director there. Leon Black also happens to be an alumnus of Drexel. The Moelis angle makes sense because one [i] it would be difficult for the company to sell shares to the public and [ii] Apollo's deal structure is untenable sans a capital raise and [iii] the company cannot support more debt, so equity capital has be its next play.
Geoff Bedford, CEO Molycorp
On August 6th Molycorp will report its quarterly earnings. There will be a lot to discuss - earnings guidance, solutions to the company's cash burn, third party involvement, etc. Bedford could also divulge that the company is seeking capital for the third time in two years. Whether current shareholders stay the course will depend on the confidence Bedford elicits on the call. Discussing the future of the country's major rare earth mine - this is shaping up to be one of the most important calls of the earnings season.
Equity Holders
There are longs still holding out hope that Molycorp can turn things around, even without a capital raise. My $1.60 per share valuation of the company assumes Molycorp needs $260 million of fresh capital in order to meet working capital needs. However, that valuation does not quantify the potential dilution to current shareholders. That said, it would be naive to think that equity holders will not be diluted, or wiped out altogether in any new capital raise. A new structure could involve anything from a bootstrap deal, to fresh equity capital, or a combination of new money from equity holders and current bondholders. Under either scenario, I would expect serious dilution for existing shareholders.
Conclusion
It appears that Molycorp will not have raised new capital prior to its Q2 earnings report next week. I would expect management to report more cash burn. That said, I expect existing shareholders to be diluted if the company seeks another capital raise.
Disclosure: The author is short MCP. The author wrote this article themselves, and it expresses their own opinions. The author is not receiving compensation for it (other than from Seeking Alpha). The author has no business relationship with any company whose stock is mentioned in this article.