Since my primary investment objective revolves itself around the generation of income via higher-yielding plays, dividend-related events are always something I tend to keep an eye on. It is these types of events that have a tendency to influence my decision in terms of which stocks I should keep on my radar and which ones I should not. With that said, and in the wake of its latest dividend increase, I wanted to highlight several reasons why I've chosen to stay bullish on shares of Sandy Spring Bancorp (NASDAQ:SASR).
A Brief Summary of the Company
Headquartered in Olney, Maryland, Sandy Spring Bancorp, Inc. operates as the bank holding company for Sandy Spring Bank that provides commercial banking services to individuals and businesses in central Maryland and Northern Virginia. It operates through three segments: Community Banking, Insurance, and Wealth Management.
The company's deposit products include interest-bearing demand deposits, regular savings deposits, money market savings deposits, and time deposits. Its loan portfolio comprises residential real estate loans; commercial real estate loans, commercial construction loans, leases, and other commercial loans; and consumer loans comprising home equity loans and lines, installment loans, and personal lines of credit.
Recent Dividend Behavior
On Thursday, July 31, Sandy Spring Bancorp announced a quarterly dividend increase of $0.02/share, which brings its upcoming dividend payout to $0.20/share. It should be noted that the increase will be paid on August 20 for shareholders of record as of August 13. This boost represents an 11.1% increase from its prior dividend of $0.18/share, which was paid to investors on May 21.
Based on the company's dividend behavior over the last 36 months, it should come as no surprise that I foresee its next quarterly dividend hike taking place prior to May of 2015, and I expect that increase to be at least $0.02/share but no more than $0.04/share.
Q2 Earnings Performance
When it comes to Sandy Spring's latest earnings performance, many investors have a tendency to shy away from companies that miss estimates by a margin of $0.11/share when analysts were expecting the bank to earn $0.39/share. However, it wasn't all that bad of a quarter for company, especially when it came to the company's total loan and total asset growth.
During the second quarter, the bank's total loans increased 12% compared to the second quarter of 2013 and 3% compared to the first quarter of 2014, due to significant loan growth in the commercial investor real estate portfolio and the retention of a greater portion of mortgage originations over the past year. If Sandy Spring can continue to demonstrate growth in both areas, I see no reason why its total loan growth can't increase throughout the remainder of 2014 and well into 2015.
Also during the second quarter, the bank saw its total assets grow by 4% to $4.2 billion as of June 30, 2014, compared to $4.1 billion as of June 30, 2013. This growth was driven by the same 12% increase in its loan portfolio (noted above), as total loans and leases ended the period at $2.9 billion.
As previously noted, solid increases occurred in the residential mortgage and commercial investor real estate portfolios. If Sandy Spring can continue to demonstrate growth in both areas, I see no reason why its total asset growth can't continue throughout the remainder of 2014 and well into 2015.
Recent Trend Behavior
On Wednesday, shares of SASR, which currently possess a market cap of $585.13 billion, a forward P/E ratio of 12.87, and a distribution yield of 3.42% ($0.80), settled at a price of $23.34/share. Based on a closing price of $23.34/share, shares of SASR are trading 2.87% below their 20-day simple moving average, 3.37% below their 50-day simple moving average, and 6.84% above their 200-day simple moving average.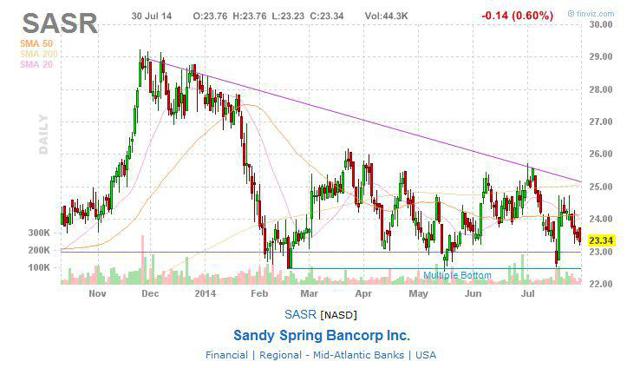 Click to enlarge
Although these numbers indicate both a short term and long-term downtrend for the stock, which generally translates into a selling mode for most near-term traders and long-term investors, I strongly believe shares have bottomed, and if Sandy Spring can demonstrate significant growth in both Maryland and Virginia over the next few months, there's a pretty good chance its trend behavior could do an about-face.
Conclusion
For those of you who may be considering a position in Sandy Spring Bancorp, I strongly recommend keeping a close eye on the company's recent dividend behavior, which has demonstrated a solid uptrend over the last two years, and its ability to demonstrate steady increases in both its total loans and total assets, as each of these catalysts will play a role in the company's long-term growth.
Disclosure: The author has no positions in any stocks mentioned, and no plans to initiate any positions within the next 72 hours. The author wrote this article themselves, and it expresses their own opinions. The author is not receiving compensation for it (other than from Seeking Alpha). The author has no business relationship with any company whose stock is mentioned in this article.