A stock trending higher in bullish anticipation of a significant news event is cut down by a news tabloid article that appears poorly researched at best and maliciously manipulative at worst. Biotech traders have seen this movie before.
It's a ploy designed to "take out a series of price stops and cause panic in investors" and thanks to the internet, it appears to be a growing phenomenon (see DNDN, HGSI, and most recently AVNR just a couple of weeks ago).

Luckily share prices for these stocks not only recovered but actually trended much higher after the unsubstantiated bear raids. Those armed with enough research and intestinal fortitude were able to not only weather the storm, but take advantage of the pullback to book even higher profits.
Monday it happened to Aastrom Biosciences' (NASDAQ:ASTM), a company which has clearly become the premier stem cell play for cardiovascular diseases.

Less than 48 hours before the company is expected to present key data from the 2nd interim analysis of Aastrom's Phase 2b RESTORE-CLI clinical trial at the VEITH symposium satellite event in New York City, ASTM shares lost a little over 15% of their value and closed down $0.65 at $3.55 (15.48%). Shares had been trading most of the day just above the $4 mark and as high as $4.17.
Shares started to recover during after-hours trading and we expect that day traders looking for an opportunity to make quick profits will take positions and trade the stock higher during the sessions prior to Thursday's presentation, which was planned by ASTM as a lead into Phase III for pre SPA FDA approval. Many see this as a low-risk trade given the number of positive buy signals recently generated by the stock. Not lost among them is the fact that ASTM has been granted fast track designation as compelling efficacy, safety results and anecdotal data provided regulators with a strong signal of the therapeutic benefit of autologous cell therapy in patients with critical limb ischemia (CLI).
Recently, readers have seen ASTM's meteoric rise in share price from $1.49 to a 52 week high of $4.22 after analysts placed $5 and $6 price targets on ASTM shares. In late September, Sanofi-Aventis (NYSE:
SNY
) and Vical's (NASDAQ:
VICL
) late-stage candidate, Temusi (NV1-FGF), failed a Phase III in patients with peripheral arterial disease (PAD). The failure of that phase III program could validate ASTM phase III ready autologous cell therapy treatment. Results from the presentation on Thursday could send share prices even higher as it is expected the additional data sets will confirm and add more positive data announced by the company earlier this year.
From a technical analysis perspective, the stock's Exponential Moving Average, MACD, Stochastic and Trend Analysis continue to show extremely bullish signals with new, though minor, resistance above at $3.82.
It's also interesting to note all the lower wicks which appear in each of the candlestick patterns on the chart since the stock began to rise. This indicates that buyers have been more than willing to pick up shares each time the stock has hit intra-day lows.

Simply put, the larger than anticipated pullback in the stock offers an excellent opportunity for traders to grab shares in a very bullish stock play with lots of volume and activity, and set for even higher visibility in the coming days.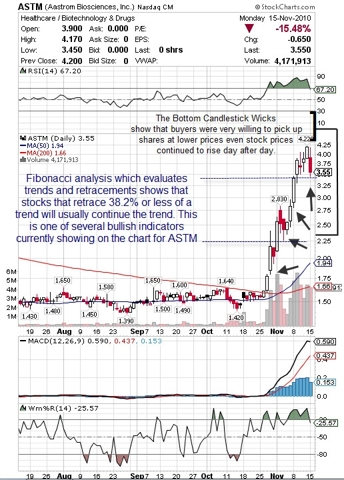 Disclosure: Long ASTM. BiomedReports is not paid or compensated to report news and developments about publicly traded companies.