For months, investors have been waiting for a dip. Now that this decline appears to be starting, investors seem to be skittish judging from all the commentary going on CNBC and Bloomberg. As I have been saying for months the market is overdue for a correction and that blind faith in the Federal Reserve is deeply misplaced.
That being said, I do not think we will get a huge decline in the overall market. As I postulated the other day, the correction will consist of migration out of "risk on" sectors as investors do their usual "flight to safety." We can already see the steam coming out of higher beta small caps over the last six months, as "blue chips" are currently some of the strongest performers in the current market. The S&P 500 has outperformed the Russell 2000 by some 10% over the past half-year.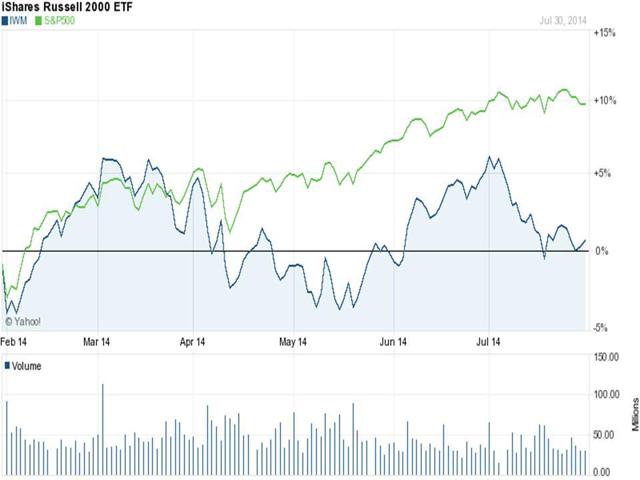 Click to enlarge
Investors should not be going "whole hog" here if they have been prudent enough to have "dry powder" available to get some of the lower entry points available on this decline. Instead, incremental moves should be the order of the day. Personally, I am using the uptick in volatility to sell just out of the money puts and bull put spreads on stocks I would love to own at slightly lower levels. Premiums have risen along with volatility and it is a good strategy to gain some nice premium income and/or lower entry points on some of these blue chips that look solid here.
Let's start with the biggest blue chip of them all by market capitalization, Apple (NASDAQ:AAPL). The stock's recent surge and split had taken the shares of the tech giant up past $99 a share. If market provides a ~5% pull back to under $94 a share is an actionable pull back and I would be adding shares at that level.
We might get that today as rumors have the critical iPhone 6 launching in October instead of previously in September. Investors have several things to look forward to by the end of the year besides the long awaited iPhone 6 launch, which will finally have the larger screens that customers have been begging for.
Between now and yearend the company will have bought back at least another $20 billion in stock and I expect another dividend hike in the next six months as well. The stock's recent seven for one split makes it the perfect size for addition to the price weighted Dow Jones Industrial Average the next time it rebalances, which could happen in the first part of 2015. Finally, the shares are still cheap at approximately ten times forward earnings once backing out the company's over $150B stash of net cash and marketable securities. The shares also pay a dividend yield of over two percent.
I already like Valero (NYSE:VLO) at current levels but another couple of percent decline triggered by a sell-off in the overall market would be a gift. The stock has already been pummeled by a decision by the Commerce Department to allow a couple of production companies to directly export condensate (the main product from "fracking").
The Commerce Department looks like it will now put that decision on "Hold" but the shares of Valero are still down ~15% from the pre-decision highs. Valero easily beat earnings estimates when it reported earlier in the week, as did refining brethren Marathon Petroleum (NYSE:MPC). Valero is cheap at around 9 times forward earnings and with just announced dividend hike it yields right around two percent. Stock has solid short-term support at just over $48 a share, would be adding to my position if it gets under $49 a share again.
Finally, I like Express Scripts (NASDAQ:ESRX). Stock gained on much better than expected earnings and solid guidance on Wednesday but is still down more than 10% from highs earlier in the year. This blue chip pharmacy management behemoth consistently churns out earnings gains. The shares go for under 13 times next year's projected earnings and have a five-year projected PEG of right around 1 (1.09). Solid valuation in a slightly overvalued market. Think we will test previous highs of ~$78 a share over next six to 12 months. I would add long exposure at anything under $69 a share.
That is some of what is on my "shopping list" should recent dip turn out to have more to go on downside. What is on yours?
Disclosure: The author is long AAPL, ESRX, VLO. The author wrote this article themselves, and it expresses their own opinions. The author is not receiving compensation for it (other than from Seeking Alpha). The author has no business relationship with any company whose stock is mentioned in this article.