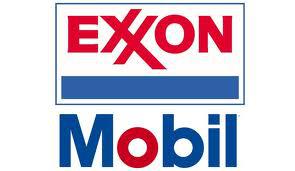 Exxon Mobil (NYSE:XOM) released Q2 earnings yesterday. Despite an impressive beat on the bottom line (net income +32% yoy), it was another quarter of production declines - this time by 5.7%. But I'm not here to discuss the earnings in depth. Instead it's time for my annual review of the total returns (dividends + capital appreciation) XOM is delivering to shareholders.
I have written quite a few articles on this subject in this past, including:
I'm always surprised by the largely negative reaction to these articles by the majority of Exxon shareholders. I say this based on the comments left on the articles. It's hard to understand why XOM shareholders (like myself...) would be opposed to a higher dividend yield or to suggestions on how Exxon could boost its lagging stock price. I'm often told I don't understand Exxon - that Exxon is managed for the "long-term." Yet this implies other oil companies in XOM's peer group are not managed for the long term, which is of course absurd.
I doubt much will change in terms of Exxon Mobil's total returns until more shareholders express their discontent with the lowest dividend yield in the peer group and to a stock price that cannot seem to get out of its own way. Meantime, Exxon Mobil management appears as though it could not care less.
By the way, before we start I should define "total returns." My definition is the classic market definition: total returns = stock price appreciation + dividends. So while Exxon's management might imply that its massive share buyback program and occasional asset sales are "returning money to shareholders," if these actions do not result in capital appreciation of the shares, or in increased dividends paid directly to shareholders, the money was not "returned to shareholders" in my view. All I can do is compare the total returns of Exxon with the other companies I own. On that basis, Exxon has been losing out for years now.
Dividends
The chart below compares Exxon's dividend yield to other companies in its peer group. While ConocoPhillips (NYSE:COP) is no longer an integrated oil company since the spin-off of Phillips66 (NYSE:PSX), I continue to include the old "Big 3" company in this comparison because it is a case-in-point in terms of what a company can do to increase total shareholder returns if management cares to do so.
| Company | Dividend | Yield |
| --- | --- | --- |
| Royal Dutch Shell | $2.92 | 4.7% |
| Total | $3.35 | 4.6% |
| BP | $2.34 | 4.4% |
| ConocoPhillips | $2.76 | 3.2% |
| Chevron | $4.28 | 3.2% |
| Exxon Mobil | $2.76 | 2.7% |
Source: Yahoo Finance
And there's old Exxon, right where we have come to expect it the last few years, in the basement. Now I wouldn't expect Exxon to match the dividend yield of the European integrated oil companies shown in the chart (although it would be nice if it did). The European majors typically pay a higher dividend yield as compared to their US competitors. However, there is no reason why Exxon continues to lag American companies like Chevron (NYSE:CVX) and ConocoPhillips by half-a-percent. It has been this way for years now. As I have said many times in the past, Exxon - with a AAA credit rating, higher than that of the US government - should at least pry enough pennies out of its pockets to break the 3% yield barrier.
Share Price Appreciation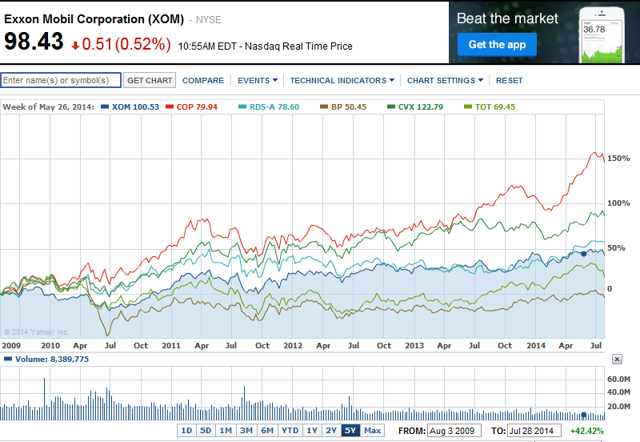 According to Yahoo Finance, Exxon Mobil's five-year share price appreciation is 42.4%. That is about half of Chevron's gain and less than one third of ConocoPhillips' rise. But of course with COP, one has to also consider the extremely successful performance of PSX and its MLP, Phillips 66 Partners (NYSE:PSXP).
Not All Is Bad, But....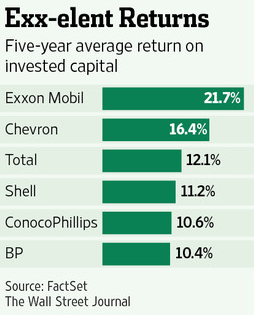 To be fair, despite Exxon's lagging shareholder returns year-after-year, there are some bright spots. As Spencer Jakab pointed out in his Wall Street Journal article yesterday (Exxon Mobil Begins To Sputter), Exxon's five-year return on invested capital is leading the pack.
Jakab also points out that, despite glacial production growth in absolute terms, its oil-and-gas output is measured on a per-share basis more quickly than its rivals. However, this is largely because Exxon's over-emphasis on share buybacks: $84 billion over five years. Sadly, Exxon's lop-sided allocation of cash to share buybacks has not only come at the expense of a competitive dividend yield, but where is the share price appreciation that such a massive investment in shares should have resulted in?
My only argument with Jakab's article is the title - "begins" to sputter? Exxon's total shareholder returns have been sputtering for five years or more. I'm fine with managing for the "long term," but how long should XOM be prepared to wait - five years? 10 years? 20?
MLP? No Chance
Judging by the analysts' questions on the quarterly conference calls over the past few years - they appear to be on my side and lost patience with Exxon years ago. Every quarter there are questions about what Exxon Mobil can do to juice shareholder returns, and every quarter Exxon throws cold water on the ideas. This quarter was no different.
Yet as a faithful shareholder I tuned into the Q2 quarterly conference call hopeful of some good news but prepared for the same old "schtick" (as the WSJ's Jakab described it). And of course it was business as usual. In particular, here was a fantastic question by Blake Fernandez of Howard Weil:
One of your European counterparts has just announced the ... initial steps to form an MLP. And it seems like Exxon is flushed with assets that would probably fit very nicely into one and really highlight the underlying value that's probably not reflected in the stock. I'm just curious if that is even on the radar screen?
The question referred to Royal Dutch Shell's (NYSE:RDS.A) plans to form an MLP that I reported about in the Seeking Alpha article Chevron Should Form An MLP To Unleash Shareholder Value. I'm sure Shell was motivated by the extremely successful spin-off of PSX by ConocoPhillips and the subsequent formation of PSXP. But there have been many others MLPs formed - including one by Marathon Oil (NYSE:MRO) and now Hess (NYSE:HES) (see this article). Forming an MLP is simply a proven way of increasing shareholder value while at the same time generating tax-advantaged distributions and a ready made avenue for future asset drop-downs.
Yet what was David Rosenthal, Exxon's VP of Investor Relations, response? He talked about the midstream asset sales of 2011 and 2012 and how Exxon realized "extensive value" for them. He said:
... when we look at our midstream portfolio, these are strategic assets to us. We think we are monetizing the value of those, whether or not you would assert that they're adequately reflected in our share price yet. We are certainly monetizing those and maximizing the value in the integration of our full value chain and also as part of our logistics and integration between the Upstream, Downstream and chemicals. So you probably won't be surprised to know that we've taken a hard look at this and look at the assets and the opportunities, but we're -- we like what we have. We like the integration benefit.
So much for an Exxon MLP. But Rosenthal's answer doesn't make sense to me. What good were the billions of midstream asset sales if shareholders weren't rewarded with a nice pop in the dividend or share price? Also, in terms of "liking what they have," it's not as though forming an MLP would jettison the assets out of the company. It's actually just the opposite: as the general partner in an MLP, Exxon would manage and guide the MLP while reaping tax advantaged distributions spun-off from the limited partner and enabling the company to drop-down additional assets if and when it was advantageous to do so. Take PSXP as an example. PSX Chairman and CEO Greg Garland also is the Chairman and CEO of PSXP. So there is no loss of "control" here. The general partner is in charge. The only differences I see are all advantageous: the GP can drop-down assets to the MLP, it receives tax-advantaged distributions, and the MLP is free to independently access the equity markets and pursue additional 3rd party business. These are all advantages which are well-known and well publicized. But of course the biggest benefit for Exxon shareholders would be to unleash the market value of its midstream assets which are currently buried deep-down in Exxon's operations.
But Exxon clearly wants to stay big for - well, big for big's sake. This is probably because the company's executive pay is based on the size of the company's revenues. Speaking of executive pay, am I the only shareholder who despises the full-color expensively produced executive pay brochure that is mailed out every year? I for one don't want to be reminded of how much Exxon execs are paid, and I surely don't want to think about how much it cost to produce such a document when my shares are not even paying me a 3% dividend. Wouldn't the executives' time be better spent trying to figure out how to catch up to its peers in terms of shareholder returns: dividend yield and share price appreciation?
Summary and Conclusion
The "new" Exxon Mobil doesn't seem to be concerned overly about lagging shareholder returns - either in terms of paying a competitive dividend, or by doing something as logical as forming an MLP to unleash the value of its tremendous midstream assets and boosting the share price. Since the new Exxon Mobil has been operating in this fashion for years now, my conclusion is that very little will change until a quite apathetic shareholder base reaches the point I reached a few years ago and voices their discontent directly to the company. Even then the chances of change appear to be small. Meantime, Exxon is a HOLD for long-term shareholders facing a large tax-bill for capital gains due to the past "glory years" of the Lee Raymond era. If you don't own Exxon, don't buy it. There are much better dividend-paying companies that also offer the potential for much better capital gains. The very shareholder friendly duo of COP+PSX offers a very appealing alternative.
| | |
| --- | --- |
| Market Cap: | 424.09B |
| P/E ("ttm"): | 13.45 |
| EPS ("ttm"): | 7.34 |
| Div & Yield: | 2.76 (2.70%) |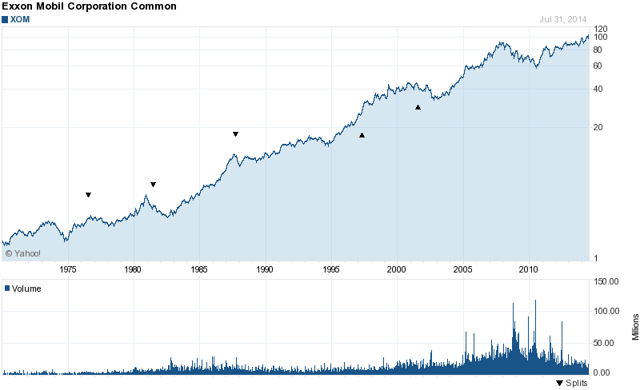 Disclosure: The author is long COP, CVX, PSX, XOM. The author wrote this article themselves, and it expresses their own opinions. The author is not receiving compensation for it (other than from Seeking Alpha). The author has no business relationship with any company whose stock is mentioned in this article.
Additional disclosure: I am an engineer, not a CFA. The information and data presented in this article were obtained from company documents and/or sources believed to be reliable, but have not been independently verified. Therefore, the author cannot guarantee their accuracy. Please do your own research and contact a qualified investment advisor. I am not responsible for investment decisions you make. Thanks for reading and good luck!