Bio-pic films do very well when done right. Ray was done right, 42 was done right…the hope is Get On Up will also be done right. So far review aggregator Rotten Tomatoes has the film in positive territory and despite a monster of a film opening the same day this could be a good weekend for Up and its distributor Universal.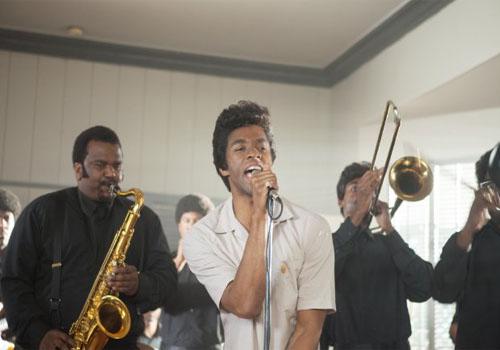 (Credit: Universal)
Background:
Get On Up is the biography of music legend James Brown with Chadwick Boseman in the lead role. You may also remember Boseman from the aforementioned 42, where he won acclaim for his portrayal of baseball legend Jackie Robinson. Directed by Tate Taylor, who helmed the Oscar winning film The Help, the movie is in a good position to succeed.
Here's the glitch though…Marvel/Disney (NYSE: DIS) is releasing its big time summer epic Guardians of the Galaxy this week, which by all accounts is going set the box office on fire. So why would you release a movie against a behemoth in waiting like Guardians? The answer is actually simple…counter-programming. Galaxy and Get On Up play to two entirely separate demographics. Guardians is geared to the fanboy comic fans, while Up is focused more toward adults and also primed for a run at the Oscars in 2015.
Early projections have Up pulling around $15 million to $20 million which would place it near the $20 million Ray earned in 2004 and below the $27 million that 42 snared last year. I'm more inclined to lean toward the higher number in that range given the appeal of James Brown and the terrific supporting cast behind Boseman which includes True Blood's Nelsan Ellis (who is due to break out) and The Help leading ladies Octavia Spencer and Viola Davis who are reuniting for the project.
Investor Analysis:
So what does this mean for Universal and parent company Comcast (NASDAQ: CMCSA) (CMCKS)? The studio has had an overall strong run this summer with only one real flop (A Million Ways To Die In The West) and even that one made back its production costs. Universal also is ending a run that has seen three films release in so-many weeks…with each one so far being a micro-budgeted success.
In fact, when compared to its rivals, Universal may be having one of the best summers overall as it enters this final month of the season. Aside from opening August, it will also close it when it releases horror thriller As Above, So Below on the 29th which will conclude a slate of six films (one less than the number of movies Universal will unspool in the fall).
For investors, Universal is primed to continue that success the rest of this year. The studio has a pair of strong horror films slated for back-to-back weeks in October, plus the much buzzed about Oscar-bait bio-pic Unbroken which is directed by Angelina Jolie. And that's not even counting the Dumb and Dumber sequel out this November.
Yet it is 2015 that's going to be completely insane as Universal's spring/summer schedule includes four of the year's most highly anticipated sequels (Fast & Furious 7, Pitch Perfect 2, Jurassic World and Ted 2).
While the overall Comcast umbrella is vast and includes a number of joint ventures involving sports networks (MLB Network, SNY, NHL Network) and a 32% partnership in Hulu along with Fox and Disney, Universal is proving to be a major driver of the stock and paired with sibling NBC is giving investors a reason to be interested.
Remember NBC is coming off a TV season where it literally went from worst to first and now is the king of the tube in the all-important advertiser friendly 18-49 demographic. Thanks to the success of The Blacklist and the continued success of The Voice and Sunday Night Football, the network is looking like a powerhouse of its own come this fall.
When these two parts come together in the way they are in 2014, you have to seriously consider looking at Comcast, because the odds are good they'll be making some noise.
Disclosure: The author has no positions in any stocks mentioned, and no plans to initiate any positions within the next 72 hours. The author wrote this article themselves, and it expresses their own opinions. The author is not receiving compensation for it (other than from Seeking Alpha). The author has no business relationship with any company whose stock is mentioned in this article.