A few weeks ago, I slept in a beer-induced slumber. I awoke to find an inanimate me looking down at myself. A long while later, I noticed a fierce looking gentleman standing in the corner of the room. I felt a twinge of fear. And then felt a sense of great peace. I scowled at the apparition and said, "You are late". And Lord Yama, Lord of Death, winked out of existence. I awoke from my dream. Or was it a nightmare? I suppose dream or nightmare is a matter of perspective. And the perspective, as always, is ever so important.
The Sensex closed July at 25,895, up 1.89% for the month. While this is a reasonable return for the month, when I last wrote on India, I expected a far higher July return as a result of the Budget catalyst. That was not to be: while the budget was fairly decent, it was somewhat meeker than I had hoped. This, together with geopolitical fears from the Russia/West stand-off over Ukraine and escalating trouble in the Middle East most likely acted as a dampener to risk appetites.
But I remain bullish on India
Firstly, GDP growth has remained at sub-5% levels for a long time. That is well below potential GDP growth rates for India. And with supportive fiscal policy, it is likely that in time, GDP growth will accelerate.
Secondly, while consumer price inflation remains elevated, it is showing a declining trend. Wholesale price inflation has declined faster yet, and is now well below average and median historic levels. Interest rates, on the other hand, remain high relative to average and median historic levels. Odds that interest and inflation rates have peaked are fair-to-strong. In time, monetary policy can be expected to be supportive too.
There are dampeners too
Firstly, a weak monsoon, albeit not as weak as was expected in late June, can hurt the rural economy, which is home to over 60% of the population. It could also result in a reversal of the declining inflation trend. There are some mitigating factors to these risks in that the granaries are overflowing with inventory, and so the impact on inflation can be limited by efficient release of inventory. And of course, I do expect the Reserve Bank of India to focus on core inflation as long as the impact of inflation driven by food and energy prices is expected to be a short-term phenomenon.
Secondly, there are external vulnerabilities. Escalation in the Middle East and the Russia/West stand-off over Ukraine could impact risk appetite. It could also cause volatility in energy prices, which is a huge area of vulnerability for India: its energy independence and security levels are very low as a result of poor policy decisions on oil subsidies and pricing, which have made the sector unattractive for investors. This matter had taken a positive turn during mid-2013 to early 2014, but of late, negatives as a result of the deferral of the gas pricing norms and no acceleration in elimination of subsidies suggests policy apathy continues. But I hope that it will change: in fact, I expect it to change before long.
Thirdly, there is the external vulnerability arising from the impact rising U.S. interest rates might have on global risk appetites. In my view, once interest rates in the U.S. start rising, there will be an impact on liquidity and risk appetites. However, I expect that while the promise of performance will not be rewarded, actual performance will continue to be rewarded. And so as long as India manages to turn around the ship, the sailing - barring volatility - should be relatively smooth.
It is also worth keeping in mind that part of the expectation of rising U.S. interest rates has already been priced in. The interest rates on the 10-year Indian Government bond are at 8.5%, compared with 2.53% on the 10-year U.S. Government bond. The spread is at 5.93%, which compares with an average 10-year spread of 4.28%: the spread is 165 basis points wider than historical averages. The inference is that a rise of 165 basis points on the 10-year U.S. Government bond to 4.22% with no change in the 10-year Indian Government bond would normalize the spread.
GDP growth comes primarily from rising capital and labor inputs and a little something else (the total factor productivity (TFP), which quantifies the effect on output not caused by labor and capital inputs. It's also known as the Solow Residual). TFP growth represents mainly incremental innovation, education, training and learning while doing. Empirical studies suggest it represents as much as 40%-60% of GDP growth. When the TFP growth rate between two countries diverges, it creates an incremental competitive advantage for one at the expense of the other. And this influences exchange rates. In the short term, several factors can influence exchange rates. But in the very long term, it is inflation differentials and changes in TFP which matter. When U.S. interest rates do rise, it will likely mean that U.S. inflation expectations are rising. If Indian inflation expectations maintain the present downward trajectory, the narrowing of the inflation spread lends support to a strong-to-stable Indian rupee and a justification for a further narrowing in the interest rate spread. And indeed, if Indian GDP growth does accelerate, as I expect, the rising GDP growth differential would lead to a rising TFP differential - again pointing to a strong-to-stable Indian rupee and a justification for a further narrowing in the interest rate spread.
Back to Perspective
There is reward potential, and there are risks. Having the right perspective can help give you reason to smile, regardless of outcome. If equity rises, I will have reason to smile. Using an allocation strategy, I give myself reason to smile if equities decline. Money is made during cheap markets, and gains ought to be realized during expensive markets.
Given that in my view, India is due to begin a cyclical up-turn, I want to be invested in equity. In fact, I'd like to be overweight equity - growth is cyclical, and it is most explosive early in a recovery.
However,
Equities are no longer cheap - at least on a trailing twelve-month basis. Over the past twenty-one years, the Sensex has closed at an average PE (TTM) of 18.07 (Median 17.59), having reached an average high point of 20.13 (Median 19.89) and an average low point of 12.58 (Median 13.12) over the course of the year. The average for the Hi/Lo/Close is 16.92 on average and 16.87 at median levels. With trailing twelve-month earnings estimated at 1,385, an average for the Hi/Lo/Close of 16.92 on average and 16.87 at median levels would reflect Sensex Index values of 23.4K to 23.5K levels. On the other hand, the close average PE (TTM) of 18.07 and Median 17.59 suggest that a Sensex Index value of 24.4K to 25K - these levels are not terribly lower than the 25,895 at which the Sensex closed July. In my view, with the Sensex priced at 25,895, the long-term (10 year) return potential is about 9.5% (10.5% including dividends), compared with 10.25% (11.25% including dividends) over the past 21 years.
And bonds yield quite nicely too. If you invest in a mix of AAA, AA rates corporate bonds, and 10-Year Indian Government securities, you can earn a yield of near 9%.
Based on the value perspective of the relative potential of bonds versus equity, I arrive at an allocation of 54% to equity and 46% to bonds. But because I want an overweight to equity on account of the cyclical state of the economy, I plan on an allocation of 61.5% to equity, with 38.5% to bonds.
The one thing to watch out for is that the return expectations (and accordingly, the allocations) I noted are pre-tax returns. I look at pre-tax returns because as an Indian resident, I pay no taxes on capital gains where I hold India-listed shares for over one year, and I pay no taxes on dividends. On the bonds, I pay little to no taxes, provided I own the bonds through a mutual fund and hold the fund for three years.
Sensex during July
This chart shows you how the components of Sensex performed during July. It also displays earnings expectations for the Index components and Index for the year to 3/31/2015.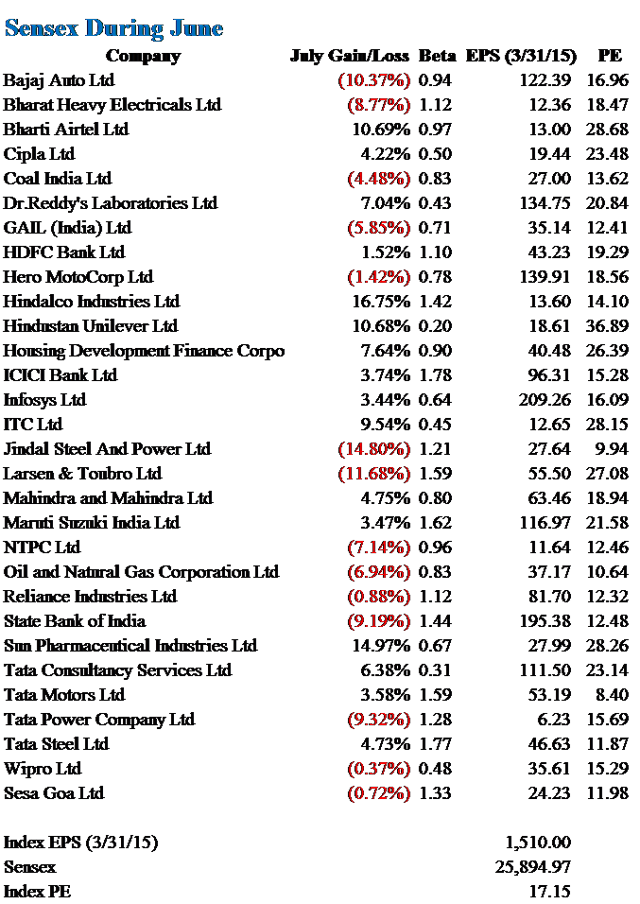 Source: MaxKapital Archives
With Index earnings expectations at 1,510, by 3/31/15, a bull could play for a gain of 16% to 17% (annualized return of 25.1% to 27.35%) - this implies a 3/31/2015 Sensex target of 30K to 30.4K. In my view, in the early cyclical recovery, a bullish expansion of the multiple is well possible. The average multiple indicates that the downside risk is not huge.

Source: MaxKapital Archives
Sensex Earnings Expectations for the Year to 3/31/2016
The progression of earnings and earnings expectations are: 3/31/2014 - 1,339; 3/31/2015 - 1,510; 3/31/2016 - 1,760. Earnings growth of 12.75% during the year to 3/31/2015 is a fairly conservative estimate for the first year of a cyclical upturn. Further growth of 16.5% in the year to 3/31/2016 is also conservative for the second year of a cyclical upturn. Keep in mind that following the earnings recession in 2000 and 2001, nominal earnings during 2002 to 2007 grew at 13.85%, 25.10%, 29.03%, 18.90%, 32.59%, and 20.17%.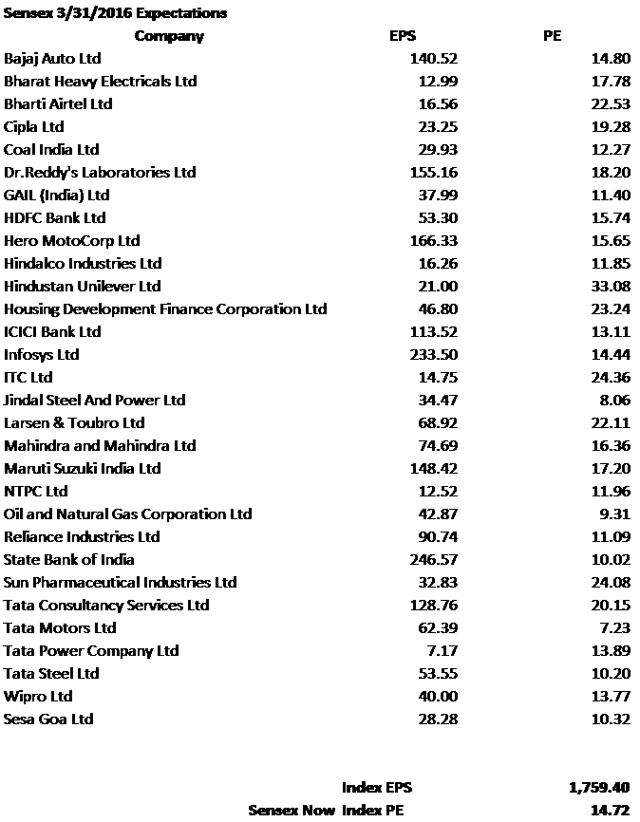 Source: MaxKapital Archives
Over the past twenty-one years, the Sensex has closed at an average PE (TTM) of 18.07 (Median 17.59). If the earnings expectations as at the end of 3/31/2016 are correct, and if the markets are valued in line with valuations seen over the past 21 years, this is what we can expect:

Source: MaxKapital Archives
A bull would play for a 3/31/2016 Sensex target of 35K, for an annualized return of 20% to 21%. That would be nice, but an annualized return of 11.3% to 13.1%, plus a further 1% via dividends would compensate me quite adequately for the risk undertaken.
India remains a "buy the dip, don't sell the rip" market. My target is a buyable dip to 23.5K for the Sensex, though I don't expect the market to decline to very much below 24.5K.
Disclosure: The author has no positions in any stocks mentioned, and no plans to initiate any positions within the next 72 hours. The author wrote this article themselves, and it expresses their own opinions. The author is not receiving compensation for it (other than from Seeking Alpha). The author has no business relationship with any company whose stock is mentioned in this article.
Additional disclosure: I have no U.S. positions in any of the Sensex stocks listed on U.S. exchanges. However, I have extensive long positions in the local Indian markets, including in several companies noted on the list of Sensex companies in this post.