Fracking is big business in the U.S., and it is the chief reason for the surge in oil and gas production over the past few years. This production boost has put a huge focus on a number of oil and gas exploration companies, and especially those that are tapping into once off-limits deposits of oil and gas.
Yet while many of these firms have done well in this environment, some of the auxiliary beneficiaries of the fracking boom have flown under the radar despite their potential or critical role in the industry. One exceptional example of this is US Silica Holdings (NYSE:SLCA), a strong company that has not only surged as of late, but is primed for more gains this year too.
US Silica in Focus
US Silica is a leading silica sand supplier that specializes in "proppants" or solid materials that assist in the fracking process. While this is arguably the company's focus, SLCA also has operations in the paint/coating field, as well as solar/wind power, so it is pretty diverse, and especially so considering it is, at the end of the day, selling sand.
The surge in fracking though, and SLCA's diverse lineup of proppants each with their own unique properties, is really what has been driving SLCA's stock as of late. This is particularly true considering the boom in the industry, as well as increased demand for fracking in new locations in order to open up fresh supplies.
Such trends have allowed SLCA to nearly double in the past six months, and truly soar over the past few years. Yet while some might think the stock is due for a longer-term breather—especially given recent market volatility—earnings estimates suggest that more gains might be had in this stock in the medium term.
Earnings and Outlook
In the most recent quarter, SLCA saw great revenue growth year-over-year, while it beat estimates by nearly 20%. The company also raised its full year guidance, and this spurred analysts to raise their estimates too.
In fact, in the past sixty days, not a single estimate has moved lower, suggesting total agreement from covering analysts regarding the stock. It is also important to note that estimates have really been moving higher for the following full year, as SLCA is actually expected to see 36% growth this year, and then 55% growth in the following year, so it appears as if SLCA isn't slowing down by any means.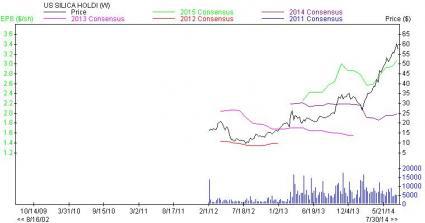 For these reasons, it shouldn't be too much of a surprise that SLCA has earned itself a Zacks Rank #1 (Strong Buy) and that even with market volatility and its run-up so far in 2014, that we are looking for more gains this year out of US Silica.
Bottom Line
Despite the good prospects for SLCA, its mining miscellaneous industry finds itself in the bottom half of the Zacks Industry Rank system. This group does include a variety of companies—as you might expect from a "miscellaneous" category—including broad miners, or even more specialized platinum or uranium-focused firms.
To me this suggests that broad mining has really fallen out of favor, and could remain subdued thanks to weakened growth levels from emerging markets. Given this, it might be best to focus on a company like SLCA, which is dialed-in to a high growth, in-demand sector, as clearly if analyst expectations are correct, strong earnings numbers are still ahead for this increasingly important corner of the industry.
Disclosure: None