I'm going to try and make this article as objective as possible.
I'm just going to present a couple of items as I see them, and let you determine whether or not there's something here worth worrying about.
It's Friday, I'm likely not going to write too much about Herbalife next week (you'll believe it when you see it, I know), and I figured I'd end the week trying to be as fair as possible. Ultimately, we all wind up at the same happy hour at 5 PM, right?
China really is a big deal when it comes to Herbalife (NYSE:HLF), which is why I did want to get this down on paper this week while it was still fresh in my head (and before I start murdering brain cells with beer).
Either way, it was write about China, or publish "Barclays Beefs Its Herbalife Analysis, Part 2". But is there a point in critiquing Meredith Adler holding her $94 PT on the company with an "outperform" after the quarter Herbalife just posted and with negative $400 MM in equity in the company? Who knows. Regardless, I think I've given Meredith Adler enough for the week, and ultimately, her analysis will speak for itself. So let's leave that alone.
See? I'm extending an olive branch to bulls today.
From what we're hearing, China is becoming more and more important to everyday business for Herbalife. Despite being one of the areas of major growth for the company, according to its last earnings report, China has the populace necessary to be a major driver for Herbalife for the next couple of years.
Not just for Herbalife, though - China has become a major catalyst for companies like Ford (NYSE:F) and Tesla (NASDAQ:TSLA) as well. Other MLM companies like Usana (NYSE:USNA) are pushing hard in China, too. The reason it's important to all businesses? The massive population.
The reason it's extremely important to MLM companies? The massive population.
If you still need to know why China is such an important market for all business - but especially in multi-level marketing - all you have to do is look at a list of the world's population, of which China has an astounding 19%.

Just this week, the company just announced expansion in China via building itself a new manufacturing complex, which will reduce the number of miles between Herbalife shake production and the mouths of those forced to consume it during training for opening nutrition clubs.
Let's look at this Bidness Etc article out just this morning that comments on Herbalife's PR out a couple of days ago:
Owing to growing demand and sustainable growth in a key market for the company, Herbalife Ltd. (HLF) plans to develop a manufacturing complex, in an already existing facility, at the Jiangning High-Tech Industry Park (JHIP) in Nanjing, China. The company already has a manufacturing facility in Suzhou, and a botanical extraction facility in Changsha. Herbalife conducts its direct selling business in 25 Chinese provinces.

The company plans to invest up to $40 million, in the first phase, to make the factory operational and expects it to be completed by 2015. Herbalife has hinted at a second phase, which will depend on the size and flexibility of the new facility. The new facility will fulfill up to 65% of the company's total requirements in China.

There are quite a few advantages of setting up shop in JHIP. Firstly, the facility will be operational soon as it does not have to be built from scratch. Secondly, being located in JHIP will be favorable to Herbalife's business as JHIP creates an environment of innovation and collaboration by putting together research and development, incubation, small and large scale manufacturing, and even marketing.
Alright - so we know the many benefits of setting up shop in China. Now, let's once again look at how Herbalife fared in China this past quarter. You can see that while growth in volume points were stunted in countries like the Americas, China was a major driver of growth, up 38% YOY in VP: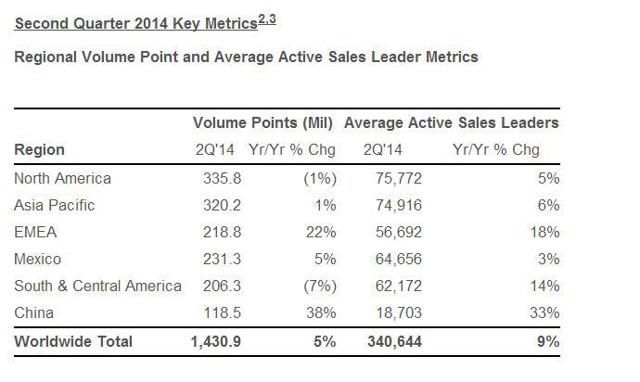 There was clearly huge growth in China - but China was the country that earlier this week, published a critical report of fellow MLM company Usana, as was reported by Herb Greenberg. I reached out to Herb this morning to see if I could get a copy of this piece for my piece, but he informed me it's subscriber-only. Head over to Herb's site and check it out. I give Herb a lot of credit for spearheading the Usana vs. Herbalife questions raised here.
Usana is an interesting case, and potentially a litmus test for how Herbalife could fare going forward in China. Here's some slides from Usana's Investor Day presentation located here.
You can see that Usana has a massive presence in China, and you can also see that the company sees it as one of the biggest opportunities.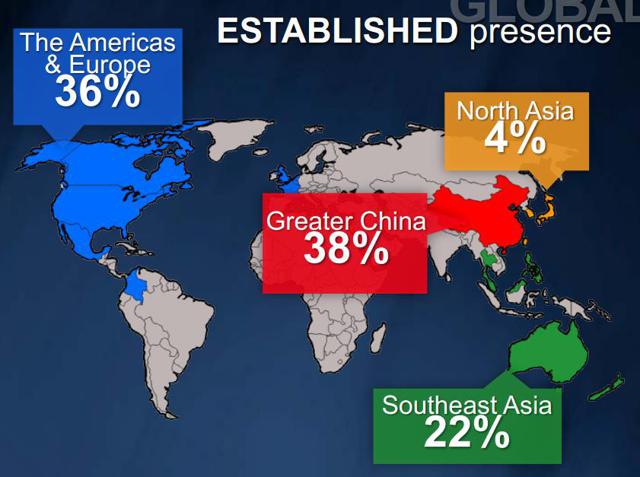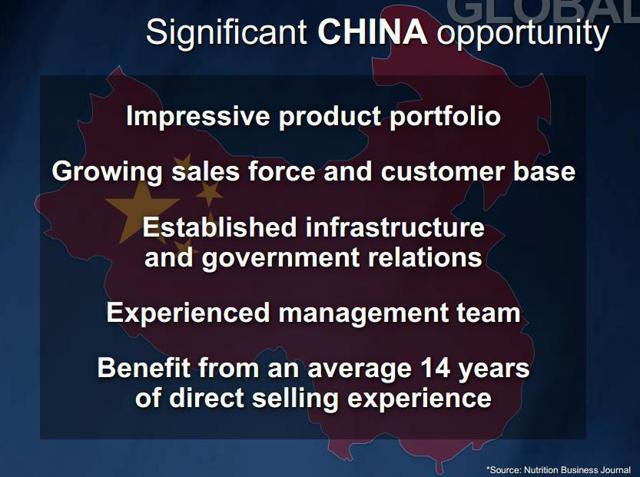 Incidentally, in the last week, we also had insight into how Usana's sales fared in China. The company had posted $188 MM in revenues, compared to $189 MM the year prior. In China, sales dropped 4.3%. Like Herbalife, Usana reiterated its guidance going forward. Usana also saw a fall off in sales in the U.S., like Herbalife.
Also, like Herbalife, Usana is also expanding and pouring capex into new facilities in China. Here's what Usana's CEO stated in the company's last conference call days ago:
Now let's turn to our performance in China. Last quarter, our results were impacted by the media and regulatory focus on companies in our industry in China. While that impact certainly carried over to the beginning of the second quarter, our business in China began to accelerate as the quarter progressed. During the second quarter, China produced double-digit sales in customer growth sequentially and triple-digit sales in customer growth on a year-over-year basis. This growth was not immediately apparent in our regional results because it was offset by a sales decline in Hong Kong. This decline in Hong Kong, however, was magnified by the almost $7 million in sales that occurred in that market ahead of the policy changes last year.

China performed well during the quarter and we expect this market to continue to accelerate as the year progresses.

We're also making progress with our capital investments in China. During the second quarter, we broke ground for our new $40 million state-of-the-art production facility in Beijing. We continue to expect this facility to open in late 2015.
Paul Jones, Usana's CFO, then goes on to make the point that YOY sales declines in China aren't that bad, because the company is growing its number of associates. To me that smells - you have 21% more associates, and still failed to eclipse YOY sales?
Although sales in Greater China as a whole decreased year-over-year, associate counts did increase 21.4%.
But enough about Usana, and let's move back to China. The interesting thing about these two companies pushing for expansion in China is that despite the population, China doesn't think too highly of multi-level marketing.
As a matter of fact, multi-level marketing, even when done "correctly" by U.S. standards, is illegal in China. Case closed, no questions asked - illegal.
Chinese law firms will all give you the same style of message, which basically says that "yes, they're illegal" but that nobody seems to care:
As a general rule, multi-level marketing ("MLM"), or direct selling operations has been prohibited in China-much to the chagrin of MLM companies who are anxious to enter the Chinese market. MLM companies have been trying to find ways around China's prohibitions, or have been developing other methods to take their products to China through retail operations.

It was not until August 23, 2005 that the State Council promulgated rules that dealt specifically with direct sale operation- Administration of Direct Sales (entered into effect on 1 December 2005) and the Regulations for the Prohibition of Pyramid Sales (entered into effect on 1 November 2005).

It now appears that the Chinese objections to direct selling operations are beginning to fade, and the door to China is beginning to open, ever so slightly. The prohibitions are not yet gone, and when direct selling is allowed, it will only be permitted under the most stringent requirements, in order to ensure the operations are not pyramid schemes or fly-by-night operations.
Read that again: multi-level marketing companies are ILLEGAL in China.
Even if Herbalife was operating exactly as it claims to in the U.S., which is far from how it actually operates, in my opinion, it would still be illegal in China.
The reasons that China should be of some concern to those investing long in Herbalife is that it's placing "all its eggs in one basket" in some respect. And that basket seems to be of incredibly questionable quality.
If regulatory action were to come down in China, it could be devastating. It might not happen at all, it might happen as a play on any U.S. regulator action that happens.
I admit, the chances of getting a good regulatory push in China don't seem to have too much force behind them. The bulls actually make some good points here, as do some of my short friends who have played devil's advocate for me over the last couple of days. China is an enigma. The rules on paper take a backseat to government officials, who are easily duped, and the media, which is controlled.
Is it baffling to me that PSQ can put out a webcast like the one it did of China, and that the company isn't being looked at for how it books its Chinese revenues? Yes. Does anything surprise me anymore? No.
In the good ole' U.S.A., I think the bull case of "the regulators have no balls" is despicable. I'd like to think the tax money I pay to help consumers is put to work preventing exactly what Herbalife is seemingly trying to do to people in the U.S. I continue to put my faith in people like Edith Ramirez over at the FTC.
In China, the bulls may have a point. Nothing may ever be done. Even some of the smartest bears I know will concede that.
But, that's not a sure-fire defense. It's not even close to one, actually. And after reading the above, ask yourself: Is Herbalife Recklessly Leveraged on China?
If you haven't watched Pershing Square's full "Herbalife in China" webcast, it's definitely worth an hour of your time, and can be found here. This was the webcast out just days before the regulatory agencies announced their investigation into the company.
In addition to this piece, and heading into the weekend which I plan on taking off from writing, I posted to my Instablog some interesting questions raised by SA user "Hell on Deals", who is a self-proclaimed fraud specialist and who raises some very interesting questions as to whether or not Herbalife's volume points should have to play by the same rules as an official currency.
Hope everyone has a great weekend.
Oh, yeah. And I'm short Herbalife.
Disclosure: The author is short HLF. The author wrote this article themselves, and it expresses their own opinions. The author is not receiving compensation for it (other than from Seeking Alpha). The author has no business relationship with any company whose stock is mentioned in this article.
Additional disclosure: I hold calls (as a hedge) and puts in Herbalife but am positioned very short.