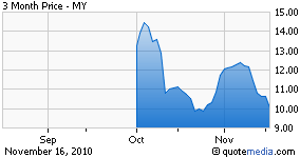 On November 15th, 2010, China Ming Yang Wind Power (NYSE:MY) reported its third quarter results for 2010. Shares jumped as much as 14% in early trading after the earnings were released, but the stock pulled back throughout the later trading hours. If there are no material events, I consider MY to be a significantly undervalued stock. In this article, I want to provide my top three reasons to long MY following my previous article.
Strong Financial Highlights
| | | | | | | | |
| --- | --- | --- | --- | --- | --- | --- | --- |
| Unit (RMB) | 2009-Q1 | 2009-Q2 | 2009-Q3 | 2009-Q4 | 2010-Q1 | 2010-Q2 | 2010-Q3 |
| Revenue | 149576 | 451989 | 231159 | 339968 | 1008074 | 1310536 | 1485963 |
| Gross Profit | 3972 | 4432 | 25842 | 41722 | 206758 | 249050 | 248654 |
| Diluted (loss) earnings / share | -0.32 | -0.51 | -0.49 | -0.9 | 1.37 | 1.61 | 1.7 |
The above table represents the quarterly results of operations for the quarters in the period from March 31st, 2009 to September 30th, 2010 inclusive. Financial highlights are summarized below:
Total revenue increased by 543% over Q3 2009, to RMB 1,486.0 million ($222.1 million).
Gross profit increased by 862% over Q3 2009, to RMB 248.7 million ($37.2 million), which is well above the analysts' estimates of RMB 113-142 million. Gross margin also increased to 16.7% compared to 11.2% for Q3 2009, above analysts' estimates of 16.5%. The Q3 2010 gross margin is lower than the 19.0% in Q2 2010, due to the sales contract mix in Q3 2010, and should bounce back to over 18% in Q4 2010.
Basic and diluted earnings per ordinary share were RMB 1.70 ($0.25) compared with basic and diluted loss per share of RMB 0.49 for the same period in 2009. The most recent analysts' consensus for FY 2010 is in the range of 0.69 to 0.72. In fact, MY already earned an EPS of $0.69 in the first nine month of 2010 and could easily beat these estimates by several cents.
The quarterly results of operations from MY are affected by seasonal trends. Since customers typically award winning bids for wind farm projects in the first and fourth quarters of each year, the cost of sales in MY is typically higher in the second and third quarters of each year.
It is reasonable to assume MY's fourth quarter results will be at least as good as those from the third quarter. This assumption gives an estimate of $0.94 for 2010 EPS. Considering the current closing price of $10.60, P/E in 2010 is only 11, which suggests that MY is significantly undervalued. If we consider that secured sales orders have doubled in the past twelve months and that the sales revenues are not recognized yet, the forward P/E of MY is around 7. MY's direct competitor, Goldwind, is trading at 15x P/E.

Good "Guanxi" With Chinese Governemnt
"Guanxi" literally means "relationships." In China, the right "Guanxi" makes all the difference in ensuring that a business will be successful. MY has very good "Guanxi" with government and some evidence is shown below:
A total of 66 investment projects were reported to the Chinese central government this year, for 5.7 billion RMB, and Ming Yang received 60 million RMB to support its business.Ming Yang received 51 sets of SCD wind turbine orders from the government.

In addition, Ming Yang has signed offshore wind farm development agreements with the government of Rudong county, Jiangsu Province, and two new energy subsidiaries of China Huadian Corporation ("Huadian") and China Huaneng Group ("Huaneng") (NYSE:HNP), two of China's largest wind power developers.

On the evening of Oct. 29, 2010, MingYang held a celebration of its successful listing on the NYSE in the United States in Beijing's Great Hall. This is very rare for a non-state-owned company. Among the companies that were allowed to hold celebrations of listing on a major exchange in Beijing's Great Hall are the Industrial and Commercial Bank (ICBC), and China Railway, which are state owned enterprises with good "Guanxi" with the government.
The newly released 12th Five-Year Plan of China (2011-2015) aims to boost the development of strategic emerging industries, and Beijing will provide 4 trillion RMB ($600 billion) to financially support key emerging industries, including wind, solar, biological, new-energy automobiles, etc.
Coverage From Top Analysts
The joint bookrunners for MY are Morgan Stanley (NYSE:MS), Merrill Lynch and Credit Suisse (NYSE:CS). Now the quiet period for IPOs has ended, analysts are beginning to add coverage for this stock. During the last five days, Morgan Stanley started China Mingyang at "Overweight" with a target of $15.40. Merrill Lynch started MY at "Buy" with a target of $17 while Credit Suisse started MY at "Outperform" with a target of $16.10. The current price level offers a huge discount compared to the consensus estimate from analysts and is an optimistic sign for MY.
There are two important attributes that define value investing, according to Michael F. Price, the 271st richest person in the world and a renowned money manager who has earned a reputation for buying undervalued companies. One is patience and the other is focus; this means that one should not be distracted by global or macro forecasts. It is always easier to understand a security than an economy and using this understanding leads the way to profit.
At the current price level, MY is a significantly undervalued stock and offers a price with a discount large enough to allow for a margin of safety. The business of MY is the manufacture and sale of wind turbines and is easily understood. As a technology leader in China's wind power equipment industry, MY will benefit from the new policies and is well positioned to capture a large share of the fast growing wind energy market in China. With strong sales figures for wind turbine orders and increased demand for wind energy in China, I believe that MY offers a fantastic investment opportunity.
Disclosure: Author long MY