I've been a Ford (NYSE:F) bull for about as long as I've been writing on Seeking Alpha. This year, the stock has failed to move aggressively, but has walked itself upwards nonetheless. According to TipRanks, here's how I've performed on Ford:

As you can see, the stock has dipped and is going to test the support on it's 50DMA today. My guess is with this report out today and the Dow looking like it wants to rally into the close, that Ford is going to bounce off this support and continue its walk up next week - barring any kind of catastrophe, like more Lindsay Lohan pictures in the NY Post from her trip to Ibiza.
Year-to-date, the stock is up 9.3%.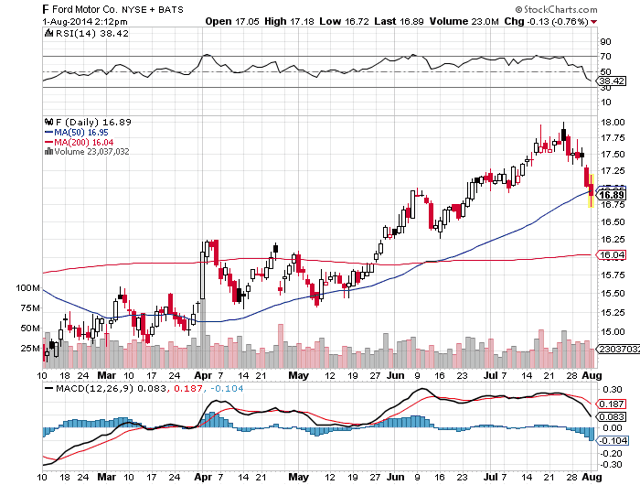 U.S. auto sales data released today is looking good for most automakers selling in the U.S. The forecast is now for July sales to hit 1.5 million vehicles, which marks about a 10% increase from the same figure last year.
Edmunds, TrueCar, and Kelley Blue Book have all weighed in with similar forecasts, according to an article in Forbes this morning.
So, what does this mean for Ford?
First, looking at the figure we see that Ford is actually one of the automakers that wound up losing momentum in July: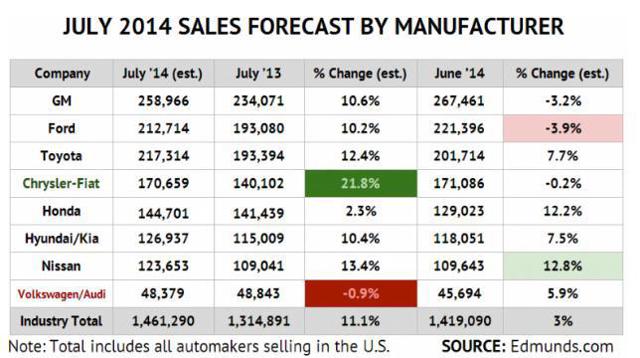 However, the company was able to exceed what analyst forecasts were looking for. Ford posted a "unit sales increase of 10% to 212,236 over analyst's forecasts of 8.8%", as reported by SA contributor David Zanoni in his piece out just moments ago on Seeking Alpha.
Additionally, Ford continues to pile onto its U.S. market share, according to this chart from Cars.com. Honda, Nissan, Hyundai, and GM are all lagging behind Ford in this metric. Don't ask me what the hell is going on over at Chrysler, I figured they'd be out of business by now. Maybe it's Fiat towing the line there - people aren't actually still buying Chryslers, are they?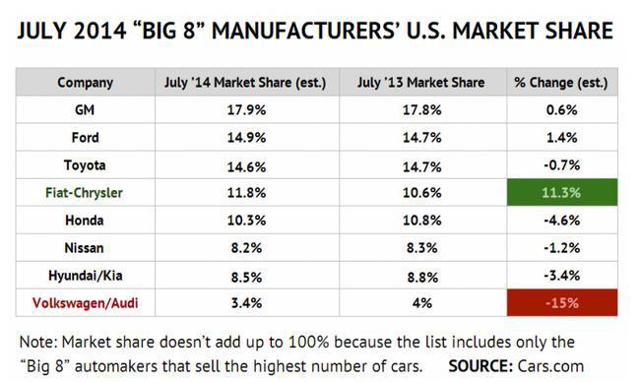 Regardless, one of the other extremely important parts in this morning's report was the traction that Ford continues to gain in trucks. This is going to be integral as Ford continues to push forward with its aluminum bodied F-150.
Seeking Alpha reported this morning:
Ford (NYSE:) reports saw truck sales increased 17.4 in July to 78,583 - while car sales fell 6.4% to 68,702. Utilities sales were up 17.1% to 64,951.
Sales growth by brand: Ford +9.4 to 204,373; Lincoln +13.6% to 7,863.
Sales growth by model: Ford Fusion +16.7% to 23,942; Ford Fiesta -1.6% to 7,545; Ford Mustang +13.8% to 6,564; Ford F-Series +4.6% to 63,240; Ford Escape +18.9% to 26,558; Lincoln MKZ -1.2% to 2,776.
This growth should continue to encourage those that watch Ford's sales on a month-by-month basis. The Fusion continues to dominate and work on its task of dethroning the Camry as the best sedan in the U.S.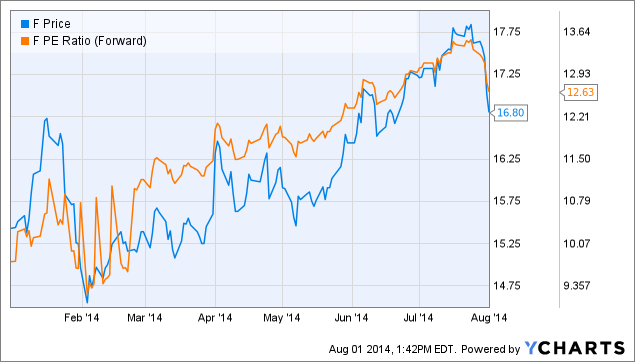 As an investment, Ford continues to look attractive to QTR. Despite rising steadily since the beginning of this year, Ford continues to be valued at an extremely conservative 12 times forward earnings.
I reaffirm my bullish sentiment on Ford here and maintain my $20 price target.
Disclosure: The author has no positions in any stocks mentioned, and no plans to initiate any positions within the next 72 hours. The author wrote this article themselves, and it expresses their own opinions. The author is not receiving compensation for it (other than from Seeking Alpha). The author has no business relationship with any company whose stock is mentioned in this article.