Strength in the housing industry was one of the main reasons for the economic recovery following the Great Recession, while big home price gains have done wonders for consumer confidence as well. Yet while this was one of the biggest stories over the last few years, it appears as though it might be coming to an end.
After all, home price gains have started to slow in many markets while demand for new housing is slipping too. Add in fears over higher interest rates coming down the pike eventually, and investors don't really have a great environment for homebuilders, at least in the near term.
While the trend has hit many in the industry, a great example of the recent pain, and how more worries may be ahead, is arguably Plum Creek Timber (NYSE:PCL).
PCL in Focus
Plum Creek is a Seattle-based REIT that owns and manages timberlands in the United States. The company's products include lumber, plywood, and related wood products such as wood chips. In terms of the location of its timberlands, it has a strong base in the Pacific Northwest (as well as Montana), while the South accounts for the bulk of its holdings, including several of its top states.
These wood products from such diverse locations really came in handy for PCL following the Great Recession and the return of housing demand, but as the market has begun to turn, concerns have begun to build over PCL and its near-term outlook. While the stock is down a little bit YTD, the worries may really be starting to build following the company's latest earnings report.
Most Recent Earnings
PCL actually beat estimates, edging out the Zacks Consensus Estimate of 31 cents per share by a penny. However, many investors keyed in on the fact that PCL management reduced their full year guidance, dropping it to a range of $1.05-1.25/share, down from the previous expectation of $1.30- $1.50/share.
Obviously, this wasn't welcome news, and many investors sold off the stock following this revelation, pushing shares back near the $42/level on the day. And as you might expect following this guidance reduction, analysts had no choice but to lower their full year estimates as well.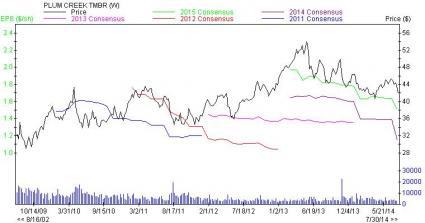 In fact, not a single analyst estimate has gone higher in the past month, while three have gone lower for the current quarter, and four have gone down for the current year. The magnitude of these revisions has also been intense, with the current quarter falling by roughly 33% in the past month, while the current year estimate has slumped from $1.39/share 30 days ago to $1.12/share today.
With estimate cuts like these and little hope for a housing turnaround, it shouldn't be too surprising to note that we have assigned PCL a Zacks Rank #5 (Strong Sell), and are looking for some underperformance from this company in the weeks ahead.
Other Picks
In terms of other picks in the building products wood industry, one should probably avoid the space entirely, as it currently has a Zacks Industry Rank in the bottom 5% of all groups. However, even with such a bearish rank, there is currently one standout, Boise Cascade (NYSE:BCC), the only company in the group that has a Zacks Rank #2 or better.
In addition to having a "buy" rank, BCC has seen soaring analyst estimates as of late too. The full year consensus has actually jumped from $1.48/share to $1.80/share in just the past week, so this might be a better route to take in the building products industry for now, and especially so when compared to PCL.
Disclosure: None