Zillow (NASDAQ:Z) is an online marketplace for real estate and home-related information. According to the latest 10-Q filing, Zillow has the following three major revenue streams:
Selling Leads/Advertisements to Real Estate Brokers or the Premier Agent Program: This category represents the largest potential market for Zillow, and is the backbone of the bull thesis (more on that later). The Premier Agent Program accounted for around 68.5% of Zillow's revenue in Q1 2014 (Calculated as: average ARPU per month * 3 (number of months) * subscriber base).
Selling Leads/Advertisements to Mortgage Companies (Zillow Mortgage Marketplace)/Mortech: Zillow charges lenders for essentially displaying their loan rate quotes on Zillow Marketplace. This stream accounted for around 10% of the total revenue.
Display Ads Program: The display ads program serves text/picture and animated ads on Zillow website and apps. The growth of this stream has not been as impressive as the other two categories, and now represents only 19% of revenue compared to 39% in 2011 Q1. (It still grew at a blistering pace of >50% growth YoY in last three quarters.)
To evaluate Zillow's stock price, we will analyze the total addressable market/maximum possible revenue for each of these streams. We will then join the market mania and assume that by the power of wishful thinking, Zillow and Trulia (TRLA) immediately capture the total addressable market/revenue calculated. We will then analyze Zillow/Trulia as a stable company and try to estimate a fair price.
Total Addressable Market/Potential Revenue for Zillow
Premier Agent Program: The total real estate transactions for existing and new homes were around 1.4 trillion in 2013. Assuming an average 5% real estate agent commission on each transaction, the total commissions paid to agents last year were $70 billion. We also assume that on an average, each agent spends 10% of this money on marketing. The total marketing budget for all real estate agents is ~$7 billion. It's worth noticing that Zillow's 2013 revenue is a meager 2.8% of this massive marketing spend. Let's assume that in the best-case scenario, there is no competition, Zillow/Trulia dominate the market, and by magic of wishful thinking, real estate agents start spending around 40% of their marketing budget on Zillow/Trulia. That's a total of around $2.8 billion in revenue. It's interesting to note that total revenue of Trulia+Zillow for 2013 was around $340 million. In the perpetual scenario, the rate of growth for this business stream would be equal to the real estate growth rate (roughly 3%-4% per year).
Zillow Mortgage Marketplace: To address the addressable market of this revenue stream, we will find the average revenue generated per loan request in Q1 2014. We will then estimate the total number of loan requests in the best-case scenario and apply the same multiple on each sale.
From Zillow's last 10-Q total loan requests: 5.818 million
Total Marketplace revenue: ~$7 million
Total revenue per loan request on Zillow mortgage: ~$1.22 (7/5.818)
Total houses sold in U.S. in 2013 = 5.073 million
From zillow's 2013 10-K , ratio of loan request to number of houses sold =~ 4.
Assume at peak for each house sold in US there are 10 loan requests on zillow.
Total addressable revenue/market based on current rates = 10*5.073*1.22 = 61.9 million
Display Ads: Zillow had a total of approx 200,000 unique visitors on its website in 2013. This implies that for every home sale in America, approximately 200,000/5000 = 40 unique visitors visited Zillow's website. Assume by terminal year 100 unique visitors visit Zillow's website. We also assume that the display ad rate remains unchanged. (Display ads is a highly competitive industry, and hence, chances of significantly better rates are slim).
Total display revenue in terminal year = 2.5*43 million = ~$107 million.
For all the three revenue sources, we can assume that the perpetual growth rate will be more or less in line with the inflation rate. We will assume that the long-term inflation rate is around 3%-4%.
Total revenue from all three streams = 2.8 billion (Premier Agent Program) + 61.9 million (Zillow Mortgage Marketplace) + 107 million (Display Ads) = ~ 2.96 billion
Assuming a P/S ratio of 3.86 (same as KO), market cap = 3.86 * 2.96 billion = ~ $11.4 billion
Assuming a profit margin of 20% (same as GOOG) and P/E of 15 (for a company growing at the rate of inflation) market cap = 0.2 * 2.96* 15 = $8.88 billion
At the time of writing, the combined market cap of Trulia and Zillow hovers just shy of $9 billion. This shows that it's almost impossible to even dream of a scenario where the current valuation of Zillow makes sense.
Risks to Zillow Bull Thesis
Now that we have determined that Zillow is not cheap even in the best possible scenario, let's come back to our senses and look at some other risks to Zillow's business, besides the sky-high valuation (as explained above):
Low Operating Leverage: Zillow employs a huge sales and marketing team, and there is good reason for it. Zillow sells the premier agent program to real estate agents by good old cold calling. Hence, the cost of sales and marketing as a percentage of revenue has been consistently high over the years. Here, we plot S&M cost as a percentage of revenue.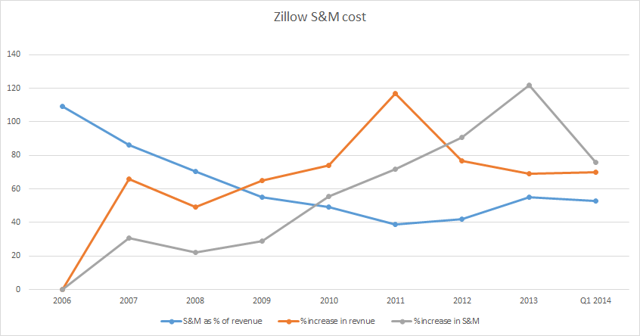 Source: Author; Data source: historical Zillow filings
A closer look at recent years shows that Zillow has to consistently spend more money on S&M to increase revenue. This paints a picture of a low-margin business which relies on telesales for its revenue. This is considerably different from a Web 2.0 business like LinkedIn (NYSE:LNKD)/OpenTable (NASDAQ:OPEN), which Zillow frequently compares itself to.
Competition: Below, I present a comparative analysis of Zillow with Redfin (OTC:RFNN).
| | | |
| --- | --- | --- |
| Feature/Competitive Advantage | Redfin | Zillow |
| Freshness of data | Updated every 15 minutes | Updates generally take 7-10 days, and data can be stale even for months |
| Percent of agent-listed homes available to consumers | 100% | 81% |
| Search homes in a particular school district | yes | No |
| Estimated value of house | e-appraisal + comparative analysis tool | Zestimate |
| Rent estimate | No | Yes |
| Comparative analysis of lenders | No | Yes |
As you can see, the competitive advantage of Zillow, if any, is really thin. In fact, a quick Google search for "Redfin vs. Zillow" brings up numerous blogs/articles like this or this, where users rated Redfin either higher or equal to Zillow.
Another plausible risk going forward comes from websites like Yelp/Google reviews. Remember, the primary business of Zillow is selling leads to real estate agents. Consumers give more weight to recommendations from people they know or large crowdsourced recommendations. It's possible that in an increasingly social online experience, real estate agents will realize that the value add of paid leads (provided by Zillow) is lower compared to online reviews from trusted websites. Such a scenario will seriously reduce Zillow's pricing power.
Insider Sales: Insider selling by itself doesn't tell much, but heavy insider selling is never a good sign. According to Yahoo Finance, insiders have sold a solid 1.41 million shares in the last 6 months.
Conclusion
I would recommend a short position in Zillow. Since there is a considerable risk of a short squeeze, I recommend a synthetic short position via long dated options (for example, a bear call spread).
Disclosure: The author is short Z. The author wrote this article themselves, and it expresses their own opinions. The author is not receiving compensation for it (other than from Seeking Alpha). The author has no business relationship with any company whose stock is mentioned in this article.