Whirlpool (WHR) is a household name - literally. The $11 billion market cap company has been around for over a century and probably makes many of the products in your home, from the Kitchenaid stand mixer to the Jenn-Air refrigerator, the Maytag washing machine to the Whirlpool air conditioner. But, there are other reasons to acquaint yourself with this stock.
Finding a stable place in which to invest your money isn't an easy task for a risk averse investor - and let's face it, who isn't a little risk averse in today's economy. The Nasdaq and Dow have enjoyed record highs as of late, but what goes up must come down. It isn't a matter of "if" a market correction is coming but "when."
To forestall the damage to your portfolio when that time comes, it helps to balance your stock selections between the growers, like big technology, and the show-ers, stocks that provide consistent gain.
Growers get lots of attention, but identifying a show-er is a bit trickier. You have to find a stock that is priced low compared to its industry, grows as least as much as the economy (if not more), and has some protection from a downturn in the market, such as good hedging in its product/service offerings or a decent dividend.
While show-ers exist in every industry, one good place to look is at companies that make the products you use everyday, wouldn't want to live without, but don't replace often - like your home.
Thesis
Whirlpool is a stable stock with a solid record. Its performance has outpaced the S&P 500 significantly over the past five years, and there is no reason to think that will change much going forward.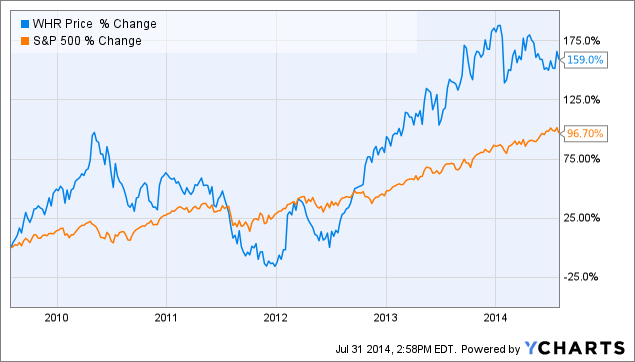 Global demand in the appliance market is increasing and smart home technology is rapidly taking root and Whirlpool is positioning itself to take advantage of the highest demand markets, particularly the United States, Asia and Europe.
Smart Homes
Whirlpool is unique as a mature company because it stays on top of market trends. For instance, last week, the company announced that it is one of the participants in Google's (GOOG) (NASDAQ:GOOGL) "Works With Nest" program. This means the company will be integrating some of its products into the Nest home experience. Its first step toward this is a washer and dryer that keeps clothes fresh if the owner isn't home or cycles into an energy efficient mode to conserve power during peak usage times.
"The products Whirlpool designs adapt to consumers' lives and sense what they need - the way they cook, clean and entertain," said Brett Dibkey, vice president and general manager of Integrated Business Units for Whirlpool Corporation. "Our relationship with Nest underscores our commitment to developing innovations that answer and anticipate consumers' needs."
The connected appliances industry is expected to be strong going forward. Juniper Research predicts the installed base of connected appliances will reach 10 million by 2017, up from 4 million in 2013. The report, which found that consumer awareness of connected appliances was increasing, notes that such devices remain a niche item due to security concerns and higher price tags but that intelligent appliances are a big part of the longer term visions of companies like Samsung and LG.
Obviously, Google is on board with its Nest offering and the adoption of these types of devices tend to take time. Ten years ago, people were critical of smartphones. According to ComScore, smartphone penetration was 68.8% in 1Q14.
"Smart homes" are really just the next frontier. "There are several other factors driving the demand for connected home. With growing energy consumption, rising energy costs and environmental concerns, consumers want to have better control over their energy management," explains the Wipro Council for Industry Research in a report. "Residences in the US account for nearly a quarter of the total energy demand, while globally, residences use about 15% of the total energy consumed, indicating an opportunity in energy-related remote management solutions." Moreover, while consumer uptake is currently low, a recent study by Ovum found that consumers are showing strong interest smart energy control going forward.
Perhaps more importantly though, Whirlpool's foray into this niche market is smart, parlaying an involvement with first-mover Nest rather than taking Samsung's approach, which offers a Smart Home Service platform but restricts that service to Samsung products only.
Looking At The Numbers
Whirlpool has a variety of strengths in looking at the value of the company. Right now, the company is trading for $143 per share with an average one-year target estimate of $172.38, with some analysts predicting the stock will reach $200 per share in the next twelve months. In addition to the forecasted bump in share price, Whirlpool also pays an attractive 2.2% dividend yield.
Analyst enthusiasm over the stock isn't a surprise. Whirlpool has enjoyed a steady climb in its revenues over the years.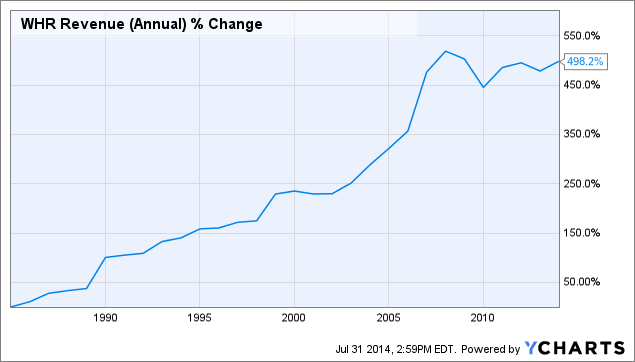 WHR Revenue (Annual) data by YCharts
And yet, it remains priced lower than its peers when compared to its earnings. Whirlpool has a price to earnings ratio of 15.65 while the average for its industry is closer to 16.26. Moreover, while Whirlpool does have a somewhat low quick ratio of 0.58, its debt-to-equity ratio is also low, currently around 0.64.
Whirlpool's earnings expectations were recently cut after posting a second quarter profit of $179 million, or $2.25 per share, which was much less than the same quarter a year earlier when the company posted profits of $198 million or $2.44 per share. The decline was blamed on soft performance in the company's Asian and Latin American markets but was offset somewhat by improved sales in North America, Europe, the Middle East and Africa.
Industry Outlook
Going forward, these markets should become stronger. "The global household appliance industry is expected to experience a CAGR of 6.1% over the next five years and the industry revenue is forecast to reach an estimated $384 billion in 2017," announced Reuters. "Favorable demographics, rising consumer incomes, and changing lifestyle is expected to drive the industry over the forecast period."
Financing terms are also expected to support this growth, particularly in Whirlpool's softer Asian market. There are government subsidies for households in China and financing is becoming increasingly easy to obtain through parts of Asia, especially India. Refrigeration is expected to experience its highest growth to date over the next five years while the demand for cooking appliances is also predicted to be especially strong.
Demand in the United States is also expected to continue to be strong. Last year, homeowners spent $130 billion on remodeling projects - up 3.1% from the year before and the highest amount since the housing bubble burst in 2007. With GDP going strong, increasing by 4% in 2Q14, domestic durable goods purchases increasing by their fastest pace in nearly five years, and consumer spending across the board rising at a rate of 2.5% last quarter (toppling median forecasts of 1.9%), that growth is expected to continue.
Appliance purchases tend to follow. According to the Association of Home Appliance Manufacturers, U.S. shipments of major home appliances rose 11.3% in June to 7.51 million units. As connected appliances gain more awareness and consumers become more comfortable with the technology, this market will likely increase as well.
The company now says it expects to report full-year earnings of $10.30 to $10.80 per share, down from previous estimates of $11.50 to $12.00 per share. But it should be noted that the outlook cut is meant to reflect Whirlpool's costs associated its pending strategic acquisitions of majority stakes in Hefei Rongshida Sanyo Electric Co Ltd and Indesit.
Whirlpool's investment in Hefei Rongshida Sanyo Electric Co Ltd is expected to help the company boost its business in Asian markets, particularly China, while the company's investment in Indesit should bolster its presence in European markets.
Takeaway
Whirlpool is a well-established company with a foothold in major markets and product offerings that are in increasing demand. Markets in the company's softer demand areas are expected to grow while the appliance industry in the US is expected to remain strong going forward. Whirlpool's recent acquisitions and foray into the smart home market should boost the company's revenues going forward and strong debt management should help those returns trickle down to the bottom line, especially once its investments in acquisitions are fully appreciated.
Whirlpool may not see huge swells in share price over the short term, but the company is a solid long position at its current price.
Disclosure: The author has no positions in any stocks mentioned, and no plans to initiate any positions within the next 72 hours. The author wrote this article themselves, and it expresses their own opinions. The author is not receiving compensation for it (other than from Seeking Alpha). The author has no business relationship with any company whose stock is mentioned in this article.