While the general confusion right now about whether our economy is slowly improving, stuck in a very unpleasant rut, or actually slipping towards a dangerous precipice seems to be almost schizophrenic at times, suddenly Siemens (SI) bursts on the scene singing a very positive tune about its anticipated brighter, sunnier future. In raising the dividend to $3.71, the first increase in three years, this Munich-based, European engineering conglomerate seems to be putting its money where its mouth is. As a portent of good things to come, Siemens may even be a worthwhile stock broker preference.
Founded in 1847 in Berlin, the company has a strong history of forward thinking and deliberate policies aimed at creating sustainable success. However, expansion has not come without sometimes painful pruning of non-productive branches of this far-reaching tree. In 1998 more than 30 disappointing businesses were axed as the company developed a more finely-tuned global initiative. Deciding to focus on information and communications, transportation, power generation, and manufacturing seems to have paid off. Siemens claims that its increased strength and durability in spite of world market tentativeness is a direct result of owning different businesses that each have their own unique economic cycles.
This may be evident in the recent figures that indicate while healthcare (primarily US) returns were down significantly in this past fiscal year, both the energy and industry sectors were able to carry the ball. It is true that the overall profit from those 3 core businesses is still off 45%, but that is significantly lower than the originally predicted 59%. Trading now at 42% above the 52 week low of $82.74, at $117.78, total revenue is up 8% from last year even including healthcare losses. This apparent uptrend is supported by the fact that revenue orders in July, August, and September were up 25%. Siemens' confidence is evidenced by passing on the benefits to its shareholders and suggesting 30%–50% of net income to be paid out next year.
Expected growth of 25%–35% will be encouraging news not just in online trading circles, but to those who view this manufacturing giant as a barometer of global recovery. Siemens credits its surge to a renewed commitment to be the biggest and the best. As CEO Peter Loescher reiterates:
We want to grow more quickly than our competitors.
With more than 400,000 employees in 190 countries, it would seem that their Global Network of Innovation is functioning as planned and increased revenue is a reasonable expectation.
The significant increase in new orders is one cause for this air of expectancy and renewed stock broker interest. The return to growth in organic sales may also be an important factor in Siemens economic sustainability. The in-house ability to support its production needs has allowed the company greater flexibility and faster response to its short cycle business. Long-term business planning has also been supported, as evidenced by this first ever release of its new dividend policy. Since both technology and innovation strongly impact business cycles, Siemens would appear to be ideally positioned to not only reap the benefits, but pass some of that on to collateral industries in something of a ripple effect.
The level of Siemens' future profitability is, of course, not totally within the control of this otherwise powerful company. The recent global reaction to the Fed's monetary infusion program is a wild card that may or may not negatively impact Euro markets. As the weakened US dollar encourages foreigners to buy more US products, European companies including Siemens may feel the pinch. Also, the healthcare issue may not be as resolved here as some would like to suggest. Although US purchase of healthcare equipment is a significant part of their core sales focus, it remains to be seen how soon American health professionals will be ready to start buying again.
Overall, considering the inner strength and determination of this company, its diversified sources of revenue, and its global tentacles, this may be an opportune time to buy stocks in Siemens. The company's own optimism about the future might just be contagious.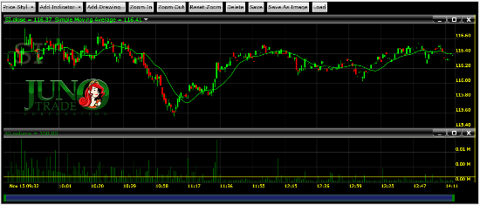 (Click to enlarge)
(Click here for interactive SI chart)
Disclosure: No position