The British pound (NYSEARCA:FXB) has experienced a steep and near-continuous decline ever since it hit new multi-year highs in July against the US dollar.
The July Markit/CIPS UK Manufacturing PMI® helped cause another downleg in the British pound that should bookend, or signal the end of this decline. Such an end should begin the trading range with a slight upward bias that I have been anticipating. FXB has now reversed all of its gains from the June run-up, although the up-trend and run-up in place since 2013's lows is well intact.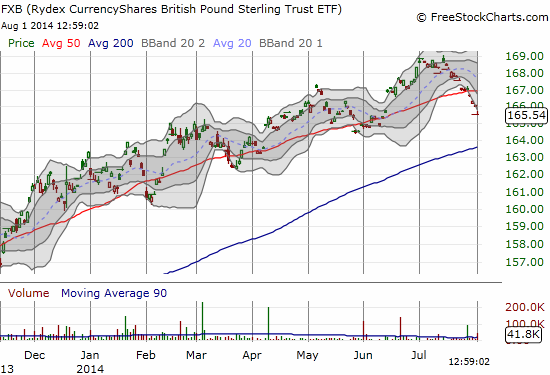 The British pound has erased all its gains from June, but is still trending upward
Source: FreeStockCharts.com
After a strong June, expectations were very high for July's UK Manufacturing PMI. The PMI came in at a strong 55.4 in July, but under expectations for 57.2. This is the lowest PMI in a year. The good news is that this is now the 17th month in a row that the PMI has been over 50, representing ongoing strength in manufacturing conditions. The case for Bank of England to raise rates sooner than later remains well intact, suggesting the British pound's erasure of June's rate-hope gains is a buying opportunity.
The underlying fundamentals for the UK economy remain strong, according to the July PMI:
"The sustained growth in output volumes was again underpinned by a marked uptick in levels of incoming new orders during July. Companies linked increased inflows of new work to the launch of new product lines, price promotions, stronger economic sentiment and rising demand from both domestic and overseas clients."
Job growth remains robust:
"Job creation was recorded for the fifteenth successive month in July, with broad-based gains in payroll numbers seen in the consumer, intermediate and investment goods sector and also at SMEs and large-scale producers."
Perhaps most importantly, price pressures are still on the rise:
"Average output charges and input costs both continued to rise during July. Selling prices increased for the thirteenth successive month, reflecting improved inflows of new work and the pass-through of higher input costs - which rose for the third month running. Increased purchase prices were linked to higher costs for metals, plastics and timber. There were also some reports of suppliers raising their prices. This was partly the result of bottlenecks at vendors, as highlighted by the steepest lengthening of supplier lead times for over three years."
All these data points support a rate hike sooner than later to get off the zero lower bound. The British pound is thus a buy here on the pullback.
Be careful out there!
Disclosure: The author has no positions in any stocks mentioned, and no plans to initiate any positions within the next 72 hours. The author wrote this article themselves, and it expresses their own opinions. The author is not receiving compensation for it (other than from Seeking Alpha). The author has no business relationship with any company whose stock is mentioned in this article.
Additional disclosure: In forex, I am net long the British pound.