Green Mountain Coffee faces more significant headwinds than rising coffee prices. In a past article, http://seekingalpha.com/article/224931-why-it-s-a-great-time-to-short-starbucks, I made the case for rising commodity prices and weakness of the domestic consumer being good reasons to short Starbucks. I am willing to admit that I was wrong in that case (or maybe early), but the some of the same arguments can be applied to GMCR, and I stand behind the rationale I was using. In this instance though there are significant catalysts behind a more immediate downward move.

1. A class action securities fraud lawsuit has been filed against the company -

Here is the news headline:
NEW YORK, NY, Nov 08, 2010 (MARKETWIRE via COMTEX) -- A class action lawsuit was filed in the United States District Court for the District of Vermont on behalf of purchasers of Green Mountain Coffee Roasters, Inc. ("Green Mountain" or the "Company") (NASDAQ:GMCR) securities during the period from July 28, 2010, to September 29, 2010 (the "Class Period").

2. On November 5th, an insider sell of 100,000 shares was filed
3. The company was supposed to report earnings on Nov. 11th, but delayed the report

With the looming securities fraud suit, insider selling and delaying the earnings report must be extremely troubling.

4. Longer term head and shoulders chart formation, and no support on the short term10-day chart

These additional negative pressures on the stock should repel any investor from buying at this moment and in the long term, I have my doubts on how well these companies can pass rising input price increases onto American consumers.

Additionally the action in the implied volitility is also bearish for the stock price. See the chart below.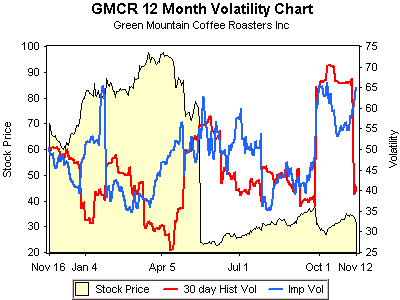 As the price was rising from October to now, the volitility should be falling as investors buy the stock and feel more safe about the status of the company. This was not consistent through that time period in this case, and the volitility is now at 52 week highs.

If nothing else this a company to keep a close eye on. It is very attractive as a risk/reward short position in my opinion.

Author's Disclosure: Long GMCR Puts