I last published an article on China Mobile (NYSE:CHL) with a price target of $57 stating that despite profit concerns from declining 2G customer derived revenues, I'm optimistic that growing 3G (and 4G) customers would help to stabilize the operations.
Since reporting that article, CHL's price increased from $47 to about $54.50. With about 5% more to reach my initial target, I would like to provide an update on the company's operations so that readers are able to track CHL's progress and make an informed decision whether to sell or continue holding the company for further upside.
Operations Update
('000s)
Total Customers
Net Additional
Cumulative Net
3G
4G
3G and 4G
Monthly Increase in 3G and 4G
Customers
Additional Customers
Customers
Customers
Customers
Customers
for the Month
for the Year
As of 30 Jun, 2014
790,614
3,319
23,408
238,518
13,943
252,461
8,063
As of 31 May, 2014
787,295
2,682
20,089
236,289
8,109
244,398
7,621
As of 30 Apr, 2014
784,613
3,531
17,407
231,979
4,798
236,777
9,008
As of 31 Mar, 2014
781,082
5,467
13,876
224,976
2,793
227,769
11,026
As of 28 Feb, 2014
775,615
3,749
8,409
215,403
1,340
216,743
10,877
As of 31 Jan, 2014
771,866
4,660
4,660
205,866
0
205,866
14,243
As of 31 Dec, 2013
767,206
3,910
56,908
191,623
0
191,623
Source: China Mobile Ltd
For the first half of 2014, the Net Customer Addition was 23,408 as compared to a full year of 2013 of 56,908 customers. This is about 44% of last year's full year additions despite introducing 4G into the market. In the first half of 2013, there were 29,856 net customers added.
While Net Customer Additions were lower in the first half of 2014 compared to 2013, the important point to note is that the conversion of 2G to 3G or 4G customers is a prevalent trend.

Source: China Mobile Ltd 2013 Annual Results Presentation
The number of 3G and 4G customers increased from 191.62 million to 252.46 million customers in the first half of 2014 alone. Assuming Average Revenue Per User per month (ARPU) for 3G customers of 75RMB or US$12.14 based on China Unicom Ltd's (NYSE:CHU) 2013 Annual Results Presentation, I estimate that the 3G and 4G customer segment would contribute slightly over US$3b per month.

Source: China Unicom Ltd 2013 Annual Report Presentation
The change in 2G versus 3G or 4G customer mix will probably boost the top line by about $240 million every month based on the 60.84 million new 3G or 4G customers in 1H2014.
Forecasting outwards into a full-year forecast, assuming we add about 8,000 new 3G or 4G customers every month, we should reach 300 million 3G or 4G customers by the end of the year, which is approximately 255 million customers on average across the year. I estimate data services revenue at the end of the year to be $35.6 billion (or 220 billion RMB) based on 2013's reported data services revenue. This $7 billion incremental revenue probably will be offset by declining voice and SMS/MMS revenues which was a decrease of $3 billion last year.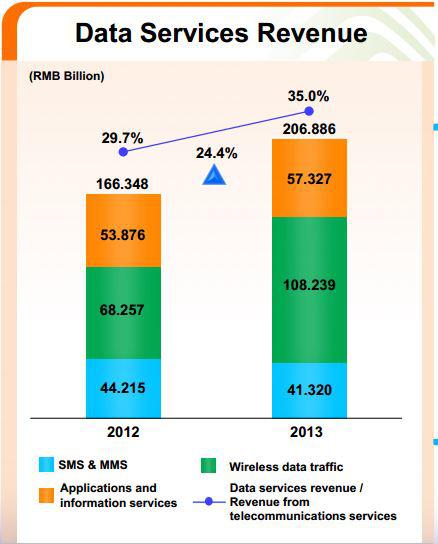 Source: CHL 2013 Annual Report Presentation
Investing in True Corp
CHL has probably stabilized its operations and profitability in 2014 and with this stability the $881 million investment in True Corp for 18% of its equity will probably not impact CHL's bottom line by much. While True Corp is facing similar issues in Thailand with declining profitability, the intention to utilize CHL's massive cash hoard of about $70 billion signals CHL's intent to expand its revenue stream beyond China.
Risks Remain
Risks remain however, and a key factor impacting CHL's profitability is regulations and the main one so far is the impact of VAT changes on CHL's profitability. As a state-owned enterprise, I speculate that the chance of price increases and passing on the burden to consumers to be quite limited.
China introduced new VAT rates of 11% for basic telecommunication services and 6% for value added services. Bernstein analyst Chris Lane anticipates that this new VAT rate implementation could mean a 7% reduction in net profits.
Conclusion
With a strong balance sheet and stabilizing business model, CHL has time to buy itself into other means of expanding margins. This puts investors in a position where there is less downside in holding CHL for awhile longer, assessing if there are further upside catalysts, probably through new acquisitions or strategic partnerships.
I am maintaining price target of $57 but will look to review this after CHL's 1H2014 operating results to pick up clues and more information.
Disclosure: The author is long CHL. The author wrote this article themselves, and it expresses their own opinions. The author is not receiving compensation for it (other than from Seeking Alpha). The author has no business relationship with any company whose stock is mentioned in this article.