Introduction
I have written a few articles on Nyrstar's (OTCPK:NYRSY) problems with Talvivaara which resulted in a great opportunity to buy the 2015 bonds at 80-85 cents on the dollar (well, euro). We're now nine months later, and this article will have a deeper look at the Q2 financial statements and the implications for the bonds.
The financial results
I'll be very brief about the financial results, as this article is mainly meant to discuss the stuff which might be important for people who can read between the lines.
The most important thing to notice is the sharp increase in EBITDA to 110M EUR ($147M) in the first half of this year, which is a 26% increase compared to H1 2013. Why is this an important fact? First of all, EBITDA came in much better than what most analysts were expecting. And secondly, an increased EBITDA will have a very positive impact on the debt/EBITDA ratio. The net debt position as of at the end of June this year was 653M EUR ($875M), and at an annualized EBITDA of 220M EUR ($294M), the net debt/EBITDA ratio is 3, which is quite high but not as alarming as a ratio of 3.75, which would have been the result if you'd use an extrapolation of the H1 2013 EBITDA.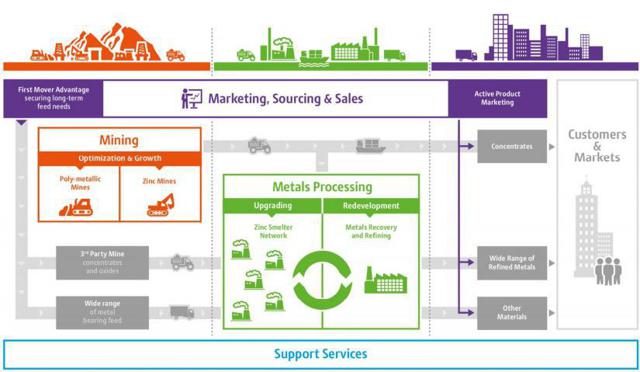 Click to enlarge
(Source: Old company presentation)
The increased EBITDA was almost entirely caused by a much lower energy bill, as Nyrstar's energy expenses dropped by an astonishing 19% compared to a year ago.
A capital raise seems inevitable
What was more surprising (and perhaps a little bit unexpected) was the comment from CFO Heinz Eigner in the Belgian financial newspaper "De Tijd", where he commented that Nyrstar already talked to its major shareholders about another rights issue to raise additional equity. Not a lot of details were given (and the Dutch message seems not to have been picked up by the English-speaking press), but it looks like Nyrstar could indeed launch a rights offering sooner rather than later.
This would allow the company to clean up its balance sheet, as it would be able to raise sufficient cash for its planned sustaining capital expenditures (on, for instance, the Port Pirie smelter), and it would act as a buffer against a possible (non cash!) impairment (of $235M) of the acquired zinc stream from Talvivaara.
I think it would not be out of the question to see Nyrstar do a one-for-one deal by issuing 155M new shares at 2 EUR per share (a 34% discount, which is sizeable but probably necessary for a 100% dilution). This would allow the company to raise 310M EUR ($415M), which would be a very important step to strengthen the balance sheet.
A cryptic message on the 2015 bonds
There was one weird paragraph in the Q2 press release, which seems to be quite important for the people who - just like me - invested in the corporate debt which is maturing in April 2015 (more specifically, the 5.5% bond which I recommended to buy in October last year). As I talked in a previous article about the likelihood Nyrstar would have to refinance some of its debt, I suggested bondholders shouldn't be surprised if the company would propose a swap, whereby the debt holders would be invited to swap their bonds maturing in 2015 into new bonds with a longer maturity date. This isn't really rocket science, and some other issuers have done exactly the same in Belgium.
So I was (positively) surprised to read in Nyrstar's second-quarter press release that "Nyrstar intends to address the refinancing of the 2015 bond ahead of its scheduled maturity". This is not surprising, as the corporate bond market seems to be on fire in Western Europe, and Nyrstar has a pretty decent chance of success with yield-hungry investors.
The main question now is how the company will "address" the refinancing. I have double-checked the prospectus of the bonds, but Nyrstar does NOT have an option to call the bonds before the maturity date. So it will have to offer its bondholders something special. First of all, it's possible Nystar will refinance the bonds with an entirely new issue which would cover the entire outstanding amount of 225M EUR. However, I am also expecting a "bond exchange offer", whereby Nyrstar offers its 2015 bondholders to swap the bonds with newly issued debentures with a longer maturity date. This is a very easy and straightforward way to rollover your debt to a later date.
So what does this mean for the bondholders?
The next few months will be very interesting, and I'm pretty sure Nyrstar is currently talking to its bankers to discuss which steps the company will take to refinance its debt. I think the debt swap offer has a very high chance of happening, but as you can imagine, it's too early to discuss whether or not it would make sense to agree to such a swap offer without having the specifics. That being said, I'm looking forward to see how creative Nyrstar will get and if it'll be enough to convince me to let Nyrstar buy me out of my position of bonds expiring in 2015. But let me be clear, I would most definitely not settle for a bond with an extended maturity date at a coupon rate lower than 5.5%, as the risk/reward ratio wouldn't be great then (unless the company raises cash through issuing more shares, to strengthen its balance sheet).
Disclosure: The author has no positions in any stocks mentioned, and no plans to initiate any positions within the next 72 hours. The author wrote this article themselves, and it expresses their own opinions. The author is not receiving compensation for it (other than from Seeking Alpha). The author has no business relationship with any company whose stock is mentioned in this article.
Additional disclosure: I have no position in the common stock of Nyrstar. However, I do own bonds maturing in 2015, and might add more if they trade below par.
Editor's Note: This article discusses one or more securities that do not trade on a major U.S. exchange. Please be aware of the risks associated with these stocks.