Background: GT Advanced Technologies Inc. (GTAT) provides solar production technology and related manufacturing services. GT Advanced trades an average of 11 million shares per day, and the market cap is $1.9 billion.
GT Advanced is forecast to record lower second quarter earnings before the market opens on August 5, 2014.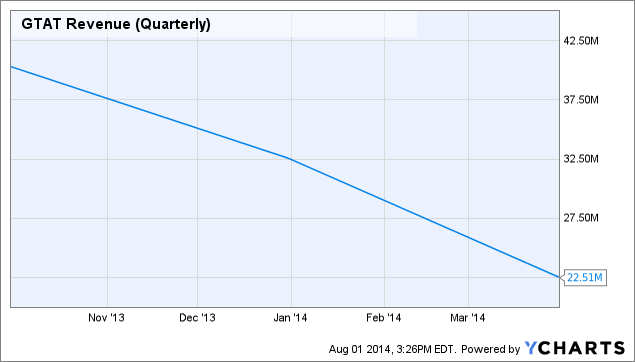 The consensus estimate is currently a loss of 14 cents a share, a drop of 29 cents from a profit of 15 cents during the equivalent quarter last year. Analysts' estimates this quarter range from losing 22 cents to a "high" of losing 6 cents per share.
With its Beta of 2.85, this stock is relatively wild and subject to extreme price changes at times. You don't need a roll cage, but expect a strong move after it reports earnings.
Despite several quarters of losses, analysts continue to approve the direction GT Advanced is headed. Six of the 11 analysts covering the company give a buy recommendation. Five analysts rate it a hold, and not a sell rating to be found.
Three out of 11 analysts now rate GT Advanced a strong buy, down from 4 analysts a month ago. Investors are grinning from ear to ear, and analysts are too. The shares have rocketed higher 167% over the last 52 weeks, albeit off a small base. Analysts are placing a price target of $20.00.
The stock actually reached $20 for a couple of trading days about a month ago. Now it's just slightly sitting above the 200-day moving average. It's a key level of technical support. As long as buyers step up to maintain the price above, it's considered by many to remain in a primary bull trend.
Call and Put option premium tells us that the market is pricing in a 15%, or about $2.03, move in the next 7 days.
In other words, shareholders or potential investors should reasonably expect the stock to trade as low as $11.81, or as high as $15.87, and still remain within the market's expected range.
After last quarter's results, the shares decreased a crushing 12%, or $1.91, from the close before earnings release to the closing after. The final price preceding the report was $16.19, and the bleeding concluded at $14.28 the next trading session.
The shares have gyrated higher and lower, but are entering the weekend before earnings pretty close to the same price as immediately after reporting. From the closing before last quarter's results, to now, the stock fell a notable 14%, or $2.35. The closing price before was $16.19 and is now about $14.28 as of my writing.
Based on last quarter's results and the current implied volatility of options, it appears that all else being equal, buying premium is slightly superior to buying. Shareholders wanting downside protection are just as well off buying puts or selling covered calls. Personally, I prefer selling premium, but it's a coin-toss on this one.
Regardless of the change in price, investors can capture the time premium between now and after the earnings release by selling call options while also protecting your portfolio. Simply buy back any calls and or puts sold after the report. If the shares jump higher, what you lose in stock appreciation is likely more than made up through the expected fall in implied volatility after the report.
After the beating investors took in the last month, I think it's due for a dead-cat-bounce if nothing else. The shares have lost over a quarter of their value and as mentioned earlier, the 200-day moving average should provide some support.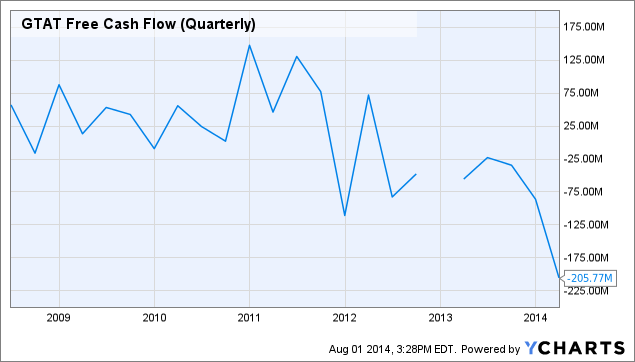 As expected, the level of short interest is very high at 34%. That means more than one out of every three shares on the market are borrowed and shorted. As a rule, that means the stock is headed lower. I believe short sellers are the smart money, and this is a significant concern if you're long. There is another side to a stock with such a massive short interest.
When the short side becomes crowded, and make no mistake, this is crowded, if the management team delivers in the report and guides higher than expected, it could catch short sellers by surprise and create a short squeeze. The forward price-to-earnings ratio could expand at the same time and drive the stock to $25 or more.
I'm not attracted to this one yet (I've been bullish on Corning (NYSE:GLW) for about two years now), but if I was long, I wouldn't sell unless it broke below $13. Earnings aside, as I believe the easiest path is upward.
Depending on how well Apple's (NASDAQ:AAPL) iPhone 6 is received, GT Advanced my learn how to walk higher and squeeze the heck out of the shorts. I think if it's true that GT captured the iPhone 6 business from Corning, GT Advanced's legs may take the shares back above $20 faster than a new app download.
That makes the holiday season numbers more important than this quarter for many investors.
Disclosure: The author has no positions in any stocks mentioned, and no plans to initiate any positions within the next 72 hours. The author wrote this article themselves, and it expresses their own opinions. The author is not receiving compensation for it (other than from Seeking Alpha). The author has no business relationship with any company whose stock is mentioned in this article.