After Thursday's big selloff, the market lost ground in July. However, there were still some winners within some sectors. As it turns out, the tech sector was a leader in July. With that in mind, we went looking for high dividend stocks in the tech sector. As you've probably heard, there aren't a lot of them, unlike the energy sector, which boasts many of the high-yield stocks featured in our recent articles.
However, we did find a promising Canadian firm, Wi-LAN Inc., (NASDAQ:WILN), which trades on the Nasdaq in the US, and just reported impressive earnings this week. With its dividend yield of around 6%, we've added WILN to our High Dividend Stocks By Sectors Tables, in the tech section.
Profile: Based in Ottawa, Canada, and founded in 1992, Wi-LAN Inc. is a tech company which acquires and licenses patents to several industries.
Patents in Wi-LAN's portfolio are licensed by companies that manufacture or sell a wide range of communication and consumer electronics products including 3G/4G/WiMAX base stations, 3G/4G/WiMAX handsets and dongles, wireless-enabled laptops, routers, xDSL infrastructure, Bluetooth-enabled devices and digital television receivers. More than 280 companies, including Cisco, Nokia, Panasonic, Samsung, RIM, Sharp, Sony and Toshiba, have licensed WiLAN technologies.
(Source: WILN website)
At first blush, WILN's growth over the recent past isn't very impressive - flat revenue growth in 2013, and a 25% decline in net income, thanks to litigation costs that grew nearly 80%: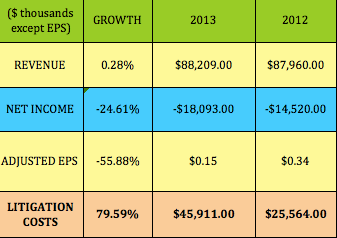 But, when you look at the litigation costs, and how they've decreased over the first two quarters of 2014, a much brighter picture emerges: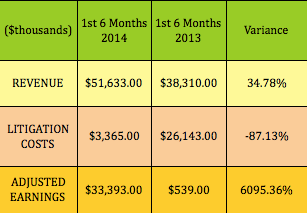 Moving forward, WILN has also given guidance for Q3 2014, which indicates that litigation costs should stay muted. This makes sense, in light of recent favorable rulings - the U.S. Patent Office and U.S. District Court just confirmed validity of WiLAN's 802 patent, which was at issue in a case vs. Apple, and, the U.S. Court of Appeals for the Federal Circuit has ruled entirely in WiLAN's favour concerning the proper interpretation of a contract entered into by WiLAN and Ericsson, Inc.
WILN also commented on the decrease in litigation costs, on its Q2 earnings release, that, "This decrease in comparison to the same period last year is largely attributable to a decrease in the level of litigation activities and new shared risk fee arrangements entered into with our external counsel."
(Source: WILN website)
Even with flat revenue growth, a possible 73% reduction in litigation costs should propel the company to a nice gain in Q3 2014: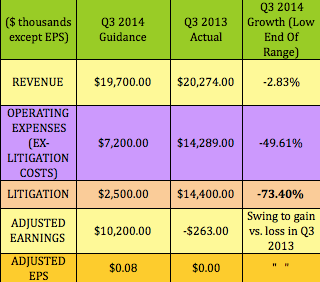 Future Growth: Analysts also are forecasting big adjusted EPS growth for WILN in 2014, which gives it a very low PEG, and makes it appear undervalued on a 2014 PEG basis.

However, the average forecast for 2015 is still just flat vs. 2014, but, the 5-year projection of 20%, (if you trust forecasts that far into the future), shows 20% growth, which gives WILN a low 5-year PEG of .38. (WILN's adjusted EPS strips out depreciation, amortization, taxes, currency exchange gains/losses, and stock-based compensation.)
In July, WILN signed licensing agreements with Sony, Nokia and Archos, in addition to 2 other US wireless carriers, along with diversifying its business with licensing partnerships in the automotive, data networking, irrigation and medical technology markets.
Insider Buying: Insiders also are believers, and have made several purchases over the past year: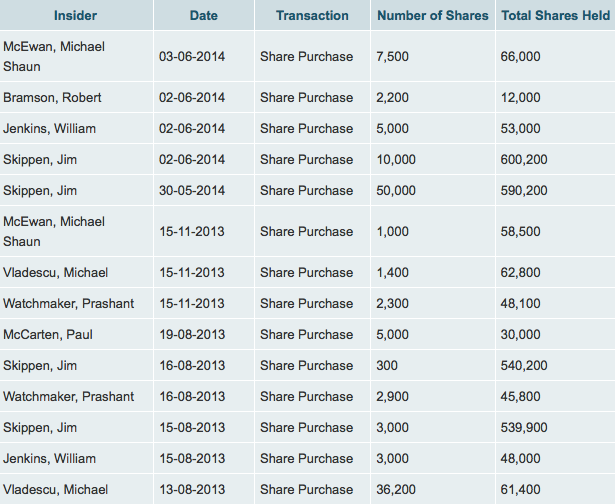 (Source: WILN website)
Dividends: WILN just upped its quarterly dividend by 25%, to $.05/share Canadian, from $.04/share Canadian. The table below gives you the payout and yield in US funds also: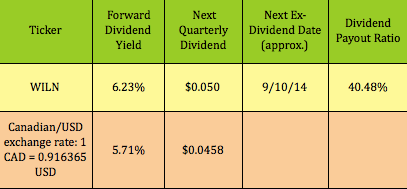 WILN's dividend looks well-supported over the past 3 quarters.
WILN has beaten analyst estimates by 40% in the past 2 quarters, and over 16% in Q4 2013.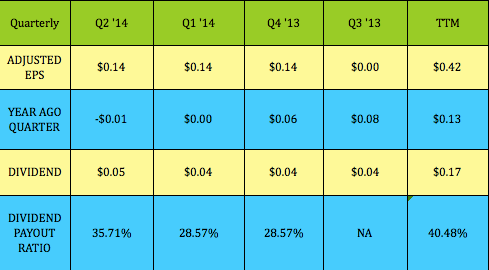 Options: Unfortunately, we haven't added WILN to our Covered Calls Table, or to our Cash Secured Puts Table yet, as its options aren't currently that attractive.
Valuations: WILN looks undervalued on a P/E and Price/Book basis:

Financials: WILN's ROI and Operating Margins outshine industry averages, and it has no debt. Its ROE should improve, if current forecasts are correct.

Performance: Although it has trailed the market year-to-date, and over the past year, WILN has gained nearly 3% over the past month.

Disclaimer: This article is written for informational purposes only.
Disclosure: The author is long WILN. The author wrote this article themselves, and it expresses their own opinions. The author is not receiving compensation for it (other than from Seeking Alpha). The author has no business relationship with any company whose stock is mentioned in this article.