CVR Partners Earnings
Before the market opened on Thursday, July 31st, nitrogen fertilizer producer CVR Partners, LP (NYSE:UAN) announced its Q2 earnings -- they disappointed. For the quarter, net income came in at $17.1 million, about half that of Q2 2013. Per unit, this translates to 23 cents vs 48 cents. Revenue also disappointed, coming in at $77.2 million, which is $11.6 million shy of last year's number. The company announced a distribution of 33 cents to be paid on August 18th to unitholders of record on August 11th. Last year's second quarter distribution was 58.3 cents per unit.
The market reacted to the poor quarter by sending units down ~8%, to around $17.
Why The Bad Quarter?
In the report, there were a few explanations that helped paint a picture of this quarter's weak performance:
Mainly, UAN and ammonia prices are down year over year. Average UAN prices for the second quarter 2014 were $283 per ton, compared to $331 per ton for second quarter 2013. That's a decrease of 14.5%. Ammonia prices are also down - coming in at an average of $521 per ton, which is a hefty decrease of 24.3% compared to last year's average of $688 per ton.
Additionally, as CVR Partners CEO Mark Pytosh noted,
"Production levels in the 2014 second quarter were impacted by planned downtime at the fertilizer plant, during which we performed maintenance work and addressed previously disclosed issues with our ammonia plant."
This downtime resulted in decreased on-stream factors across the board, with gasifiers coming in at 94.2% vs 100%, the ammonia synthesis loop at 88.1% vs 94.9%, and the UAN conversion facility at 85.9% vs 92.9%.
Going Forward
For the third quarter, the company expects to produce between 240,000 and 260,000 tons of UAN. This would represent an increase over third quarter 2013's production of 239,300 tons. The company expects pricing for UAN to fall between $250 and $255 per ton, which is slightly lower than last year's third quarter average price of $259 per ton.
Past Performance
Over the past two years, the company has significantly underperformed the overall market. The company is currently down about 35% since August of 2012. Even when considering all distributions since August of 2012 ($3.65, excluding the upcoming distribution), the company is still down 21%, while the S&P 500 has gained over 40%.
So Now What?
While CVR Partners has had a rough past couple of years, the company still continues to generate solid free cash flow, which eventually translates into distributions for unitholders.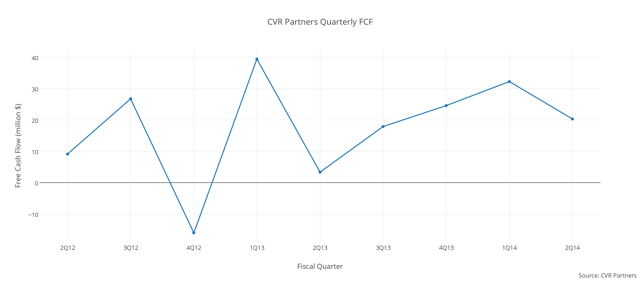 While the nature of the nitrogen fertilizer industry creates a certain level of inconsistency, CVR Partners has done a wonderful job of generating positive cash flows, and by extension, returning cash to unitholders. Since its IPO in April of 2011, the company has paid out $5.74 in distributions per unit (excluding the upcoming distribution), which equates to 36% of its IPO price of $16.
At current prices, I think CVR Partners represents a solid (albeit inconsistent) income stream. Although this quarter proved to be disappointing, the company is still on track to return $1.39 to unitholders this year (if we make the conservative assumption that the company pays a third quarter distribution of 25 cents). That would put CVR Partners at an 8.2% yield at current prices.
Of course there are several risks involved in investing in MLPs. One of the most concerning is the inconsistency in distributions. MLPs, like CVR Partners, pay distributions out of cash flow, which varies from quarter to quarter. While one quarter might carry a sizeable distribution, the next quarter could see the distribution significantly reduced (even to nothing at all). This is obviously worrisome, especially for those who depend upon consistent income. Additionally, CVR Partners is especially susceptible to changes in UAN and ammonia pricing, which varies from quarter to quarter (and this is what affects the distributions, as discussed above). If that wasn't enough to scare you off, there's also a little something called interest rate risk that you should keep in mind. With all of the inescapable talk of rising interest rates, you should be aware that opportunities in the bond market will become more lucrative, making your investment potentially appear less attractive. This is much less relevant to the equity markets than it is to the bond market, but it is something that you should be aware of nonetheless.
If you're anything like me and you love income, then the 8% yield prevails over all of the stress that comes with the previously discussed risks - especially considering that the units are on sale. So, if you do plan on investing in CVR Partners, you better stock up on coffee to help you cope with all of the sleepless nights you'll eventually be having.
Disclosure: The author is long UAN. The author wrote this article themselves, and it expresses their own opinions. The author is not receiving compensation for it (other than from Seeking Alpha). The author has no business relationship with any company whose stock is mentioned in this article.
Additional disclosure: The author plans to add additional units of UAN to his position within the next 72 hours.