The following is a list of stocks that have outperformed over the last year, gaining more than 80%. In addition, all of these companies have seen high sales and earnings growth over the past five years. What's more, analysts expect these earnings trends to continue.

This list might be an interesting starting point for momentum traders. We're not going to go into detailed analysis for each company. The goal here is to give you a starting point for your own analysis.

All data sourced from Finviz.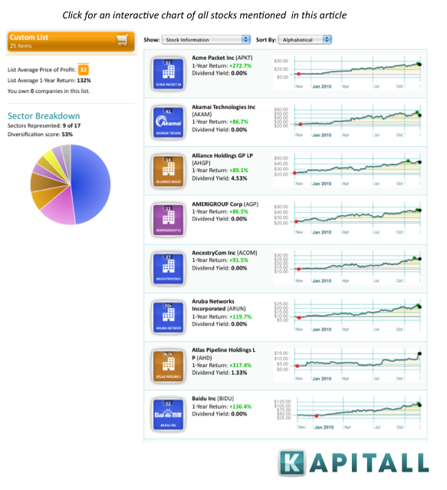 The list has been sorted by performance over the last year.

1. Atlas Pipeline Holdings LP (AHD): Gas Utilities Industry. Market cap of $412.73M. Sales have grown by 58.17% over the past 5 years, with EPS growing by 23.11% during the same time. EPS projected to grow by 44.00% over the next 5 years. Short float at 1.46%, which implies a short ratio of 0.91 days. The stock has gained 319.72% over the last year.

2. Acme Packet, Inc. (NASDAQ:APKT): Communication Equipment Industry. Market cap of $2.51B. Sales have grown by 54.65% over the past 5 years, with EPS growing by 12.27% during the same time. EPS projected to grow by 32.98% over the next 5 years. Short float at 5.56%, which implies a short ratio of 2.24 days. The stock has gained 272.67% over the last year.

3. KEMET Corp. (NYSE:KEM): Diversified Electronics Industry. Market cap of $389.28M. Sales have grown by 11.6% over the past 5 years, with EPS growing by 32.01% during the same time. EPS projected to grow by 11.% over the next 5 years. Short float at 0.58%, which implies a short ratio of 0.65 days. The stock has gained 262.88% over the last year.

4. Netflix, Inc. (NASDAQ:NFLX): Music & Video Stores Industry. Market cap of $8.64B. Sales have grown by 27.25% over the past 5 years, with EPS growing by 42.83% during the same time. EPS projected to grow by 26.56% over the next 5 years. Short float at 21.82%, which implies a short ratio of 2.01 days. The stock has gained 178.17% over the last year.

5. Strategic Hotels & Resorts, Inc. (NYSE:BEE): REIT. Market cap of $685.39M. Sales have grown by 12.32% over the past 5 years, with EPS growing by 16.34% during the same time. EPS projected to grow by 11.5% over the next 5 years. Short float at 3.16%, which implies a short ratio of 3.1 days. The stock has gained 172.89% over the last year.

6. Netezza Corporation (NZ): Diversified Computer Systems Industry. Market cap of $1.7B. Sales have grown by 39.54% over the past 5 years, with EPS growing by 11.47% during the same time. EPS projected to grow by 26.25% over the next 5 years. Short float at 4.8%, which implies a short ratio of 0.94 days. The stock has gained 159.46% over the last year.

7. Riverbed Technology, Inc. (NASDAQ:RVBD): Networking & Communication Devices Industry. Market cap of $4.09B. Sales have grown by 173.79% over the past 5 years, with EPS growing by 35.3% during the same time. EPS projected to grow by 27.% over the next 5 years. Short float at 4.49%, which implies a short ratio of 1.24 days. The stock has gained 157.12% over the last year.

8. Chipotle Mexican Grill, Inc. (NYSE:CMG): Restaurants Industry. Market cap of $6.97B. Sales have grown by 26.39% over the past 5 years, with EPS growing by 75.1% during the same time. EPS projected to grow by 26.86% over the next 5 years. Short float at 12.97%, which implies a short ratio of 5.18 days. The stock has gained 151.22% over the last year.

9. Baidu, Inc. (NASDAQ:BIDU): Internet Information Providers Industry. Market cap of $36.09B. Sales have grown by 106.85% over the past 5 years, with EPS growing by 151.21% during the same time. EPS projected to grow by 59.75% over the next 5 years. Short float at 3.31%, which implies a short ratio of 0.89 days. The stock has gained 136.37% over the last year.

10. F5 Networks, Inc. (NASDAQ:FFIV): Internet Service Providers Industry. Market cap of $9.32B. Sales have grown by 25.67% over the past 5 years, with EPS growing by 25.25% during the same time. EPS projected to grow by 22.14% over the next 5 years. Short float at 6.32%, which implies a short ratio of 2.12 days. The stock has gained 132.46% over the last year.

11. Aruba Networks, Inc. (NASDAQ:ARUN): Networking & Communication Devices Industry. Market cap of $2.08B. Sales have grown by 85.78% over the past 5 years, with EPS growing by 67.21% during the same time. EPS projected to grow by 20.00% over the next 5 years. Short float at 16.34%, which implies a short ratio of 6.2 days. The stock has gained 119.65% over the last year.

12. Tata Motors Ltd. (NYSE:TTM): Auto Manufacturer. Market cap of $17.16B. Sales have grown by 36.1% over the past 5 years, with EPS growing by 15.61% during the same time. EPS projected to grow by 35.00% over the next 5 years. Short float at 4.17%, which implies a short ratio of 8.25 days. The stock has gained 118.37% over the last year.

13. Fossil, Inc. (NASDAQ:FOSL): Recreational Goods, Other Industry. Market cap of $4.42B. Sales have grown by 10.09% over the past 5 years, with EPS growing by 11.06% during the same time. EPS projected to grow by 17.% over the next 5 years. Short float at 3.59%, which implies a short ratio of 2.37 days. The stock has gained 102.58% over the last year.

14. Alliance Holdings GP, L.P. (NASDAQ:AHGP): Nonmetallic Mineral Mining Industry. Market cap of $2.57B. Sales have grown by 13.5% over the past 5 years, with EPS growing by 20.74% during the same time. EPS projected to grow by 14.00% over the next 5 years. Short float at 0.71%, which implies a short ratio of 1.21 days. The stock has gained 100.14% over the last year.

15. OPNET Technologies Inc. (NASDAQ:OPNT): Application Software Industry. Market cap of $455.16M. Sales have grown by 14.48% over the past 5 years, with EPS growing by 22.69% during the same time. EPS projected to grow by 24.% over the next 5 years. Short float at 2.57%, which implies a short ratio of 3.19 days. The stock has gained 98.59% over the last year.

16. Priceline.com Incorporated (NASDAQ:PCLN): General Entertainment Industry. Market cap of $19.59B. Sales have grown by 20.66% over the past 5 years, with EPS growing by 67.04% during the same time. EPS projected to grow by 22.19% over the next 5 years. Short float at 6.3%, which implies a short ratio of 2.62 days. The stock has gained 93.56% over the last year.

17. Synchronoss Technologies, Inc. (NASDAQ:SNCR): Application Software Industry. Market cap of $814.65M. Sales have grown by 36.49% over the past 5 years, with EPS growing by 15.51% during the same time. EPS projected to grow by 25.% over the next 5 years. Short float at 5.29%, which implies a short ratio of 6.87 days. The stock has gained 93.14% over the last year.

18. Boston Beer Co. Inc. (NYSE:SAM): Brewers Industry. Market cap of $1.07B. Sales have grown by 13.83% over the past 5 years, with EPS growing by 20.28% during the same time. EPS projected to grow by 16.6% over the next 5 years. Short float at 7.55%, which implies a short ratio of 7.74 days. The stock has gained 92.61% over the last year.

19. Titan Machinery, Inc. (NASDAQ:TITN): Specialty Retail Industry. Market cap of $379.67M. Sales have grown by 38.91% over the past 5 years, with EPS growing by 34.% during the same time. EPS projected to grow by 20.00% over the next 5 years. Short float at 14.93%, which implies a short ratio of 8.62 days. The stock has gained 92.14% over the last year.

20. Ancestry.com Inc. (NASDAQ:ACOM): Internet Information Providers Industry. Market cap of $1.16B. Sales have grown by 12.89% over the past 5 years, with EPS growing by 31.98% during the same time. EPS projected to grow by 23.5% over the next 5 years. Short float at 3.41%, which implies a short ratio of 6.02 days. The stock has gained 91.54% over the last year.

21. Limelight Networks, Inc. (NASDAQ:LLNW): Business Services Industry. Market cap of $640.32M. Sales have grown by 63.72% over the past 5 years, with EPS growing by 112.56% during the same time. EPS projected to grow by 14.25% over the next 5 years. Short float at 2.81%, which implies a short ratio of 1.42 days. The stock has gained 88.34% over the last year.

22. Akamai Technologies Inc. (NASDAQ:AKAM): Internet Information Providers Industry. Market cap of $8.5B. Sales have grown by 32.56% over the past 5 years, with EPS growing by 25.26% during the same time. EPS projected to grow by 15.17% over the next 5 years. Short float at 4.34%, which implies a short ratio of 1.55 days. The stock has gained 86.67% over the last year.

23. AMERIGROUP Corporation (AGP): Health Care Plans Industry. Market cap of $2.15B. Sales have grown by 23.26% over the past 5 years, with EPS growing by 11.45% during the same time. EPS projected to grow by 16.17% over the next 5 years. Short float at 10.51%, which implies a short ratio of 6.23 days. The stock has gained 86.48% over the last year.

24. Stonemor Partners LP (NASDAQ:STON): Personal Services Industry. Market cap of $459.63M. Sales have grown by 15.21% over the past 5 years, with EPS growing by 14.13% during the same time. EPS projected to grow by 13.% over the next 5 years. Short float at 0.54%, which implies a short ratio of 0.86 days. The stock has gained 86.25% over the last year.

25. TriQuint Semiconductor, Inc. (TQNT): Semiconductor Industry. Market cap of $1.64B. Sales have grown by 15.89% over the past 5 years, with EPS growing by 13.64% during the same time. EPS projected to grow by 17.5% over the next 5 years. Short float at 7.62%, which implies a short ratio of 2.9 days. The stock has gained 84.77% over the last year.

Disclosure: No positions