Background
I'll first just say I have no logic to justify why markets move the way they do. I don't watch CNBC and I have little ambition in trying to predict what the Fed will do next. All I'm concerned about is how the businesses that I own are doing or how businesses I'm looking into are doing. If I was looking into buying a local restaurant I wouldn't even think about what the stock market was doing, I'd just be thinking about how the business will look 5 years from now. I don't think this mindset should change if you are buying stocks. To many long-term investors, this is a no brainer, but on days like Thursday I think it is good to remind investors that they should keep their mindset focused on long-term gains, even if it comes with short-term pain. My stocks are probably "boring" in most people's minds and the more boring the better in my book. I'll try to speak briefly on each of them so you can decide if they are worth further research.
John Deere (NYSE:DE)
Unless you are a farmer, tractors and combines probably aren't too exciting to you. However, if you asked your average American to name all the farm equipment manufacturers, John Deere will likely be the only one most mention. I find this amusing. The fact that John Deere is so widely known is attributable to the fact that the company has been around since 1837. If you gave someone 30 billion dollars to try to replace what John Deere means to a majority of the farming community I don't know if you could touch them. Just think about all the farmers who have had Deere tractors for decades. Could you convince them to choose anything else? They are very loyal like truck owners. There is a reason F-150 has been the number-one selling truck for 37 consecutive years. Brand loyalty is powerful and it allows you to raise prices over time without losing business. Deere is also expanding globally as the world needs to produce more food. I recently wrote an article that describes the business and my valuation and invite anyone interested to read it.
General Mills (NYSE:GIS)
Here's another company that could put most people to sleep. Like Deere, General Mills is an old company, founded in 1866 and has never suspended or cut its dividend in 115 years. That is a pretty exciting fact despite the mundane nature of General Mills business. There is a common misconception that General Mills just sells cereal. Below you can see that General Mills actually generates more sales from snacks and yogurt than they do cereal. General Mills owns or has significant interest in brands such as Betty Crocker, Pillsbury, and Yoplait. These brands help General Mills compete at the grocery stores, but their products don't have the same brand loyalty as a John Deere. The advantage General Mills has over Deere is that people buy their products every week almost by routine, whereas a John Deere tractor is a major investment. This allows General Mills to cruise through the good and bad times. It is a fairly easy business to understand and I hope to write a much more in-depth overview of the company in the future and would recommend reading their latest annual report.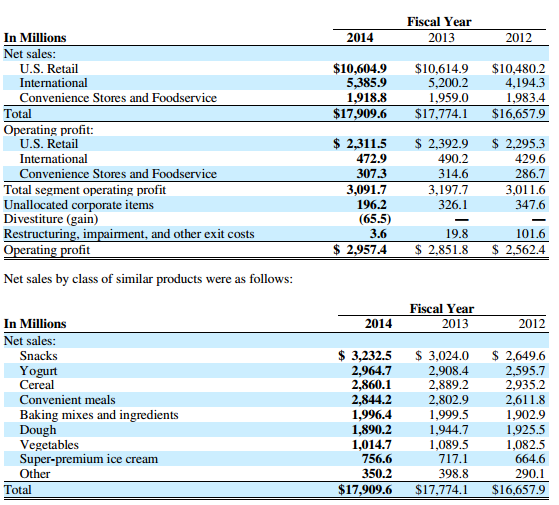 Source: General Mills FY14 Annual Report
Citigroup (NYSE:C)
Despite the company's near-death experience during the financial crisis, Citigroup traces its origins back to 1812. Banks tend to get a bad rap and probably for good reason, but it is important to note that banks make money every day by moving money around. That is the beauty of the banking business, no capital expenditures to run and maintain manufacturing plants. I find Citigroup to be the most attractive banking business, as it has a large global deposit base in urban areas that will grow much faster than rural or suburban areas over time and its credit card business is highly profitable around the world. A large portion of Citigroup's income also comes from providing institutional clients with market making services in equity and fixed income. The firm also provides private banking, and transaction services to corporations around the world. With Citigroup selling below its tangible book value of $56.89 it appears to be a great value for a business that is very likely to be around a long time due to the role banks play in the stability of the economy.
Conclusion
All of the companies above generate decent multiples of cash flow from operations over capex, and earn high returns on equity with the exception of Citigroup. Looking at those two metrics is a great way to screen thousands of stocks for long-term investors. I think the trio will generate a decent return from their current market prices over time.
Disclosure: The author is long C, DE, GIS. The author wrote this article themselves, and it expresses their own opinions. The author is not receiving compensation for it (other than from Seeking Alpha). The author has no business relationship with any company whose stock is mentioned in this article.