What is it about uranium?
Whenever I write about uranium, I receive a flood of reader mail asking about uranium supply, reactor openings/closings, uranium explorers, different uranium isotopes for fuel, etc. I rarely get many questions about gold, silver, oil or anything else I write about on a regular basis, but uranium always seems to do it.
So when I wrote about Cameco Corp. (NYSE: CCJ) last week, I knew what I was getting myself into.
Before I answer some specific reader questions, I'd like to explore the reasons why you and I seem to find uranium so compelling. The most obvious reason might be the worst one: the high-flying gains from uranium's last bull-run are still fresh in our minds. Uranium quadrupled in price between January 2006 and August 2007. Many rather ordinary uranium stocks quadrupled - or more - in the same span of time. Picking a losing uranium stock in that period was really difficult, if not impossible.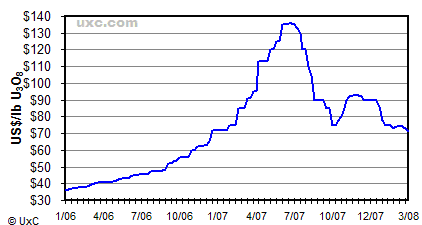 So with uranium prices once again on the rise, it's not surprising that some investors are taking a keen interest in uranium companies.
The other reason that uranium sparks interest - I think - is because people realize that the long-term trend is a strong one, and that uranium prices are relatively cheap given that reality.
That's a good reason to be interested in uranium stocks. As I wrote last week,
Uranium reactors are coming to a town near you. Okay…maybe they're not going to be moving in down the street. Unless you live in China. That's because China is planning on building AT LEAST one new nuclear reactor every year for the foreseeable future. Upper estimates from the World Nuclear Association have them building four to five new reactors a year.

India isn't far behind. They'll build an average of at least one new reactor every year until 2060. Dozens of countries in Europe and Asia are following suit…
So, with the wind at our back, let's take a look at some reader questions.
Hi there Kevin,

Greetings from Down Under!!

I would be most interested to receive your comments on an Australian explorer..."AEE...: Aura Energy listed on the ASX in Australia.

Many Thanks,

Malcolm
Malcolm, I've briefly looked at this company's most recent annual report and it appears that they have some interesting prospects. It's a $27 million explorer. It's not yet producing any uranium - but it's in the testing stages.
My only concern with this company (and any microcap miner) is the paper that's out there. I'm talking about the outstanding shares, yes - but I'm also interested in the stock options of company insiders. There are just over 100 million shares outstanding, and 7.45 million potential shares waiting to be executed as stock options by company insiders.
They have the right to exercise these options at different prices between 23 cents and 60 cents a share. The biggest block (4.5 million shares) is executable at 23 cents. Right now, Aura is selling for 26 cents a share.
With three month volume under half a million, there are some headwinds for this stock unless they can start producing significant amounts of uranium. Think of those outstanding stock options as short-side pressure on any future stock appreciation. Every 10 cent increase over 23 cents is a potential $450,000 sitting on the table. That's a huge incentive to sell huge blocks of shares.
I think companies like Aura can be very compelling. If they start producing, you could make 10-100 times your money in very short order.
But there's downside risk. So I wouldn't put more than a few hundred dollars in this stock at the most - if I felt like speculating.
If you're going to speculate in mining stocks, it makes sense to spread your money around into a dozen or more promising micro-caps. You can buy hundreds of shares of companies like Aura for less than $50. Most of these types of companies never make a dime, but it only takes one or two of them to return your cash to you many times over.
As always, do your research, buy the best and have a disciplined plan for these investments.
Now that I've talked about a speculative junior uranium company, let's field a question about an actual real life uranium company with earnings and SEC filings and everything!
Hello,

I appreciate any comment on Uranium Resources (Nasdaq: URRE) and its future prospects.

Thanks,

Hazem
Monday this company received some good news, as their license to continue mining operations in New Mexico was upheld by the US Supreme court. Despite the good news, this company was getting slaughtered Tuesday. It could be the perfect opportunity to pick up shares.
I do like this company as a long-term buy and hold like Cameco. They have the people in place to produce uranium on their properties. They're getting beaten up because of Chinese inflation worries and a strengthening dollar. But I don't care about those short-term bearish trends.
If you have the capital, I think it makes lots of sense to pick of shares of URRE today. I wouldn't even try to time it. There's blood in the streets for this company, for no good reason.
My larger thesis for uranium, of course, is that we'll be using more of it for the foreseeable future. We know what happens when there's a supply crunch for uranium, so it makes sense to get our portfolios out in front of this trend.
Find profitable uranium companies with good reserves, selling at inexpensive valuations, and I think you'll make out like a bandit.
Disclosure: none