Lately not a day goes by without seeing smoke plumes and explosions on the news. Headlines are filled with death and destruction occurring in Iraq, Syria, Egypt, and/or Ukraine. Regional conflicts between terrorist groups and rebels have many parts of the globe looking like the worst vacation destinations ever. There's no way bombs going off in city streets can be good for business, right? Well for a coffee shop probably not, but if you're a company like Halliburton (NYSE:HAL), business is booming. The chart below shows Halliburton's stock price since the invasion of Iraq and Afghanistan. (Notice the increase since mid 2013 when tension started rising)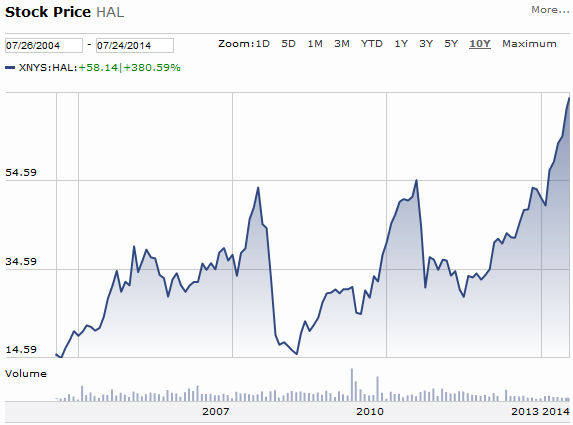 Halliburton Company is a Houston, Texas based oil service company focused on North American unconventional, deep-water exploration and development, and mature oilfield management markets. The company's main source of income is its highly integrated set of services. These services include your standard drilling and pressure pumping oil collection that characterize any other oil company, but what makes HAL different is the unique contracting services that they bring to the table. Halliburton manages a vast logistics and security infrastructure wherever they go. This started out as a typical support system for their oil rigs, but they soon learned they could turn a profit on this support network. During the 2003 Iraq invasion, the number of private contractors was one for every 2.4 uniformed soldiers. By 2006, contractors outnumbered soldiers in Iraq, and many remain there today. These contracts became such a large part of Halliburton's business that they had to create a separate company, KBR, to manage everything. After several contracting scandals, CEO David Lesar moved to Dubai in 2007 in order to strengthen the firm's relationships with their key customers in the Middle East. This move appears to have worked as HAL's annual revenue in the Middle East and Asia has risen from $1.2 billion in 2007 to $5 billion in 2013.
Halliburton reported a profit of $39 billion from the Iraq war, and this is largely due to the government contracts they were awarded to perform everything from transporting supplies to providing private security. Halliburton has become an expert in adapting and operating in unstable environments overseas. The rule is, where there is oil there is corruption and conflict, and Halliburton has learned to cash in on both sides of the coin. HAL benefits from both increased oil prices during oil related conflicts and the profit generated from the conflict itself thanks to their contracts supporting military operations.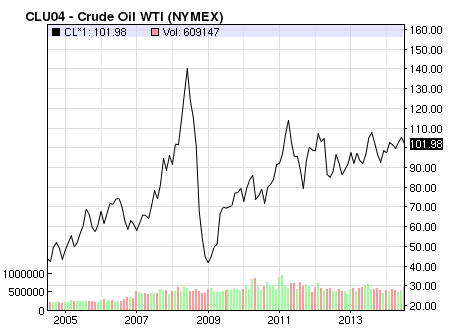 The above chart shows the fluctuation of oil prices since the start of war in the middle east. As you have probably noticed at your local pump, when tensions rise in the middle east, so does the price of gas. Not surprisingly, this chart and Halliburton's earnings almost mirror each other. For oilfield services, these are very prosperous times. The industry is seeing 25-year-highs in international drilling, and near record highs in U.S. drilling.
"Oil prices have risen this year well above expectations, increasing yearly growth in global capital expenditures by exploration and production companies to 6% to 8% from an anticipated 5% to 6%," says James Wicklund, who covers the industry at Credit Suisse Group. Halliburton is Wicklund's top pick because HAL leads in pressure pumping for fracking domestically and is No. 1 in well completions in North America.
Halliburton does not plan to stop there. HAL predicts that oil and gas producers are going to increase spending this year by 5 to 9 percent, with most of this increase coming from the Middle East. Halliburton is expanding in other parts of the world as well. In Asia, Halliburton recently announced a fracking joint venture in China.
In Europe, "Operations in Russia, the North Sea, and Angola stood out in the quarter as Halliburton gained more contracts for drilling, evaluation and other work, including deals with Statoil in the North Sea," said the chief operating officer for Halliburton, Jeffrey Miller.
The New York Times reported that Halliburton has also started fracking for natural gas in Poland. In addition, Halliburton is gearing up to get in on the ground floor with bankrupt Ukraine, which is the second largest recipient of gas from the Russian state-run gas giant, Gazprom, showing again that Halliburton is at home in unstable environments. In fact, there has already been controversy over some of the commercial deals concluded by Ukraine during the presidency of Viktor Yanukovich. In less than two weeks since he was deposed, these lucrative gas projects involving Western companies are coming under scrutiny.
CONCLUSION
Halliburton has been on a steady climb the last few months with no indication of slowing down. With aggression escalating overseas, there is no end in sight to the middle eastern or Ukrainian turmoil and that spells good news for Halliburton. Their international holdings as well as their foothold here in North America creates a stable portfolio even in the most unstable environments. Morningstar lists 9 analysts with Buy ratings for Halliburton, and I agree. Halliburton is set to grow well into the future.
Disclosure: The author has no positions in any stocks mentioned, and no plans to initiate any positions within the next 72 hours. The author wrote this article themselves, and it expresses their own opinions. The author is not receiving compensation for it (other than from Seeking Alpha). The author has no business relationship with any company whose stock is mentioned in this article.