by David Sterman
It's been a tough year for Chinese stocks that trade in the United States. Many of them have sold off -- and stayed cheap -- even as they sport impressive growth rates and low valuations. Thanks to a sharp drop on Friday on renewed concerns about an overheating economy, these cheap stocks have become even cheaper.

To be sure, the Chinese economy faces hurdles on its path to higher GDP.

Nevertheless, even as investors stay focused on near-term challenges, the long-term opportunities remain as robust as ever, a message perhaps lost when you look at 52-week stock charts of many China-based firms, many of which are now off more than -40% from their 52-week high.

I've pulled together a short list of beaten-down names. Let's take a closer look at some potential rebound candidates.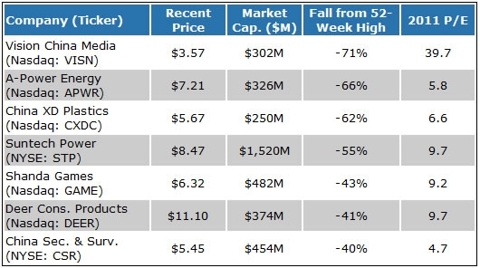 China XD Plastics (Nasdaq: CXDC)
China XD is the largest supplier of modified plastics to the burgeoning Chinese automotive industry. The company had its first full year of operations in 2007 and is on track to post more than $200 million in sales this year -- a +65% jump from 2009. Yet China HD has soured with investors recently after seeking to sell more shares to raise fresh capital. Shares fell nearly -20% in early October on that announcement and have never recovered.

Serial capital-raising has been a major negative for many Chinese companies, as they don't understand U.S. investors' predilection for one-and-done capital-raising. To be fair, that capital raise has a good purpose: the company's manufacturing capacity will increase +35% in 2011. And that should propel earnings per share (EPS) from an expected $0.50 this year to more than $0.80 next year, despite the recent share dilution. Shares currently trade for less than seven times projected 2011 profits.

The real catalyst for this stock will be management's announcement that cash flow can cover any future expansion plans. For now, shares appear to have found a floor and should move back into favor next year as investors once again focus on the growth dynamics of the robust Chinese auto market.

China Security & Surveillance (NYSE: CSR)
How do you analyze a company that is winning loads of new business but keeps reporting tepid sales? That's the conundrum faced by investors with China Security & Surveillance, which continues to build a massive backlog on the heels of new contract wins. But those contracts are stretched out over an extended period of time, so the company has lagged revenue forecasts for four straight quarters. Sales will likely still grow an impressive +25% this year, but that's half the forecasted growth rate expected earlier in the year.

The third quarter brought more of the same. Sales growth, due to the timing of some contracts, was just +14% compared with a year earlier, but backlog shot up from $213 million at the end of June to more than $400 million.

As a quick recap, China Security & Surveillance is one of the leading suppliers of security gear to companies and governments in China. The company is benefiting from a government-mandated "safe-city" program that seeks to deploy banks of video cameras, traffic management systems and emergency response systems in China's 200 largest cities.

As is the case with China XD Plastics, China Security & Surveillance has soured investors with its serial capital raising efforts that dilute existing shareholders. The number of shares outstanding shot up from 53 million a year ago to a recent 88 million. That led to a recent -30% quarterly drop in EPS, even though net income was +50% higher than a year ago. Management anticipates only modest growth in shares outstanding next year, which should enable EPS to move toward the $1.15 mark. Shares trade for just five times that forecast. That multiple won't stay that low in 2011 -- if management can refrain from diluting shares further and if it can deliver sales results that finally meet or exceed forecasts.

Deer Consumer Products (Nasdaq: DEER)
Deer makes kitchen appliances for global brands like Stanley Black & Decker (NYSE: SWK) and is now ramping up domestic sales by steadily building its brand among Chinese consumers. I've written about Deer several times before, always noting that the company is a solid grower and nicely profitable. Shares have risen more than +50% since I last visited this stock in August, yet they still look cheap.

Deer announced impressive third quarter results last week, highlighted by a +108% jump in sales and a +125% jump in net income. Thanks to recent contract wins, Deer expects EPS to grow more than +30% in 2011 to around $1.10 to $1.20. Shares trade for around 10 times that view. This remains, in my view, the best play on the rising Chinese middle class.

China XD Plastics and China Security & Surveillance are extremely cheap due to dilution concerns that should abate. Deer, while not quite as cheap, still looks very undervalued in the context of long-term growth. All three of these stocks look like long-term winners, and should garner more investor appreciation in 2011.
Disclosure: Neither David Sterman nor StreetAuthority, LLC hold positions in any securities mentioned in this article.