Chicago Bridge & Iron Company
Ticker: CBI
Price: $26.75
11.16.2010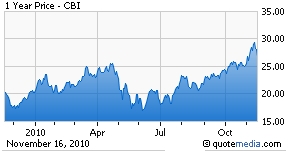 CBI remained confident in their business fundamentals throughout the recession and rightly anticipated the return of bookings once commodity prices and financial institutions stabilized. Their patience and unwavering faith proved more than correct, resulting in a heavily backend-loaded year of awards in 2009, featuring $3.4 billion of the total $6.1 billion new awards being received in Q4. The highlights of this quarter included a new $1.4 billion refinery project in Colombia, a $1 billion gas plant project in Papua New Guinea and a $100 million storage tank terminal project in Panama.
The main focus of 2009 was the diversity of the new bookings on a geographic level. The 2009 year end backlog stood at $7.2 billion (2nd largest total in company history), with 75% being outside the U.S. Given the current economic backdrop and uncertain outlook for further growth, especially in the U.S., this type of international diversification should be interpreted as highly valuable and attractive. The way in which CBI operates and recognizes revenues will result in 2010 revenue being lower due to the new major awards being in engineering phase. However, growth in revenue should be sizeable in 2011.
CBI is separated into two lines of business, Lummus Technology and Steel Plate Structures. Current activity for the CB&I Lummus Technology sector has been concentrated on capturing hydrogen from waste streams in a variety of industries and also adding an important component of hydrogen management to their already existent suite of technologies, which include: ethylene, petrochemical, refining and gas processing.
The company has frequently cited recent weakness in the U.S., which probably explains their decision to move the Lummus corporate HQ to the Netherlands in an effort to focus primarily on international work. CBI stands prepared for the recovery of both North and South America, but management seems to be hinting that they believe activity won't rebound any time soon. Focus has been on nuclear projects, which are cited as offering signs of encouragement for the future. Also, the company is still involved in Canadian oil sands and has significant investment in the large shale gas fields.
One of the mottos at CBI is "Concept to Completion." CB&I engineers and constructs some of the world's largest energy infrastructure projects through Lummus. CBI claims to be able to self-perform nearly every aspect of every project to deliver quality projects. Reported "lost-time incident rate", which is an industry standard of determining safety, was only 0.02, which is four times better than industry peer averages, a valid indication that CBI conducts quality work with an emphasis on safety.
CB&I Steel Plate Structures division is widely observed as a reputable firm and is currently the largest tank construction company in the world. CBI's experience is their most attractive quality. They have produced more than 45,000 structures in over 100 countries on seven continents. Their tanks are primarily used as storage containers for the petroleum, water and nuclear industries, with a focus on baseload storage tank projects, which is expecting strong demand from fuel terminals, liquefied petroleum gas (LPG) storage and liquefied natural gas (LNG) tank work. Peru LNG, the ethylene cracker complex in Singapore and the Pearl gas-to-liquids project in Qatar are cited as "major projects."
Experience may be overrated in some lines of work, but when it comes to designing and building reliable storage containers for the fuel of our world, it's undoubtedly a significant advantage. Competitors would have a degree of difficulty comparing the accomplishments and industry knowledge that CBI can boast. Therefore, it's no surprise that CBI also maneuvered and earned its way through what was arguably the most severe recession the company has ever had to endure. This leads me to believe that management is not only knowledgeable in their particular expertise, but also seem to have a firm grasp on business operations.
The market has rewarded CBI shares this year by bidding up the price to $26, which is up from under $5 during the market depths of March 2009, but less than half the all time high of $63 reached in January 2008. The stock currently trades at 15x trailing EPS and 12x forward EPS, which is not nearly the same bargain as when it traded at 2x EPS in March 2009. However, given the near record amount of backlog, it's probably safe to say that CBI is on its way to surpass all time high revenue numbers by 2014, and is already estimated to report the highest EPS number in company history in 2011.
CBI is a lumpy business, reporting large amounts of growth in revenues and earnings in some periods, and therefore will never be deemed a consistent and stable growth stock when examining the financials on a year to year basis. However, the company has grown their revenues at a 14% compounded annual growth rate over a decade that featured two recessions, all while preserving their highly regarded reputation and maintaining safety standards. (*2000 revenues were $1 billion and grew to $3.7 billion in 2010, which is a consensus estimate with one quarter remaining to be reported.*) Today, estimates for 2012 forecast revenues reach $5 billion. Shaky markets and recent warnings of erratic investor behavior lead me to believe it may be wise to wait on the sidelines for a better entry point, however, CBI is still available with a near record high backlog (3/4 of which is in higher growth international economies) at a reasonable valuation.
Disclosure: No positions