Shares of GoPro (NASDAQ:GPRO) plummeted today after reporting for the first time as a public company. As of last check, shares are down more than 10% and are trading down around the $42 level.
Talking Numbers
For the quarter, GoPro reported earnings of $0.08 per share (excluding items) and revenue of $245 million. Analysts were expected the company to deliver $0.06 per share in earnings (excluding items) and revenue of $238 million. Ignoring those excluded items, GoPro reported a loss of $19.8 million. Year-over-year, GoPro grew revenue 38.1%.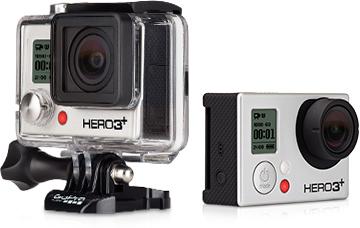 Image Source: GoPro.com
$854 million worth of GoPro wearable cameras and accessories were sold in the quarter, representing 31% year-over-year growth. GoPro's content media strategy also advanced nicely, as the company reported the number of GoPro-related videos uploaded to Youtube more than doubled in the quarter. CEO Nick Woodman also reported that GoPro's mobile app was downloaded more than 1.6 million times during the quarter.
Why Shares Are Plummeting On This News
Across the board, GoPro delivered a relatively strong second-quarter, beating estimates on both the top and bottom lines. Alex Gauna, an analyst at JMP Securities, commented on the quarter and the market's reaction by saying:
"It looks clean to me. Maybe there's some profit-taking from people who thought they'd get even more. Plus, there was a huge move ahead of this announcement."
As of yesterday's close of $47.97, GoPro shares had almost doubled from the stock's $24 IPO price. There, also, has been a massive run-up in the stock recently. In the past week alone shares have surged 13.7% higher in anticipation of the report. Who can blame anyone for taking profits at these levels?
What To Do Now
Unfortunately, I do not believe this is where shares are going to stop falling. Much like what happened with Twitter (NYSE:TWTR), GoPro shares simply have gotten overextended.
You have to remember that GoPro only went public in June. Since then, GoPro's stock has gone parabolic, and, as was mentioned before, has nearly doubled from its $24 IPO price. Now that GoPro's momentum is broken, I expect GoPro to come back to earth a little. That doesn't necessarily mean all the way back down to $24, but at least the mid-$30's.
Such a pattern was followed by Twitter in its early months as a public company. Twitter priced at $26 a share, reached as high as $75, reported for the first time as a company, and today trades around $45.
If GoPro shares do pull back to the mid-$30's, I still won't be buying hand over fist. Sure, GoPro is just beginning to scratch the surface of international markets, from which the company currently generates 38% of its revenue, and, at least so far, has experienced great success in advancing its media content ambitions.
Even at lower levels, however, GoPro will be trading at a relative premium to most of its competitors. GoPro currently trades with a forward PE ratio of 109, while Apple (NASDAQ:AAPL), a fellow consumer device maker, trades with a forward PE ratio of 15.
Therefore, to invest in GoPro, you really need to believe in the long-term sustainability of the company and its two-prong growth strategy. Personally, I won't be buying until the stock trades back down in the $20's.
Disclosure: The author has no positions in any stocks mentioned, and no plans to initiate any positions within the next 72 hours. The author wrote this article themselves, and it expresses their own opinions. The author is not receiving compensation for it (other than from Seeking Alpha). The author has no business relationship with any company whose stock is mentioned in this article.