Capstead Mortgage Corp. (NYSE:CMO) is a mortgage REIT that self-manages a levered portfolio of Agency residential adjustable-rate mortgage securities (ARMs). This allows it to recover financing spreads diminished in a rising interest rate environment; and it can expand financing spreads in falling interest rate environments such as we had in Q2 2014. Overall this leads to smaller fluctuations in portfolio values compared to fixed rate Agency mortgage REITs. Capstead has one preferred stock issue (CMOPRE), the 7.5% Cumulative Redeemable Preferred Stock, Series E, which is traded on the NYSE.
In Q2 2014 CMO turned in another ho-hum profitable quarter. It generated $36.6 million in earnings ($0.35 per diluted common share). It paid a dividend of $0.34 per common share (about 10.6% annualized). This was down from the earnings in Q1 2014 of $38.4 million (or $0.37 per diluted common share). CMO increased its book value by $0.10 per common share to $12.69 as of June 30, 2014. The only semi bad news was that its financing spreads on residential mortgage investments decreased 8 bps to 1.22% due primarily to increasing CPRs (constant prepayment rates). The average portfolio CPR rose from 15.16% as of March 31, 2014 to 17.22% as of June 30, 2014. The higher average CPR in Q2 2014 led to a $2.9 million increase in investment premium amortization (hence less net interest spread profit). Portfolio leverage was unchanged at 8.52x as of June 30, 2014.
Some will want to look at the portfolio themselves. In doing this it is helpful to look at the previous portfolio too. The portfolio as of March 31, 2014 is below.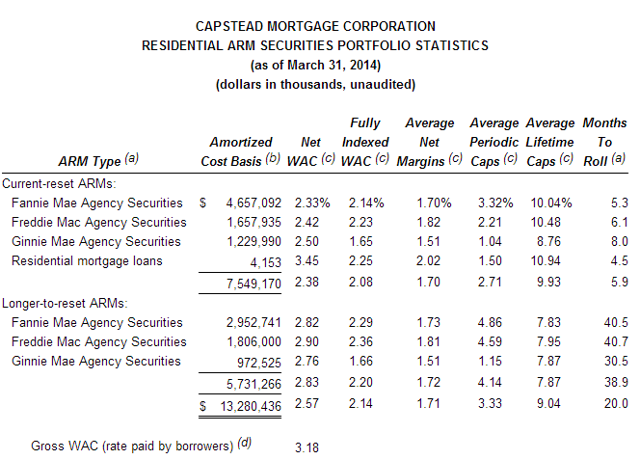 The portfolio as of June 30, 2014 is below.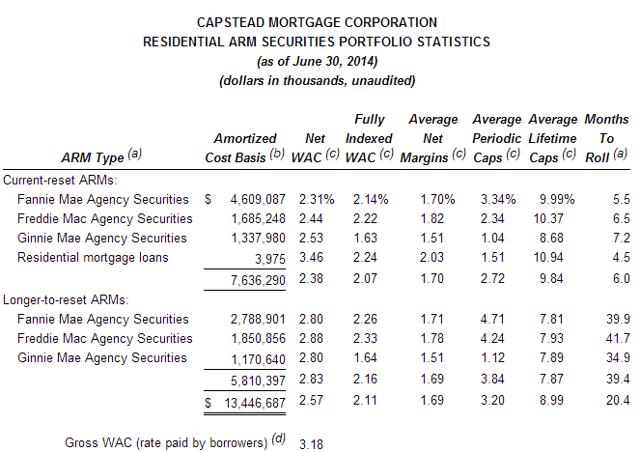 As investors can see the Fair Value has gone up considerably. Some of this is due to the extra $2.9 million from the Q2 2014 preferred stock issue. However, most of it is just gains on MBS. CMO's strategy seems to be working; and the company has every expectation that it will continue working. It specializes in short term to reset Agency ARM RMBS. Hence even if interest rates spurt upward, the company should benefit longer term from this as the net interest income spreads will likely widen.
In sum CMO put in another ho-hum quarter that was good for income investors. There is a good reason to believe that CMO will be able to continue its current dividend in future quarters. In fact if interest rates go up, it may even eventually raise its dividend.
Many believe interest rates are headed upward. The Fed is expected to end QE3 in October 2014; and it is expected to start raising the Fed Funds rate about six months after that. CMO, with all Agency ARMs, is in a good position to weather this storm of likely rising interest rates.
Further the Case-Shiller 20-city home price index showed that prices were up 9.3% year over year in May 2014. With still rising prices, there is little worry that there will be a sudden spate of foreclosures. People can sell their homes in a rising market before that happens. Since CMO's MBS are Agency MBS, that gives CMO that much more protection.
CMO may not be flashy; but it is a buy. Its closing stock price of $12.81 on July 31, 2014 is at a slight premium to its June 30, 2014 book value of $12.69 per common share. However, the difference is almost negligible; and it does pay a healthy 10.6% annual dividend. When you add the $0.10 per common share of book value gain, you get a total economic return of about 11.3% annualized. This is a great return for an income investor. It makes CMO a buy.
The two year chart of CMO provides some technical direction for this trade.
The slow stochastic sub chart shows that CMO is neither oversold nor overbought. The main chart shows that CMO has been in an uptrend since August of 2013. The most recent result should do nothing to upset that trend. The Argentine credit default seems to be taking the markets down at the moment. Therefore investors may wish to wait for the overall market to find support. However, CMO itself looks like a good stock to own in changeable circumstances. CMO is a weak buy or a hold; and I say weak because the overall market is overbought and overpriced. Even with a Beta of 0.43, CMO is likely to follow the overall market down, if it takes that direction. The Argentine default could be the final thing to push it there.
NOTE: Some of the above fundamental fiscal data is from Yahoo Finance.
Good Luck Trading.
Disclosure: The author has no positions in any stocks mentioned, and no plans to initiate any positions within the next 72 hours. The author wrote this article themselves, and it expresses their own opinions. The author is not receiving compensation for it (other than from Seeking Alpha). The author has no business relationship with any company whose stock is mentioned in this article.