Last week, I addressed some of the tax issues investors need to be aware of when they own shares of various commodities ETFs, so this week I wanted to build on the tax theme by answering a question I get asked a lot: Do ETFs work with IRAs? The short answer is "yes," but as is so often the case with ETFs, there are special situations that investors need to be aware of.
The Wall Street Journal ran a good piece last week about the combination of ETFs and IRAs and part of the headline included the word "homework." If you choose to implement ETFs as part of your IRA strategy, that's exactly what you'll need to do: Some homework. For as big of a fan of ETFs as I am, when it comes to IRAs, there isn't a huge difference between using ETFs and mutual funds.
That said, the percentage of assets held in IRAs by wealthy Americans has risen in recent years, and a big percentage of IRA assets are held in mutual funds, making IRA fertile hunting ground for ETF issuers to poach assets from mutual fund rivals. ETF issuers have been making a big push into the land of other retirement accounts such as 401(k) plans. It's probably just a matter of time before ETF issuers turn an eye to IRAs as well.
click to enlarge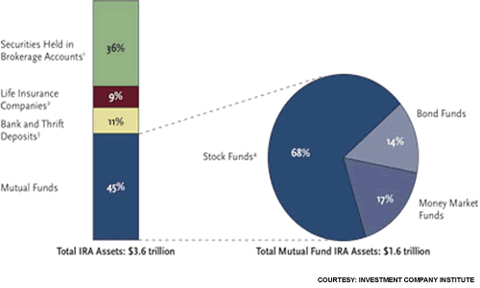 While ETFs can and do work with IRAs, I would caution investors about assuming that ALL ETFs work well in the IRA universe. A good example of an ETF that would work well in an IRA would be an ETF with low-turnover and low costs. A couple of examples that pop into my mind are the Vanguard Dividend Appreciation ETF (NYSE: VIG) and the Vanguard Value ETF (NYSE: VTV). Both of these choices have low fees and focus on blue-chip stocks with minimal turnover.
The issue of turnover means investors should pass on small-cap ETFs. Remember that an ETF that focuses on small-caps more often than not has to honor market cap requirements, so when some of those small-cap holdings turn into mid-caps, the fund has to sell them, increasing the chances of cash distributions.
Other ETFs to avoid using in IRAs would be alternative asset funds like the SPDR Gold Shares (NYSE: GLD) and the iShares Silver Trust (NYSE: SLV). As I noted last week, gains on these ETFs are taxed at a higher rate than the normal capital gains tax because GLD, SLV and related funds are considered collectibles.
Still another situation where ETFs and IRAs are a potent combination is for the active trader. If you consider yourself an active trader, consider engaging in your frequent trading with ETFs in an IRA because your trading activity is protected from taxes.
In some ways, active ETF trading is conducive to IRAs because as the Journal highlighted, investors "can typically sign up to have mutual fund shares automatically cashed out, say, quarterly or annually, ETF investors need to make these trades themselves."
At the end of the day, using conservative, low-cost, low-turnover ETFs can be a fine complement to your IRA, just be ready to do some homework before going ETF-crazy with your IRA.
Disclosure: No positions