Five years ago the shares of Genuine Parts (NYSE:GPC) were selling at extreme highs in current yield and lows in its historical P/E ratio. This excellent valuation for the shares gave investors a low risk entry point. As the yield and P/E chart below illustrates, the high yield and low P/E also matched the period in 2001. Today, however, the yield is at levels of previous high risk. The P/E is at the highest levels for the past 20 years. Today's valuation is no longer a low risk entry opportunity, but rather a high risk one.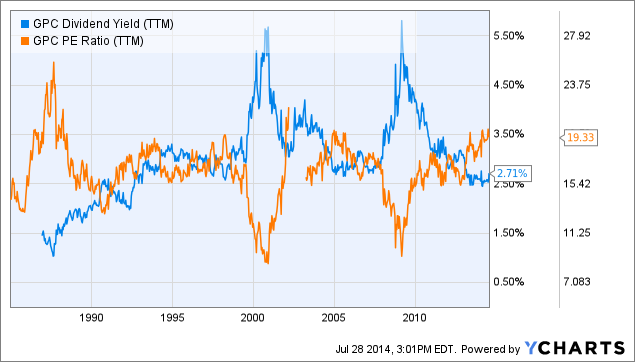 GPC Dividend Yield (TTM) data by YCharts
This is not to say that the shares of this company should be sold, but that the shares do not represent a good buying opportunity at these levels of valuation. The company has been a strong growth machine and has raised the dividend each year since 1957, a history that few companies can claim. The chart below graphs historical dividend increases. For a person who understands and can tolerate market swings, GPC is and most likely a good long-term hold. However, the current yield of 2.7% is not very attractive for dividend investors.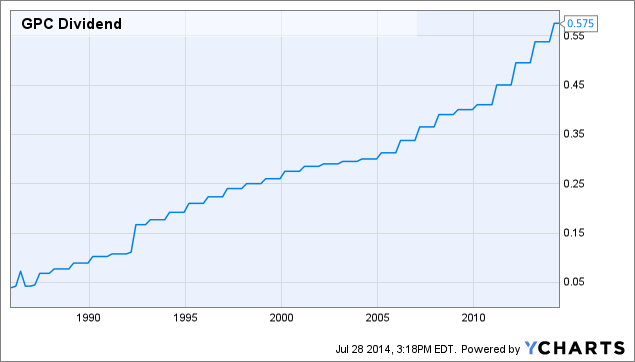 GPC Dividend data by YCharts
The year to year earnings of the company have also been very consistent and steady. The chart below plots the annual and quarterly earnings over the previous 30 years. Earnings have grown from just over $0.55 per share in 1985 to $4.42 today. The increases in EPS has been quite steady with few surprises that produce wide swings in the market price.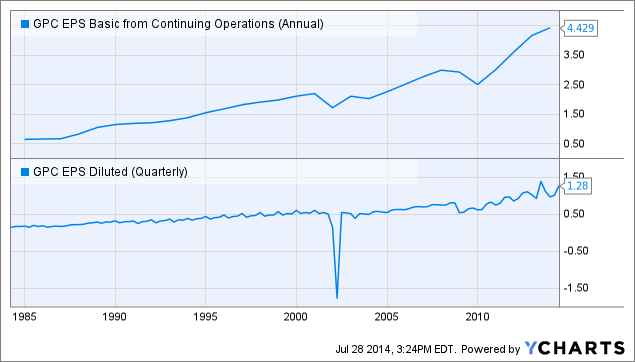 GPC EPS Basic from Continuing Operations (Annual) data by YCharts
From the market low on 3/9/2009 until 7/30/2014, the shares advanced 301%, compared to rise in the S&P500 of 191%. This large rally exhausted the deep valuation premium as fundamentals, both EPS and dividends, could not keep pace. In addition, due to the superior performance to the market, the shares also lost relative value in the marketplace.
A question remains for the investor in GPC considering today's high valuation. Does it matter where one buys a stock? Over a very long period of time, ten years-plus, not so much. However, would one rather buy shares of Genuine Parts whose current yield was in excess of 5.5% in 2009 or currently at a dividend yield of only 2.7%? Not many would choose the latter.
Another consideration is the performance of the shares from one period of poor or excellent valuation to another. The following graph plots the price and dividend allowing us to see those periods of valuation peaks and valleys. After the high yield level in 2001, the shares advanced from a price of $18-$20 to an eventual high of $50 in late 2007, a return of about 150%. Even that period's return, good as it was, was dwarfed by the 301% return of the last five years rally coming off a similar valuation level. However, the price return from the poor valuation level in the 2007-2009 period was marked with a stock declining from $50 to $25, a 50% decline. Ideally, one would like to buy the shares when the yield approaches much higher levels, not lower, as the market is today.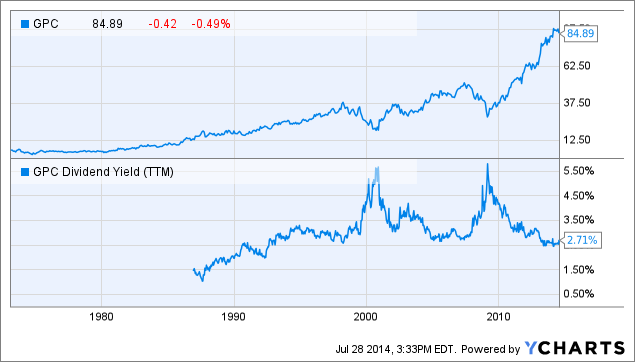 GPC data by YCharts
This is not a sell recommendation, rather it is a review of the current valuation of a very good company, whose growth in both earnings and dividends has shown steady and consistent increases. However, it is a recommendation that the current level of valuation does not present a good, much less an excellent, point of entry.
I have sold shares twice over the last six months reducing my position to one that is considered minor in my portfolio, actually representing less than 0.75% of my holdings. In fact, much of the proceeds from my sale of GPC has been re-invested into shares of Target,when its shares declined during the recent data security breach. I've maintained my small position in GPC because of excellent long historical growth record.
I would not add to or initiate positions for value, growth or dividend investors from current levels, though it might a tad oversold on a technical basis.
Disclosure: The author is long GPC. The author wrote this article themselves, and it expresses their own opinions. The author is not receiving compensation for it (other than from Seeking Alpha). The author has no business relationship with any company whose stock is mentioned in this article.
Additional disclosure: My position has been reduced to one that is less than .75% of my personal holdings.